HRW S.C.O.T.Y. AWARDS! 2011
Every year we like to recognize certain products and companies who have done great things for us in the past year.
From feedback in our forums to my own personal notes, here are highlights from the past year.
Remember, these are just my choices :)
HRW FORUM MEMBERS! - You all helped make our little forum a great place to talk about our hobby. I cannot thank you all enough. Some of you stepped up to do product reviews while others allowed me the chance to try models in our little "Proxy Races".
This hobby has grown well beyond my grasp and without you folks HRW could not be the great resource I feel it is.
GREAT JOB AND THANK YOU!!!
++++++++++++++++++++++++++++++++++++++++++++++++++++++++++++++++++++++++++++
Slot Car Manufacturer Of The Year - Carrera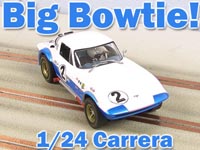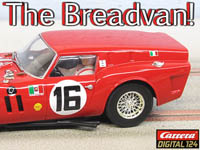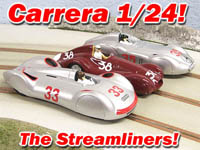 According to all the feedback in our forum, Carrera clearly earned it this year. They are releasing such a huge variety of models that no other company comes close. Vintage NASCAR continues along with Can-Am, Classic GT, Modern GT, LMP and even the beloved CARS models.
Plus no one else comes close to the selection in 1/24 or 1/43..
Toss in the HUGE following of the Digital versions and you simply have to give Carrera top billing overall.
*Personal Notes* - I have spent a lot of time tuning and modifying the Carrera Classic NASCAR fleet. Not to mention the CAN-AM Series.
**********************************************************************************
Slot Car Manufacturer Of The Year - Personal Favorite - Pioneer
Although they did not release many new cars this past year, I have spent more time playing with these cars than almost any other. A host of new liveries for the Mustangs arrived along with my favorites, the Street Racer Chargers. These are the closest models I have ever seen in ready to run form that reminds me of the good old "Bombers" that were raced all around the Country at local short tracks.
Add to this a new pinion included inside the case scores big points for customer service. Then there is the behind the scenes action where I learned a lot about making a new slot car. So it is not what they released, but rather what the did not. They could have easily released the Camaro and Legends series but they were not good enough for the team at Pioneer. This crew at Pioneer is such an asset to our hobby and congratulations to them for sticking to their guns and waiting to do it right.
And when the Camaro and Legends come later this year, they already look to be top picks for 2012.
**********************************************************************************
Slot Car Manufacturer Of The Year - Runner Up - Auto World
HO SCALE Manufacturer Of The Year
My hat is off to Auto World. The release of the Top Fuel Dragsters were a HUGE success and brings back memories for many slot car collectors and racers. Not to mention the Drag racing sets that saw new models for this year and they clearly take top honors.
It is hard to name just one company as an overall winner given the vast differences in scales. With Auto World doing these great things, I just have to give them the credit they deserve.
*Personal Notes* - I have seen more of my friends who race larger scales rediscover HO scale just because of the Drag Racing sets and cars. This is why I have to give them the attention the deserve.
**********************************************************************************
1/32nd Slot Car Of The Year - Slot.it GT40
Looking back earlier in the year, no other car caused so much talk. Enthusiasts have been waiting for quite awhile for this model to be made and when it finally came it clearly dominated our little community. Although the Alan Mann version arrived first, The GULF limited edition was clearly the car everyone wanted.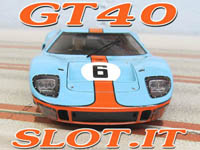 *Personal Notes* - Just about every one of my friends bought this car or both. Slot.it models are still affordable for most budgets and no one else offers so much for this price tag.
1/32nd Slot Car Of The Year - Runner Up - Scalextric Start
I like seeing products for the newcomer. While we sometimes get caught up in the higher end models and nit pick scale details to death, we need to remember those younger racers and newcomers. No other models come close to the value these cool cars deliver.
*Personal Notes* For about $42.00 you get not 1 but 2 cars. This value got to me as several boxes of these found homes here.
Not just for the cars, but for scratch building.
1/24 Slot Car Of The Year - Carrera Breadvan!
No, I am not kidding. They actually made this car and they did a great job of it in scale.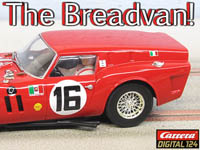 1/24 Slot Car Of The Year - Personal Favorite - H&R Chassis
This chassis is still our number one scratch building chassis for larger scale. With new SHORE 25 tires and new wheel designs, it just got better.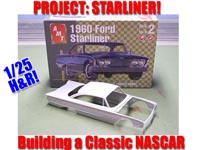 Scratchbuilding/Aftermarket Site - Personal Favorite - MT Racing Resins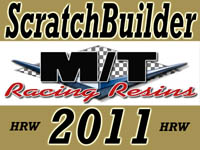 With the release of the new motors for classic racing, along with a host of resin bodies and parts, M/T easily earned it all this year.
Plus Mark Thomas is one of the finest slot car builders in the hobby who takes time to help the newcomer.
Wheel Award - Slot Car Corner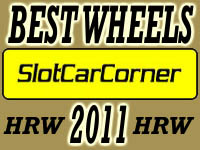 From the new insert wheels to new CB Design releases, the crew at SCC gets my vote.
*Personal Notes* - Since the insert wheels were released I have bought quite a few to begin restoring some of my cars. Along with these long awaited wheels, the customer service takes first place. These guys are true enthusiasts who know what you need even when you don't!
Slot Car Tool Of The Year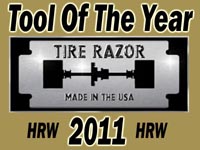 One of those tools that pay for themselves in a real short time. Many racers made the investment this year and they all will tell you it is well worth it!
These are just my PERSONAL choices. I know good and well many of you have your own winners in mind.
There are many more slot cars out there that deserve recognition but I can't list them all.
This is why I want YOU to leave your feedback in our forums.
Tell our newcomers who you think is the best and why. SPREAD THE WORD!
The coming year will be as exciting as this one!
Happy New Year!
- Harry