10/10/2011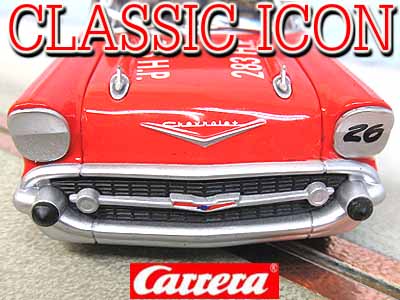 Carrera Digital 1/32nd Scale 1957 Chevrolet
The 57' Chevy. Is there a car that is more of an American Icon than this big hunk of iron? Likely not. And when you combine that car with some retro paint work making it an old Stocker, you simply cannot go wrong in the eyes of old oval racers like myself.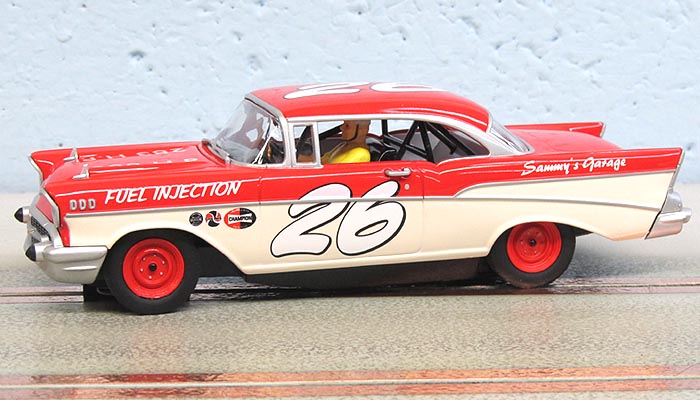 Most everyone in our hobby have known about this model for some time. But this all new paint scheme is new for 2011 and what a looker it truly is.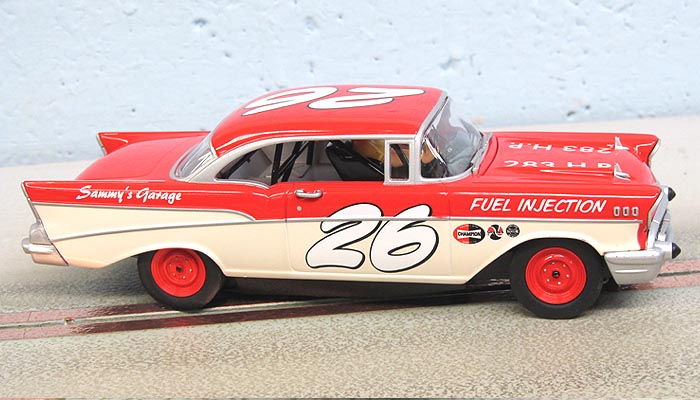 The model itself is pretty well done overall by Carrera. Nothing is perfect in our hobby, but I think they did an excellent job on it. One thing is certain, there is no mistaking it.
Until this release it has been quite awhile since I wanted one. I am not much of a street livery enthusiast. I like them, but not enough to collect several. I like "race cars" that will look right in action on our oval and this one does.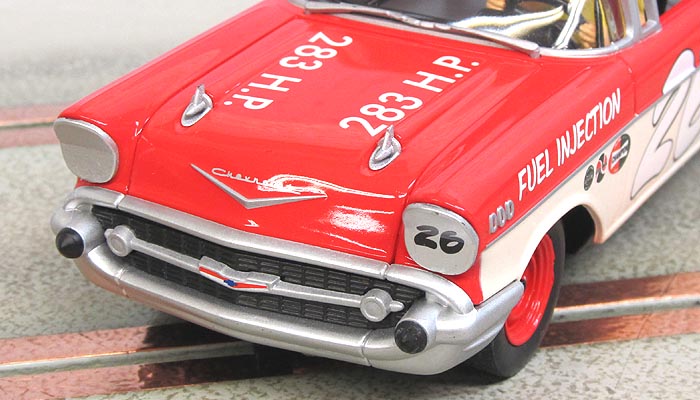 Of course this is a fantasy based scheme, but that doesn't bother me. And apparently it does not bother a lot of you either. Other companies are using creative licenses as well and the sales of these models in some cases outsell the actual prototype painted cars.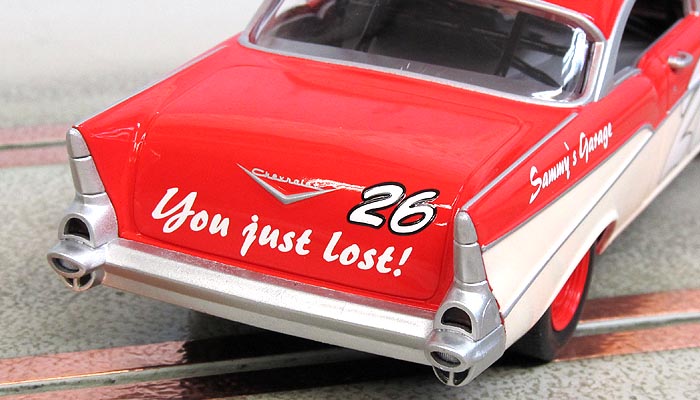 But they have to be done right. In other words, they should like a car that was raced back then, something the enthusiasts can look at and feel it belongs. I think this one does that easily. The red and cream really pops out at you and screams retro. Simple contingency stickers, some hood horsepower numbers and a small sponsor.
That is about all any of these cars from the early days of NASCAR had let alone local race tracks. I also like the subdued silver paint instead of the chrome. Most of these cars sure did not look that fancy when they raced. They might have on day one of the season, but back then the elements took its toll quickly on the chrome technology.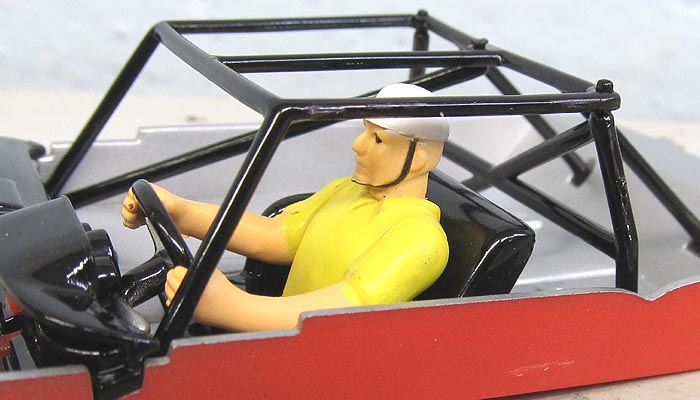 The interior is more than enough for my tastes. Our driver looks the part and enough roll bar is visible to add depth and increases the scale appeal.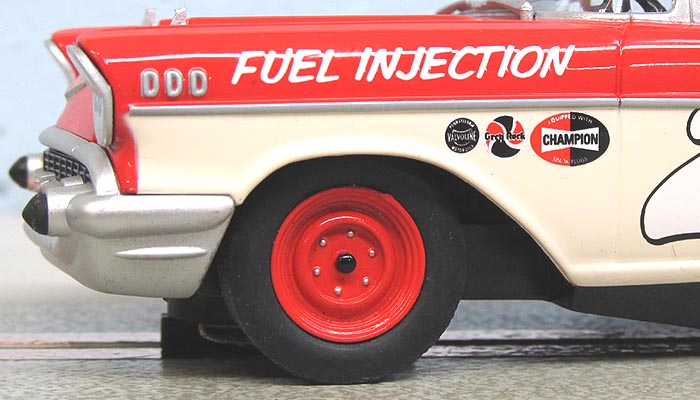 Wheels and tires are standard Carrera fare and appear to be void of any major wobble. I like the painted effect here as well.
Underneath we see a standard dual magnet chassis configuration. This is more than enough magnet on plastic track for almost anyone.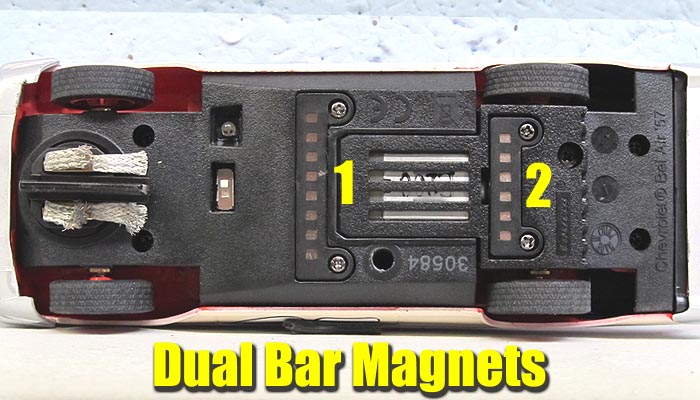 Since this is the digital version I had to quickly program it for analog operation. This is easily enough accomplished and it was time for testing. CLICK HERE FOR THE CARRERA USA VIDEO on how easy this conversion is.
Box Stock Track Testing
New Ozark Speedway
5 x 16 - 4 Lane Carrera Track OVAL
Aftermarket Power @ 12 Volts PARMA 25 OHM Control
The first few laps of this test was positive, that is if you like a heavy magnet car. This model is very stuck down and with our track at 12 volts you can almost hold the throttle down without it coming off. ALMOST. It still de-slots and when it does? You can expect some very hard crashes that are followed by some impressive barrel rolls.
But this car is tough, my hat is off to Carrera. I crashed this car against our retaining walls about 10 times and only the clear coat is scratched. Electronics inside are holding up well along with the rest of the car.
So the out of the box verdict is Carrera has made a very tough and functional slot car. The only thing it needs now is a good owner (that would be you) to race it. If you like classic cars then you almost have to get at least one. No slot car collection should be without at least one 57 Chevy in my book.
Looking Closer/Modifying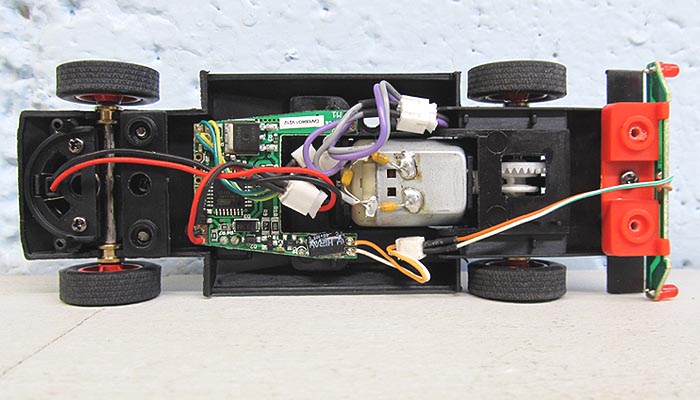 Four screws mount the body to the chassis. A 9 tooth pinion drives the 27 tooth crown gear.
I hesitate to show some of these modifications as I do NOT want the beginner to think you have to do them in order to enjoy the car. You do not. In fact, a couple of them I do not care for as they alter the look of the car too much for me. However, veteran enthusiasts who are racing non-magnet on either plastic or wood will have some work to do in order to smooth things out and get the best performance possible.
The first item is our guide. It is a large guide to say the least and some enthusiasts have complained about it getting stuck in the tighter turns. My quick fix here to simply trim it with a pair of side cutters.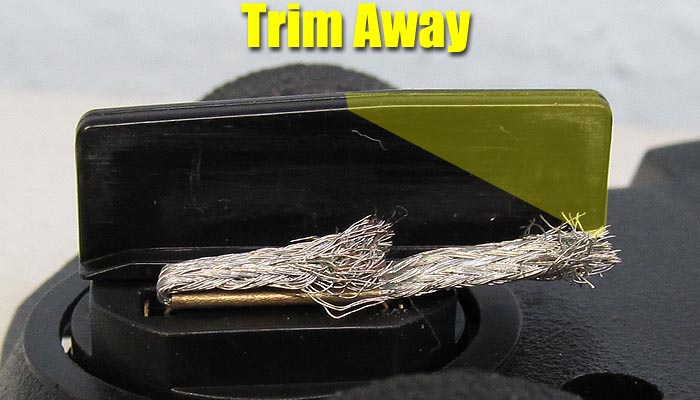 In seconds you have now made a much smoother guide without losing any of the precious depth most of us like.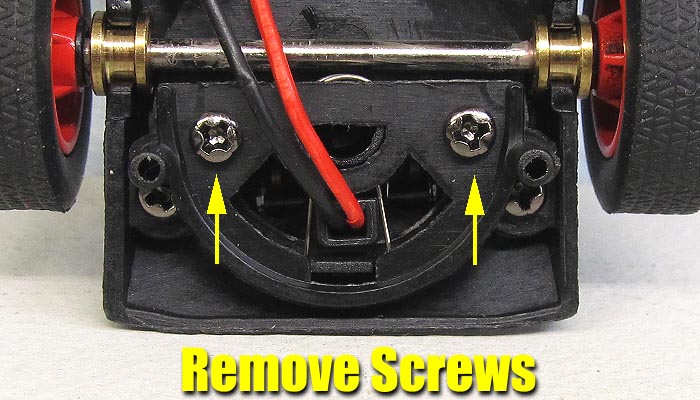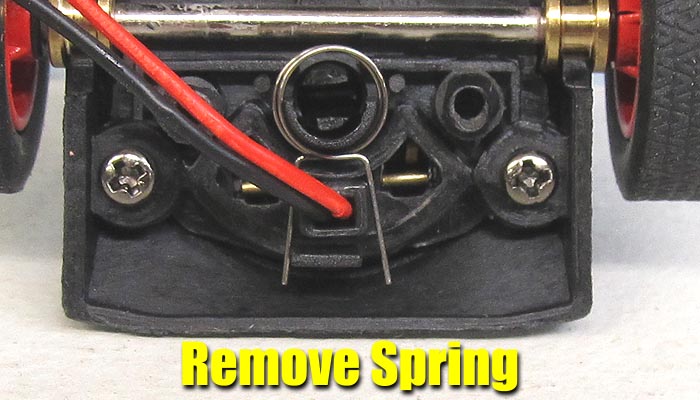 You can also remove the top guide plate and spring. This spring is pretty strong and some of you do not care for them. Once you remove the spring, you do not need to install the plate again.
The biggest improvement you can make on this car to smooth it out and reduce the chatter is getting the right tri-pod effect up front. The front tires carry too much load and cause this chatter even if you true them. The tricky part is, you really have to sand the front tires down a LOT to get that tri-pod.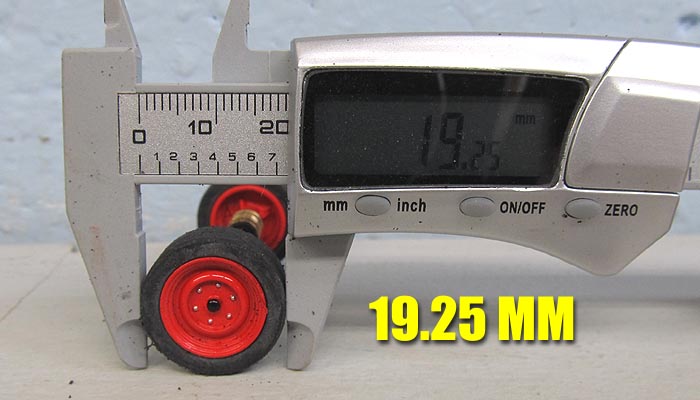 The end result is great for performance, horrible for scale appeal. You could modify the chassis by sanding out the bushing mounts, setting the axle in and gluing it to keep the stock appearance of the tires. I will let you decide on that. For me I will alter the axle mounts to make it look better on my next car. Our first 57 had the chassis modification done and to me it looks a lot better.
Although I do not like this next step either, I will show it as many racers I know do it and it does improve handling. There are spacers front and rear in this car you can remove to lower the body.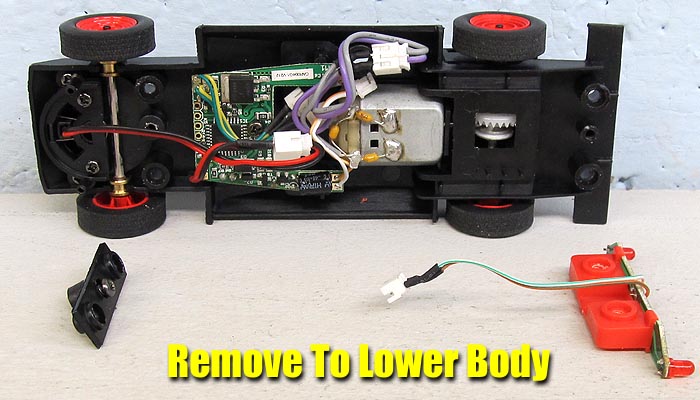 One is up front and the other in the rear holds the light bar. Why Carrera outfitted this car with lights in the rear is a mystery. An old stock car doesn't need them. You can remove these and it will lower the body very noticeably. I remove the digital board and use the quick disconnects to wire it directly as well. You do not have to, but I have no use for the digital board for the time being.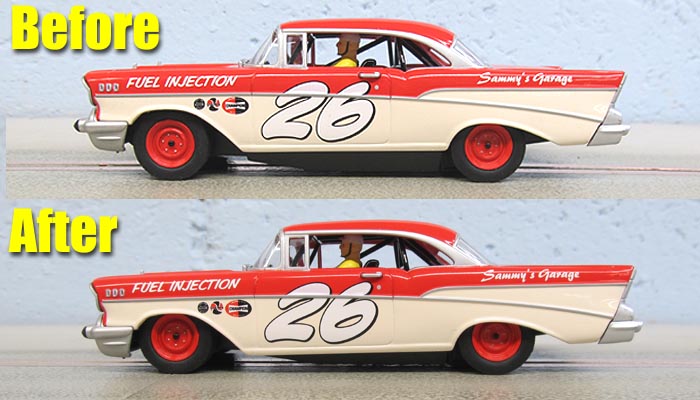 For my personal tastes I do not like the "slammed in the weeds" look. But just about every racer I have met has done this. So it is up to you again to decide what is more important, scale accuracy or performance.
Finally there is the rear wheels and tires that could use some sanding. I start with the hub and sand it until it is flat and smooth.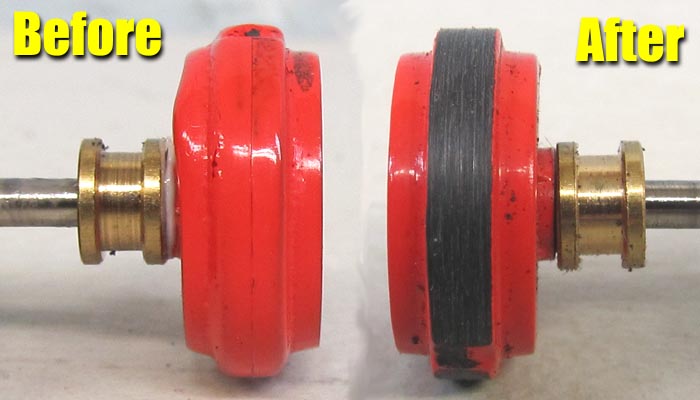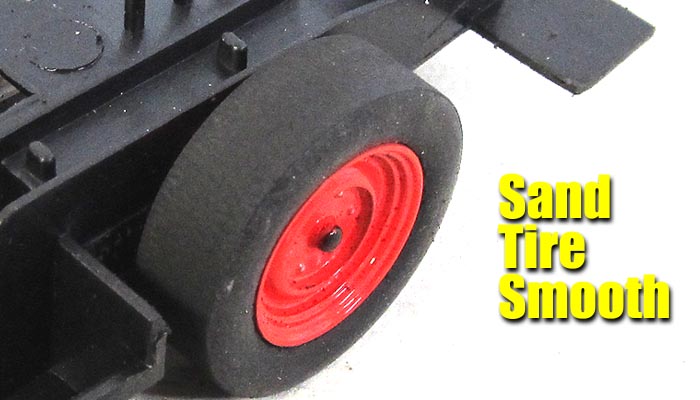 This is a very quick and easy process and soon you will be ready to tackle that wood track. Of course aftermarket tires help performance too. I recommend choosing your favorite tire maker that has the compound that works best. On our track it is a toss up. Depending on how much the track is run in it could be K&D, Paul Gage or Tiny Motors. If you are new to the hobby, just ask your friends what they are using, or try one of the brands listed as a starting point.
At the end of the day you should have a silky smooth non-magnet hot rod on your hands. My model certainly is. Whisper quiet and it simply floats down the straights. I like the power of the stock Carrera motor and will not change it. The braking is more than enough and the top speed on our 16 foot oval is more than plenty. By the way, this model costs well under $40.00 dollars. I know that my wallet is very happy with the price point Carrera is keeping.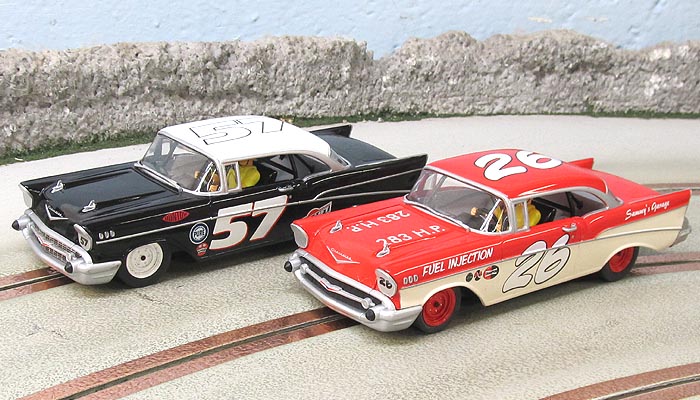 I have been waiting for this model for quite awhile. My other 57 only needed a real running mate to go with it and now I have it and couldn't be happier. For me, the tuning performed is nothing major and in the end we have a decently priced American Stocker that fits right in our oval racing. Carrera just needs to keep this series going with more classics that match it. Of course, we all have our wish lists though :)
-Harry
As always feel free to contact me about this article or just the hobby in general at harry@homeracingworld.com, or better yet drop into our Message Forum and share your thoughts with other enthusiasts!
Review Model From Slot Cars and More


Copyright © 2011 HomeRacingWorld.com All Rights Reserved