Saturday February 03, 2007
Fly Fast Kit
Porsche 917K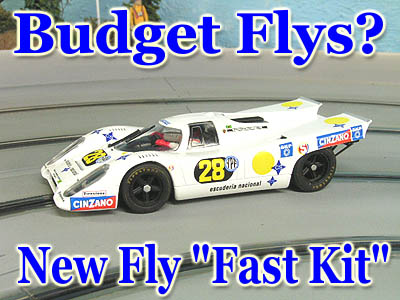 The first time I learned of the latest series of kits by Fly Car Model, I knew one would find its way here. Although not everyone appreciates the classics that Fly has brought us, I certainly do. There are very few series of models that have withstood the test of time like our Fly Classics and I could not think of a better kit to start with than the legendary Porsche 917K.
First Impressions
For my birthday, the gang at Derby City Speedway gave me a gift card to use at SlotCarPlace. I decided on this model as we have had countless hours of fun with the Fly Classic line and thought it proper to add yet another to our collection.
One aspect of this kit along with the other releases is the price. For $34.95 it appeared this was truly a bargain. Fly has not had the reputation of being the easiest on tighter budgets so I was very surprised at this price point. Just comparing this model to any ready to run version says it all. Of course I appreciate this lower price and I am sure others do as well.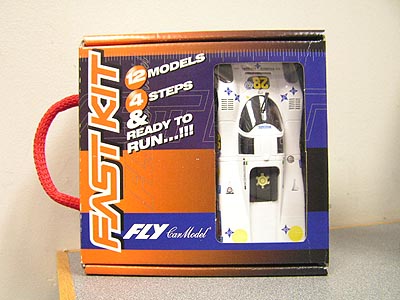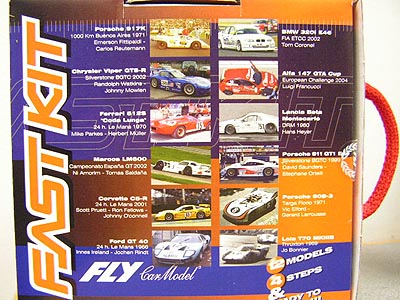 When the kit arrived safe and sound I was impressed with the packaging. A small box held all the contents and even has a small cloth handle for easy carrying. On the front it has a clear window showing the body of your kit and on the back it lists the other 11 kits in this initial series. I liked the variety they chose as it gives a nice balance between the classics and modern models.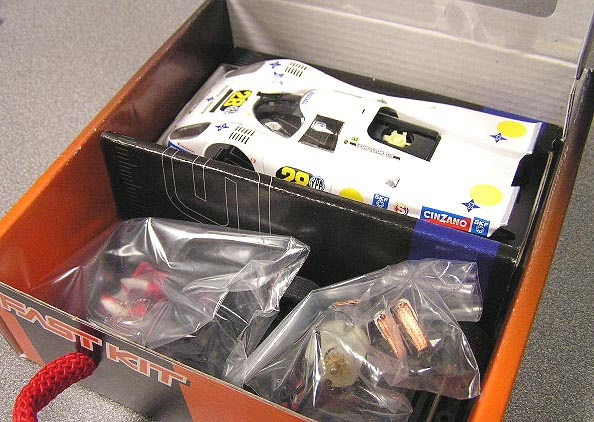 Inside I found the body protected by a small bubble wrap cover and I removed it for inspection. There have been reports that some of these kits have had major body issues so I was concerned. However, my model was clean and error free. The Tampo stamped markings and overall finish was about as good as I could ask for.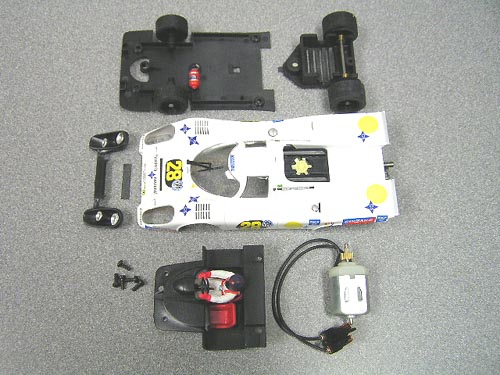 The chassis, motor and interior are on the left side of the body with the front headlight assembly and rear engine detail being under the body. I think Fly could have placed the headlights and engine detail in a bag like they did with the motor and interior. Having them just loose in the box can only lead to some of them breaking during heavy handling.
Putting It All Together
The one page instruction sheet is about as simple as it gets. It shows the body attaching to the interior along with the motor snapping into the chassis with finally the screws securing it in place. Although I think they could have made a sheet that was a little higher in quality, it worked well for me. Even a beginner should have no issues getting this model together using this guide.
However, I could not just slap this model together without performing our traditional Fly mods. I performed all the needed adjustments as shown in that article before I began assembly. This is just another reason why I like these kits. Fly models generally take some tuning and adjusting to get them where you want them. Not having to take it all apart to do these adjustments just makes things faster and easier.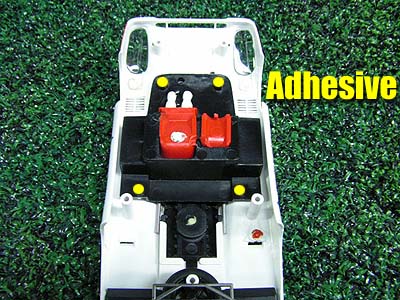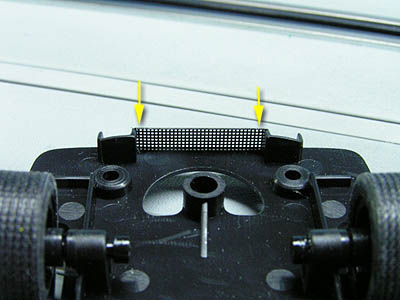 When I attached the interior to the body, I used a few drops of hot glue to keep it secure. This is pretty straight forward, just make sure the interior is fully seated into the body.
The front grill screen is a part many enthusiasts have lost over the years because it can and often does come off the body. I use a toothpick and added a very light drop of CA (Super Glue) to help keep this screen in place.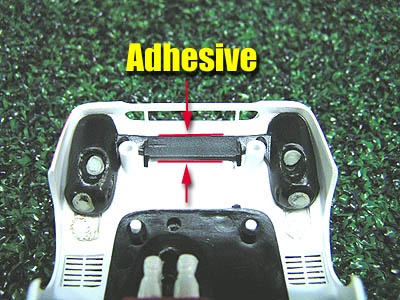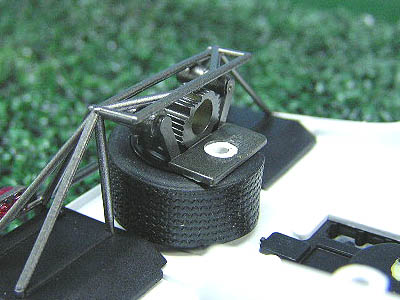 Next I placed the headlight assembly as instructed. Here again I used a light seam of adhesive to make sure it stayed in placed. Finally, the rear engine/exhaust detail is mounted to the rear body post. Once this was mounted I used a light coat of Super Glue to keep it in place. Make certain you allow this glue to dry COMPLETELY before trying to mount the body.
The final step is one that sort of concerns me. Fly has already mounted the front guide to the wires which means you must take the lead wires out, run them through the front access hole and then re-attach them. This was odd to me and Fly should change this so as not to confuse beginners.
The box says "12 Models, 4 Steps &Ready To Run" I can't say I agree with that statement. The interior parts alone could be counted as 3 steps alone, plus taking apart the front guide wires and re-assembling them adds yet another. I might just be getting a little nit picky here, as it really didn't bother me to assemble it, regardless how many steps. It is just worth mentioning as this kit will take a little more effort than the box leads you to believe.
It took me about 30 minutes to assemble the kit and soon I was on the track. This classic performed just as I expected and it will fit right in with the others in my collection. Lap times were an average of 3.9 seconds which is very respectable on our road course. After more tire sanding these times will just get better. I like the feel of the 917K a great deal and hopefully I can have it and myself, tuned for our next race event.
Final Thoughts
As I mentioned before, there have been well documented reports that some of these kits have major issues that mainly focus on the body and paint being incomplete, warped and a few where the body was not molded completely or properly.
Although I feel Fly needs to increase the quality control efforts, there is one way you can try to make sure your kit is error free. Your local hobby dealer. When I called about getting this kit, I asked Gene at SlotCarPlace to check my model for any issues. He did so and the result was the classic in front of me. All the dealers that I use have great customer service and will do the same for you. So just ask your favorite dealer to open the box and check your kit for any errors, they won't mind and it saves both you and the dealer any grief in the event a model is sub-standard.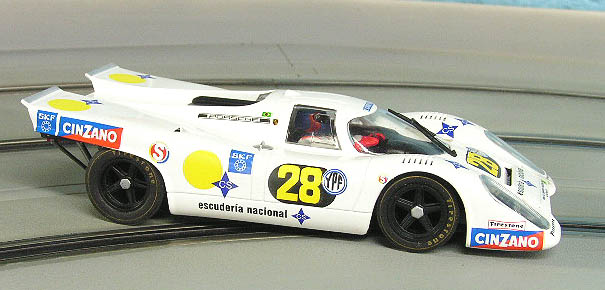 I think these kits are a great idea and I commend Fly for bringing them to us. The price point alone makes these kits a winner in my book. As prices seem to soar above the $50.00 mark for other models, having a kit like this helps those of us on tighter budgets. I can only advise any current fans of these cars to think about grabbing at least one. This looks to be a very inexpensive way to increase your current field. Newcomers should also take a closer look as it is very simply to assemble and soon you could be experiencing some of the finest racing you can find in our hobby.
-Harry
As always feel free to contact me about this article or just the hobby in general at harry@homeracingworld.com, or better yet drop into our Message Forum and share your thoughts with other enthusiasts!
This Model Was Purchased From SlotCarPlace.Com