03/18/2011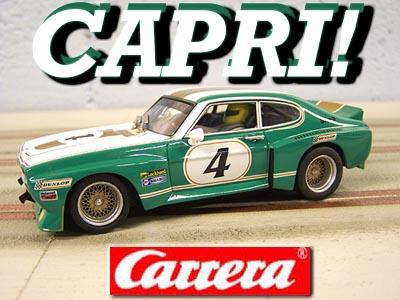 Carrera Analog 1/32nd Scale Ford Capri RS3100 - Group 2, 1975
This new release by Carrera has had plenty of talk about it since it was first announced. With the first model being released in Europe only, many enthusiasts here were really wanting this model to make it "across the pond". Well, it has finally arrived so let us take a look at what hopefully is a great classic slot car.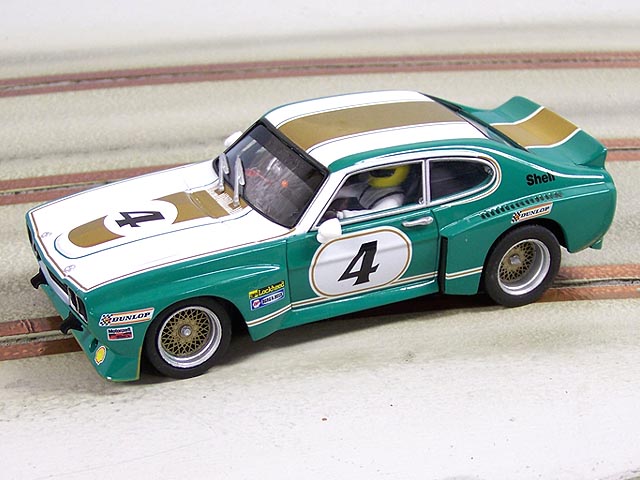 For veteran enthusiasts, you have likely heard all about this car but for the rest of us it is all new. I usually do not purchase releases that are only available overseas, so I am one of the many that was very pleased when I heard the news it was arriving here.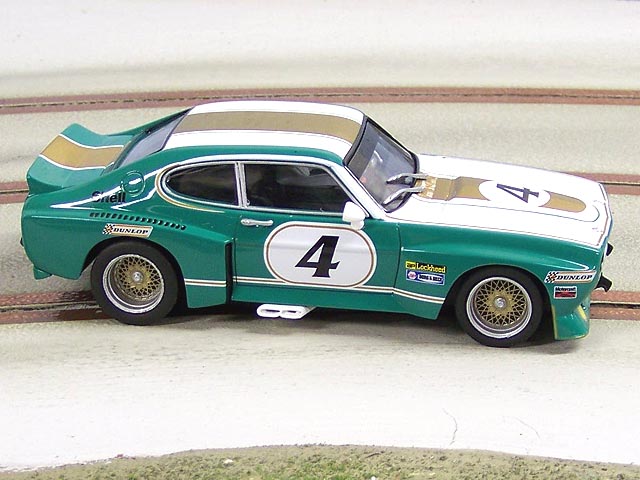 Having read many reports on this model it appears Carrera has hit another home run. They captured this classic very well in our scale or at least close enough for me. For newcomers, you will learn that many of our models are not true scale in 1/32 but it does not seem to stop most of us from enjoying them. This model though appears very close for those that do care.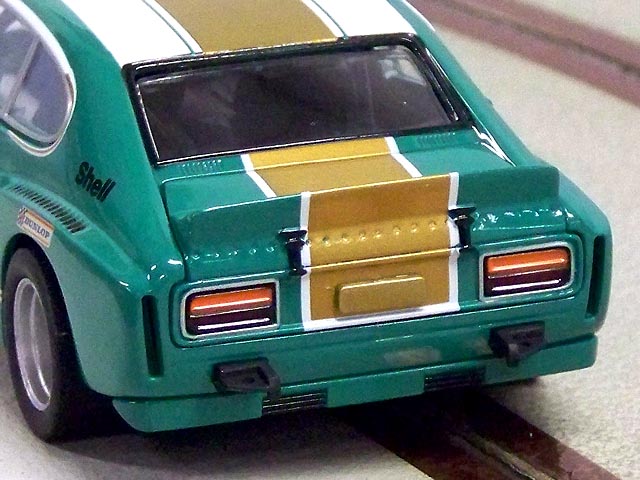 The curves and details are also very well done. Fans of this car are likely to truly appreciate the effort here.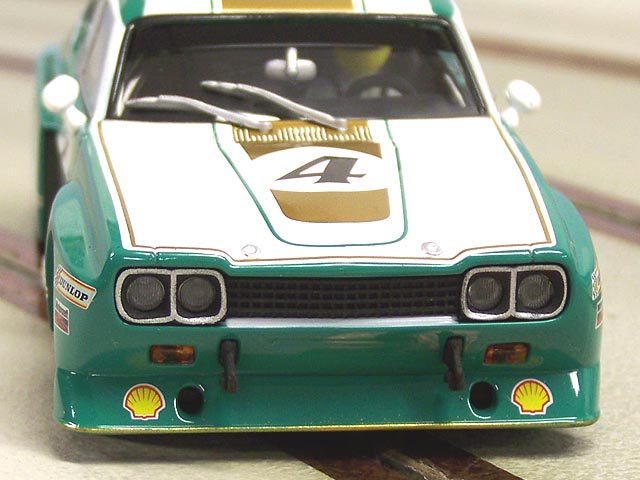 The paint work is very well done and a clean, dirt free clear coat seals everything nicely. Like any other slot car, you will either like the looks of it or you won't. This is one of those models that truly look a lot better in person than in photos.
Detail level is very good although nothing is ever perfect. It is after all a toy car but Carrera's approach should please most of you. The interior is a half tray type design which means you won't see fine scale detail here, but then again most of it would be hidden anyway. You still see the fire bottle and some roll bars present which is just ideal for my personal taste.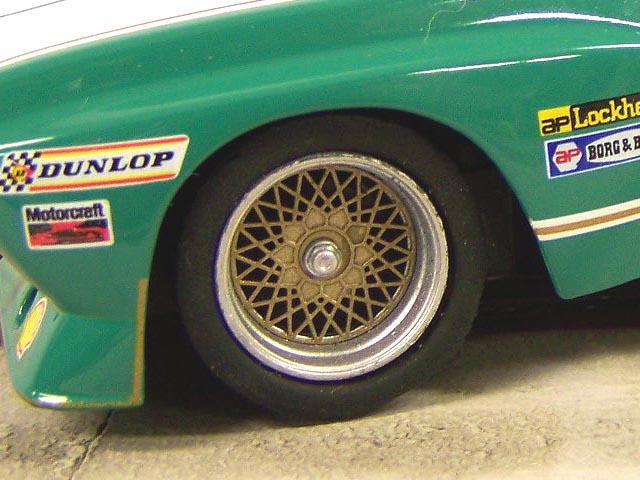 Wheels and tires look great to me and initial inspection looks like they are fairly round and true. The tires seem soft enough that they should hook up well on plastic track with the magnets in place.
Box Stock Track Testing
New Ozark Speedway
5 x 16 - 4 Lane Carrera Track OVAL
Aftermarket Power @ 12 Volts PARMA 25 OHM Control
If you like racing slot cars box stock with magnets and you like your magnets STRONG, you will be happy. My first few laps told me we would have an easy time as lap after lap I pushed it harder in each corner until I was full throttle. The car would not de-slot. Only on the R1 tighter corners did I have to lift but it was not a lot. This car would be ideal for very young or new drivers to discover our hobby with, but more advanced enthusiasts will get bored rather quickly. That is fine by me. We need a variety in this hobby and this car can suit both easily enough.
The front wheels do slightly support the front but not very much. There are ways to sand them by hand but most of you will not need to worry about it. As it is it ran just fine.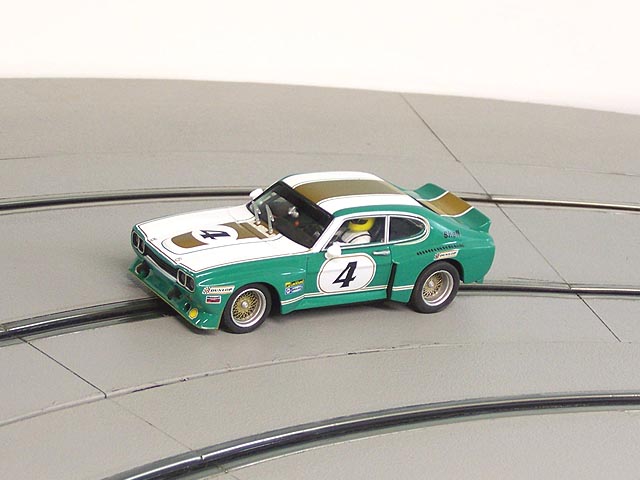 And that is the main thing is it functioned as intended straight from the box. This may not sound that important, but even in this day and age of our hobby not every company produces a model that can do this reliably. So from my boxstock stand point this car passes easily. Job well done Carrera.
Under The Hood
Looking underneath we see 4 screws that mount the body to the chassis. You can also see the 2 bar magnets, one in front of the motor in the midsection, and one right in front of the rear axle.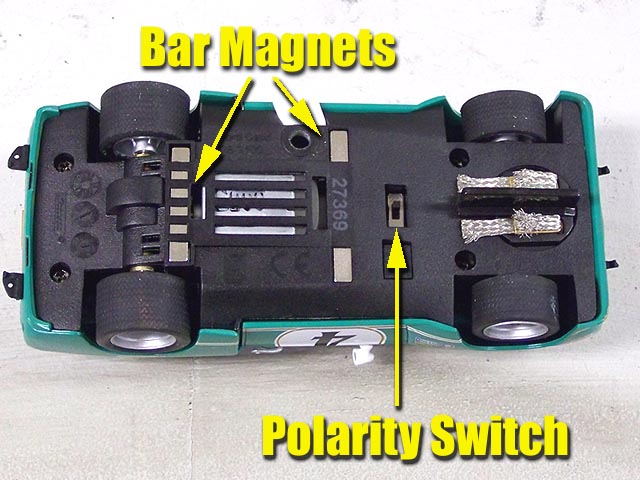 If you have plastic track and want to remove the magnets, remove the polarity switch and motor first. On the rear magnet assembly take a small pick and pry the magnet bracket in to release and pry up.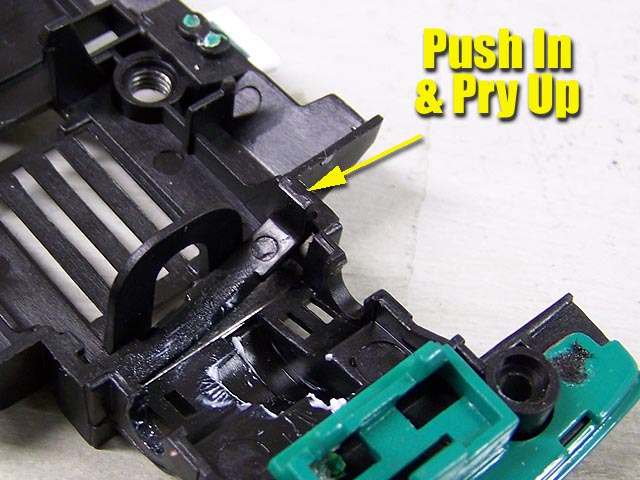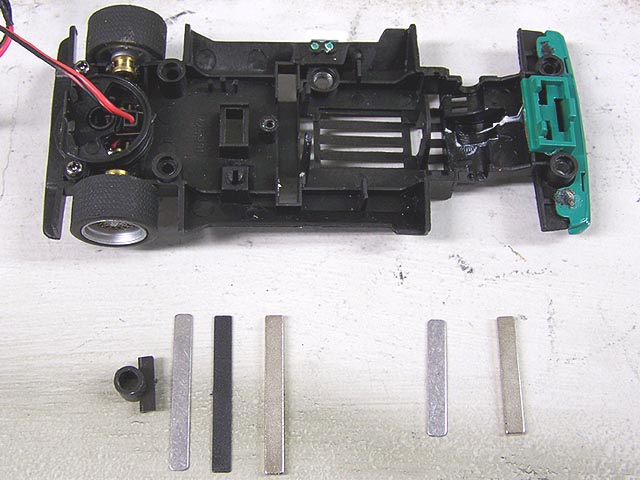 You can see after removal the options you have. There are shims to reduce to magnetic traction if desired. I like this. You can virtually tune this car to you liking from heavy magnet, to none at all. And there is room here for us non-magnet enthusiasts to add some lead as desired.
We also see the front guide. This guide has given some racers issues but not here. I trim the rear edge off as shown and it negotiates even my tightest routed track turns. Some have problems with the thickness but I will say it right now: This is not a fault of Carrera. This guide works perfectly on Carrera track. If you own a different track system, then trim or sand the sides of the guide to fit. We had to this for other brands like NINCO when we had older Scalextric track, so we are used to making things work. I would rather have a large guide that can be trimmed down to fit rather than a very shallow guide that needs a full replacement.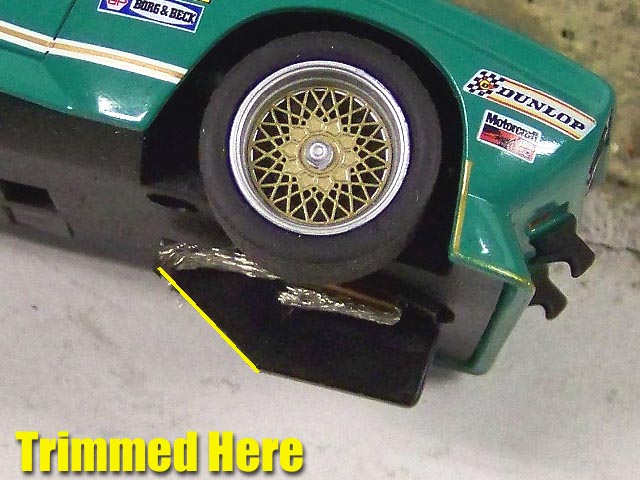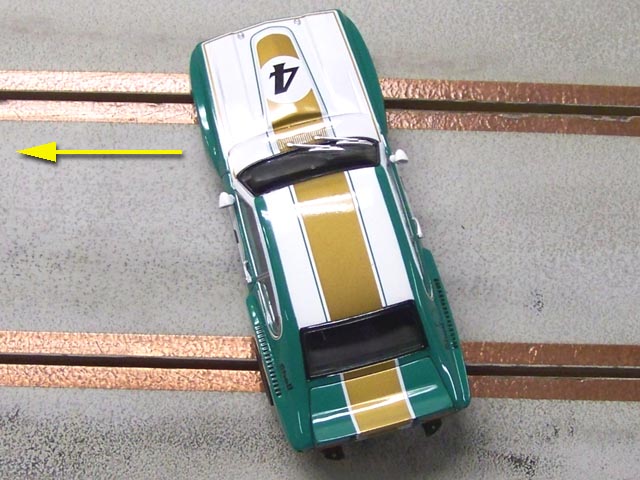 The amount of guide travel is just about right. Some prefer more but honestly, if you get this far out don't fault the car for guide pinching. It is protecting you from ripping out the lead wires. Advanced enthusiasts can always trim or replace the guide if they see fit.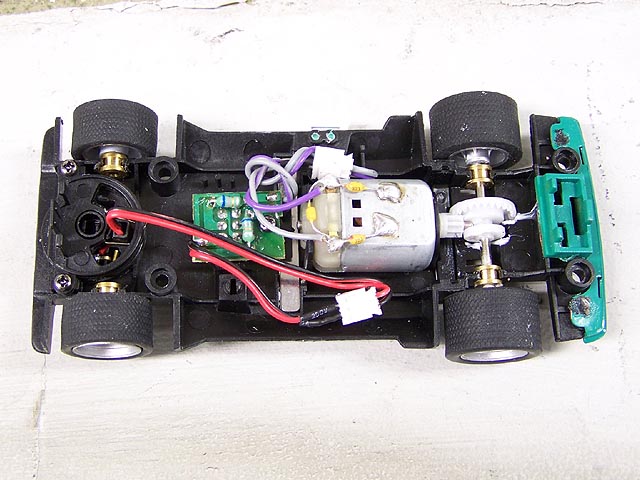 Once we remove the screws we get our peek inside. The standard Carrera motor equipped with a 9 tooth pinion turns the 27 tooth crown gear.
Gear mesh is silky smooth like most Carrera models and will only get better. You also see the wiring for the polarity switch and motor. You can remove all of this if you feel the need to as the quick disconnects make it very easy.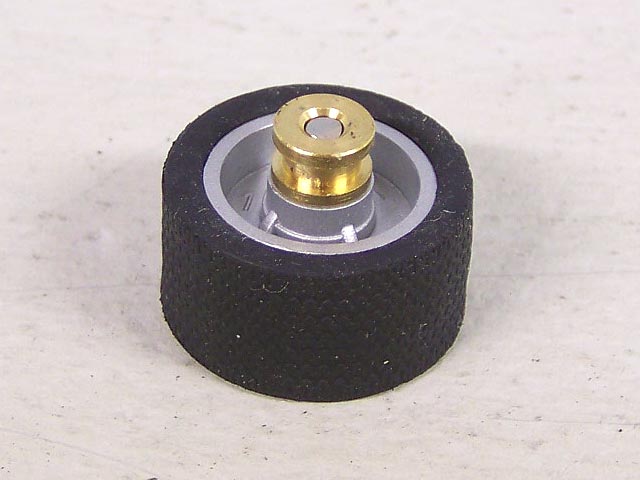 The front wheels are independent and I must say are nicely done. There is very little free-play here and most of you should be pleased.
Advanced Testing
MidMo International Speedway
4 x 16 - 3 Lane MDF Routed Wood - Flat Latex Surface
Copper Tape Conductivity - Aftermarket Power @ 12 Volts PARMA 25 OHM Control
From the plastic track with magnets to the routed wood without them. My first laps were actually rather surprising. I did have some wheel hop but not as bad as I thought would be present. Braking is ok, but not as strong as other brands. This is ok as you get used to it easily enough.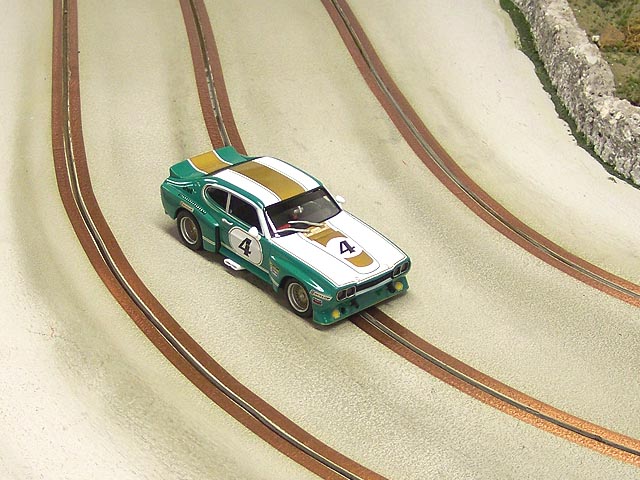 I had some decent lap times of around 4.8 seconds which not going to break any track records but it did tell me we had a decent model to work with. At this point you folks with wood tracks know what you will do to make a car run right on your surface. Time for me to tinker around and see what I can come up with.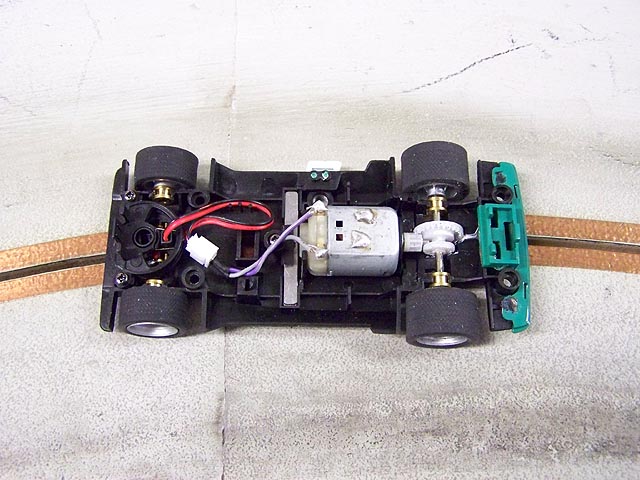 First I removed all the electronics for the polarity switch. I then removed the rear tires and started sanding the wheels. They need it too. This axle system is too narrow for my fancy Area # machine so I just did it the old fashioned way as I have for years. After this sanding I installed the tires and gave them a good sanding as well.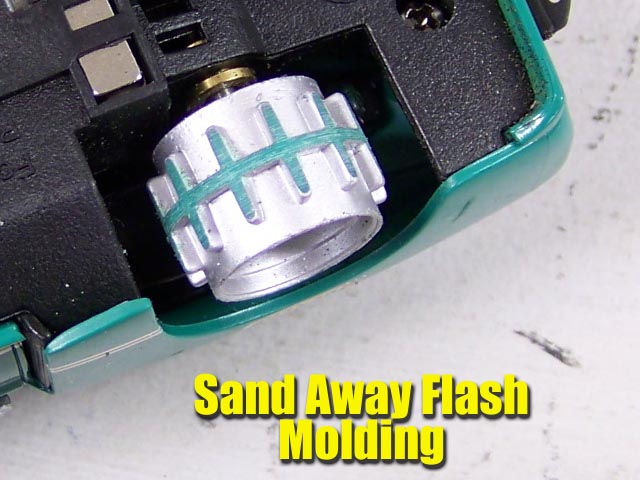 Now we shall see what we have. Back to the track and the 1st lap told me all I needed to know. 4.4 seconds right away! Then some tire cleaning using masking tape and after a few laps of practice I was easily down into the 4.2 range!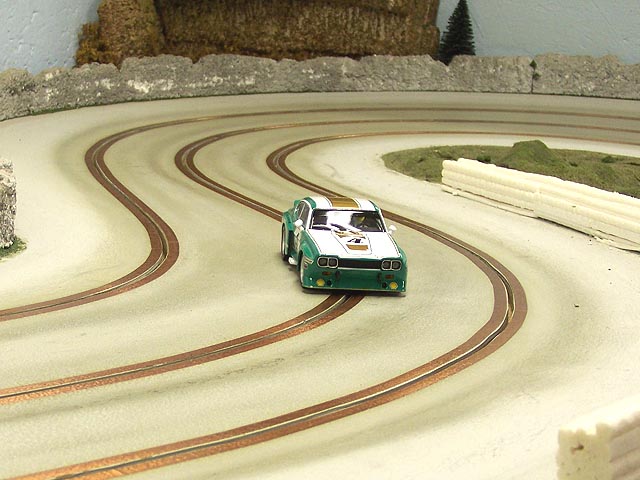 And this is with stock Carrera tires which are notorious for hating my track surface. When I change out to after-market tires (We like K&D or Yellow Dogs) I am betting things will really improve then.
Final Thoughts
This is a very nice little slot car. It is not a high end "professional" club car, nor does Carrera claim it to be. I think all around this model has great potential for a wide variety of home racers out there. And price? Yes, let us not forget that. This model is around $39.99 This is a great price point. Some of our "simple" slot cars are way above many budgets out there and some of them or no more advanced in quality than this model.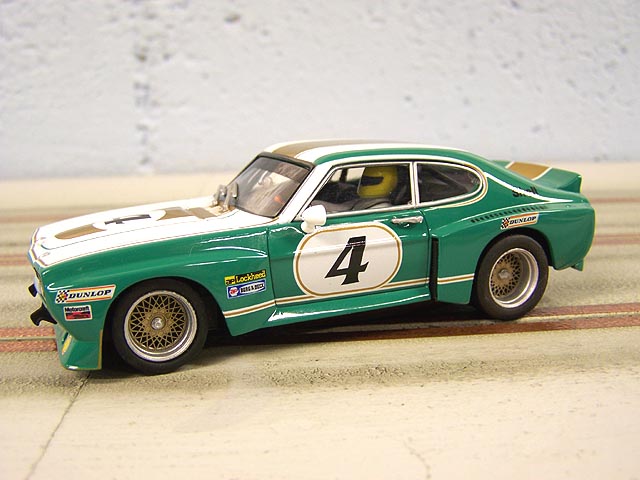 I am very pleased with this release. it looks and runs very well and has a decent price. Carrera has simply taken the lead in value for our hobby in my opinion. We need a quality toy that can appeal to beginners and veterans alike that has a price both can afford. Carrera accomplishes that with this famous Ford.
- Harry
As always feel free to contact me about this article or just the hobby in general at harry@homeracingworld.com, or better yet drop into our Message Forum and share your thoughts with other enthusiasts!
Thanks Go To Carrera of America For Sponsoring This Review!

Check Your Favorite Dealer For This & Other Carrera Models

Copyright © 2011 HomeRacingWorld.com All Rights Reserved