Tyco NASCAR Super Sound!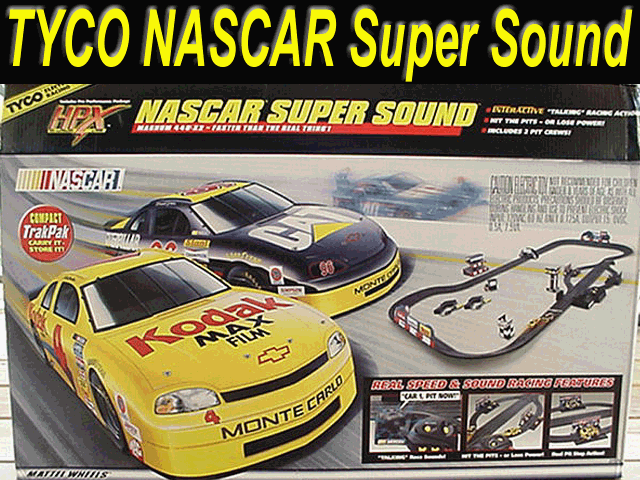 Although I am dedicated to 1/32nd scale, every once in awhile I get back to my roots, and pick up some HO scale product. Being a NASCAR fan, when I seen that Tyco was releasing this set, I wanted it not only because it was NASCAR, but also it had a pit lane accessory.
Coming in an attractive box that doubles as a carrying case, all the set components were intact and ready for assembly. Included are of course the Pit lane, 2 cars, 2 controllers, Power pack, and a nice selection of cardboard structures. You will need 3 AA batteries for the pit lane to work, so if you order one, have these on hand. Instructions were very clear and easy to understand, even for me, and within 10 minutes we were up and racing.
The great thing about this set is that it can fit on the good old 4x8 sheet of plywood. This space is a common standard for enthusiasts just starting out, and I was glad to see that it did. Also, banked curves and crossovers are included, and really add to the racing fun. The track simply snaps together quite easily, and disconnecting is just as simple.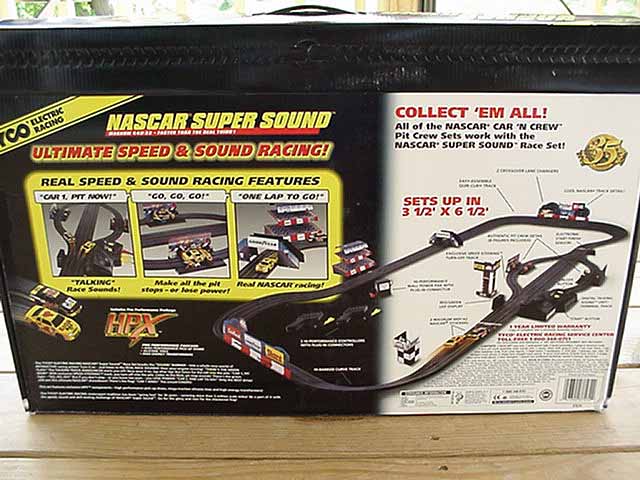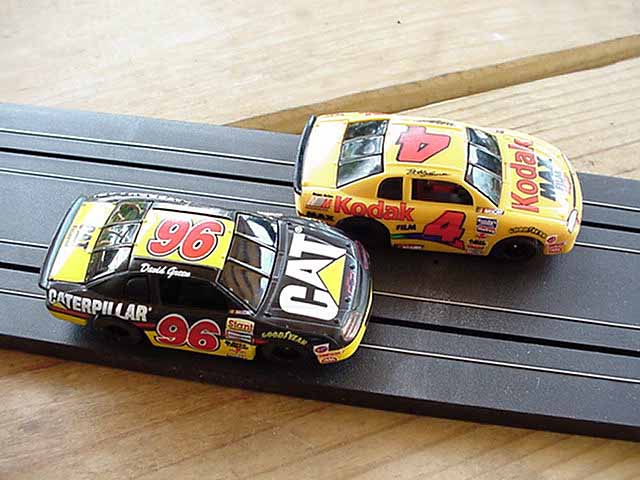 The cars included were standard TYCO, and represent the NASCAR body style fairly well. I don't really get particular in HO scale when it comes to scale detail, but some of you do. I will leave these conclusions to you, for everyone has their own scale preferences. The chassis is the same TYCO chassis that has been used for quite some time, and these cars lack one thing to make them run better: MAGNETISM.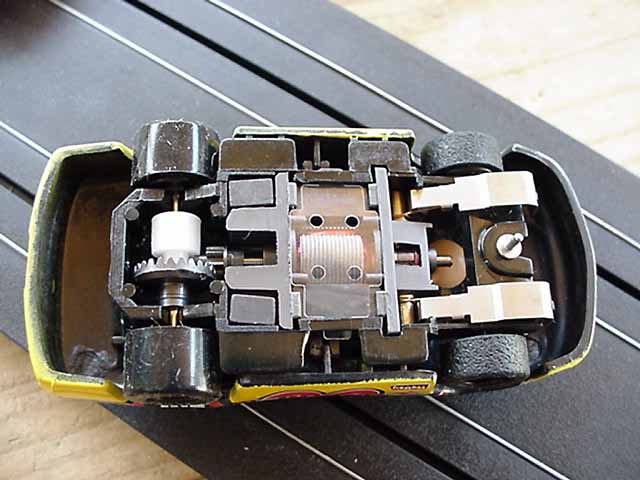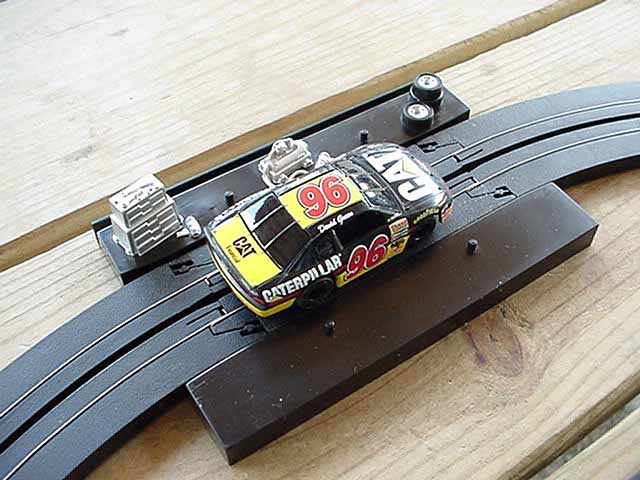 The magnets here are not as strong as on other HO cars. My Life-Like cars stuck to the track much better than these did, and when young children might be playing with the set, this extra traction should be a plus. However, these cars in the hands of an experienced driver are a lot of fun, and some great sliding action can be attained.
Now we come to the pit lane. At first, you may get the impression that there is some kind of switch that changes lanes. Well there is not. The track has permanent molding in it that causes the cars to always go through the pit lanes. So you always drive through the pits during "regular" racing, then when the sound system alerts you to pit, a red light appears in your lane on the power base, and you must pit.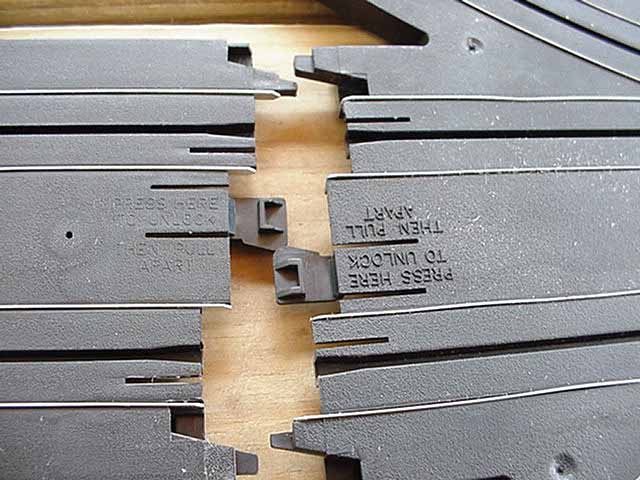 You must stop the car anywhere in the pit lane, if you fail to pit, after a few laps power is reduced in your lane and your car moves slower. I noticed only a slight difference in this power drain though, but it is there and works. A extra straight section is included in this set so of you do not want to use the pit lane option, and run just a regular track, you can, although you will need a regular power base.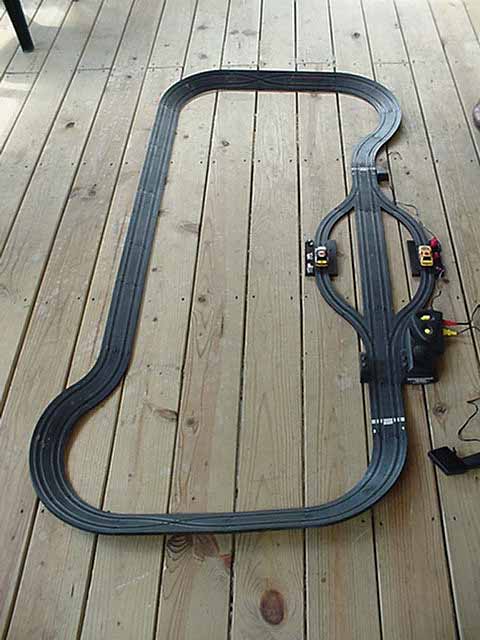 My son and I tested this set, and all we can say is that it's fun. The banked turns really help in driving, and the pit lane sounds really add to the racing. My son really liked the way the sound system would tell him to pit, and the engine sounds it produced was also a great added plus. The ease of assembly and the Super Sound system made this a very exciting and enjoyable set.
If you are a HO fan, especially NASCAR, or even if you are just starting, this little set should be a good choice. It has 2 great cars, banked curves, and the extras that could make NASCAR racing in this scale satisfying for hours to come. When it comes to HO scale, I am no authority by any means, but I do know when I am having fun with a slot car. I did this afternoon, and according to my kids, we are going to have more tonight!
Harry
As always, feel free to email me at wiseone@yhti.net or drop me a line here in our message forums about this article, or just the hobby in general.
Thanks goes to Slot Car World for providing our family with this great set!