Slot Car Corner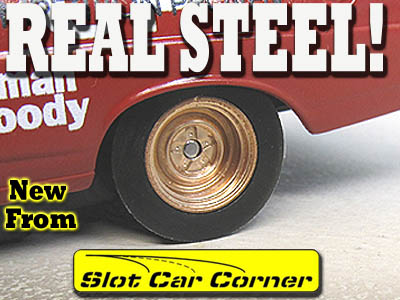 C.B. Design Stamped Steel Stock Wheel
"The Steelie"
Advancements in slot car wheel design and manufacture have come a long way in just the past few years. With new CAD applications and finer milling tolerances we have seen many designs come along that allow us great variety. Slot Car Corner is a leader in this art-form of wheel design and already has an impressive line to choose from.
But with all this variety, only ONE style has been what this slot racer has wanted. That's right, the good old stamped steel wheel.
No other wheel has had such an impact on our car culture in my opinion. From backyard rat rods, stock cars, and weekend draggers to the high banks of Daytona, this reliable "spare wheel" has seen it all. Yet in our scale hobby it has been quite elusive. Of course we already have insert wheels that allows to make our own, but now we have a "bolt on" ready to run option that will save a lot of time and effort for those of us modeling the many cars they appeared on.
Using the industry standard size of 15x8 MM as a base, they have created a fantastic scale representation of this famous wheel.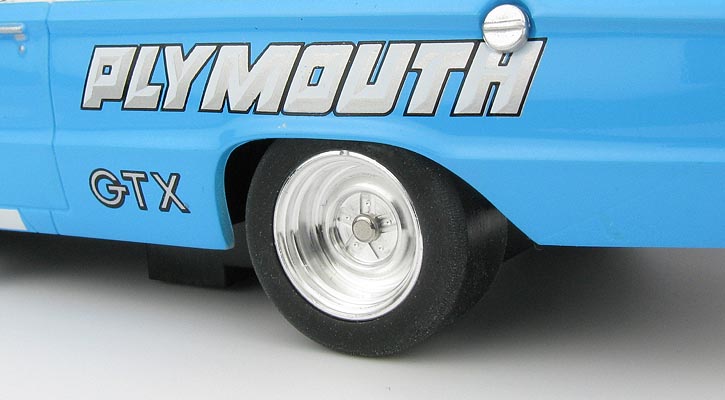 The detail level here is as good as it gets in my opinion. Of course they simply cannot make wheels with every size bolt pattern, but for the vast majority of the modelers out there this design should easily satisfy.
And what better series if models to feature them on than the Monogram Classic NASCARS? Without a doubt, this series of models could certainly use a wheel like this.
Hopefully the photos show you how well these new wheels can look on your next project.
Quick Technical Data:
Size: 15x8 mm Other sizes of this wheel will become available over time, but for now this size will satisfy a large number of enthusiasts.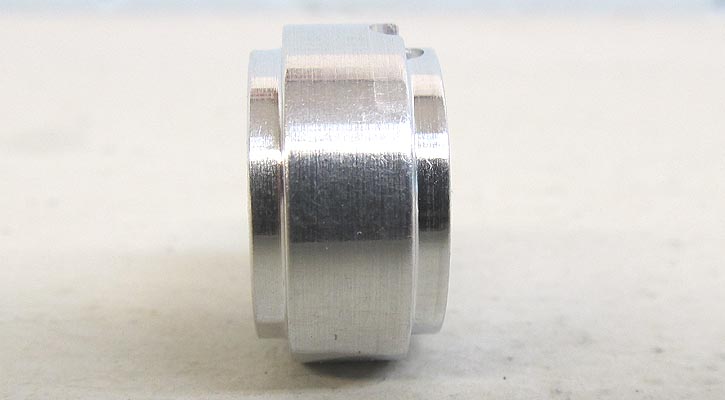 Hubless Design: Provides exceptional flexibility when adjusting the rear track width. This is particularly important when rules specify the wheel/tire must be completely inside the fender and/or a maximum track width. This design provide serious racers the ability to run wider tires under a large variety of models.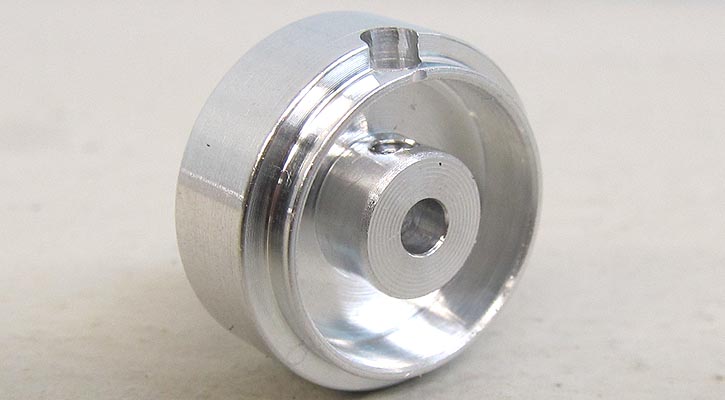 Fits Slot.it 3/32" (2.38mm) axles. In fact, this wheel is designed to fit these axles specifically. Tolerances between the axle bore and axle are very snug. When mounting or dismounting CBD Wheels on the this axle, resistance will be noticeable. Again, this is by design - the snug fit ensures concentricity is maintained when the set screw is tightened.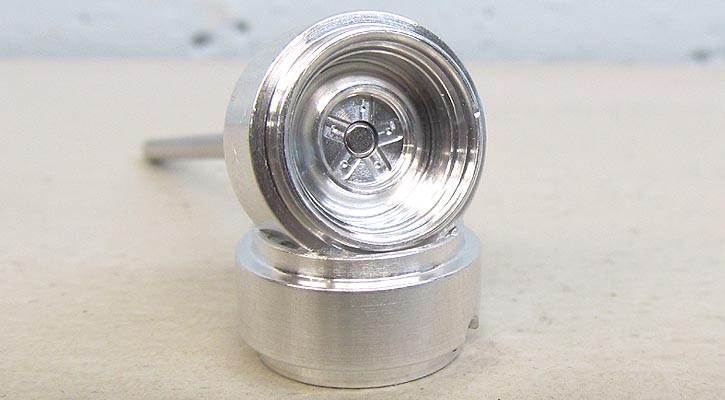 Slot.it Axle Shown
The result – ZERO wheel wobble or vibration which translates into better performance whether in a straight line or while cornering. Other brands of axles that are 3/32" (2.38mm) diameter are also compatible.
A large variety of tires fit this wheel. Of course SCC has their own Super Tires and Yellow Dogs designed for this size wheel. Other brands of tires also fit this wheel so check with your favorite vendor. Any tire that was made to fit previous CB Design 15x8 wheels will work here.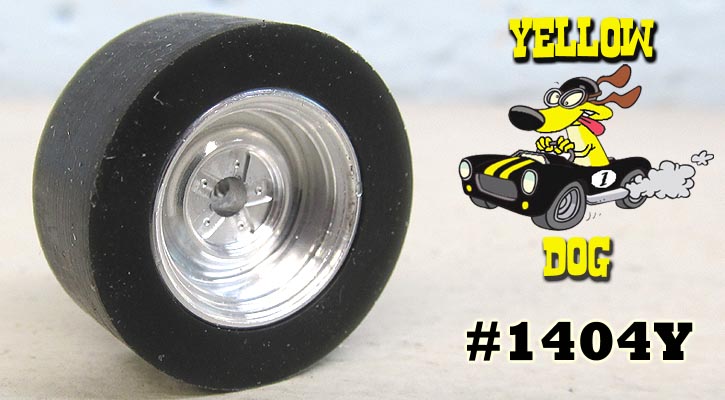 Yellow Dog Urethane Tire #1404Y Shown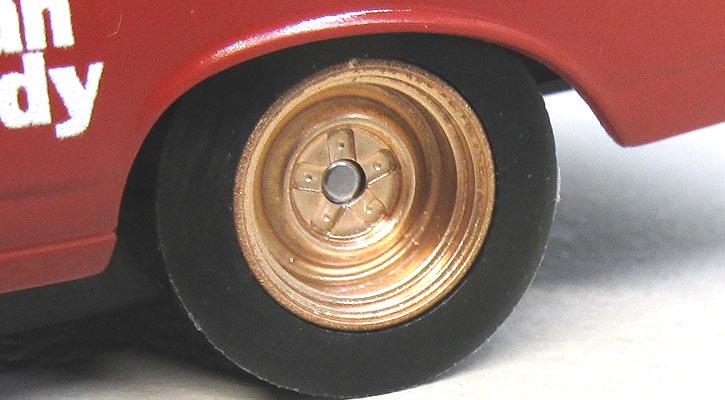 Wheels are easily painted to suit your needs. I used Krylon Brilliant Gold for this model. I left the axle unpainted to show highlight it.
Final Thoughts
We are all guilty of wishing that a certain model or part would be released to make our hobby more enjoyable. This wheel is one of those for me as it has been on my "wish list" for more years than I care to admit. To finally have it in my hands makes me appreciate it that much more, so I admit my bias fully...but I do not apologize for it!
I look forward in using this wheel for many upcoming projects and I am betting a lot of you are thinking the same.
-Harry
Thanks Go To Slot Car Corner For Making These Great Wheels.


Copyright © 2012 HomeRacingWorld.com All Rights Reserved