Tuesday August 14, 2007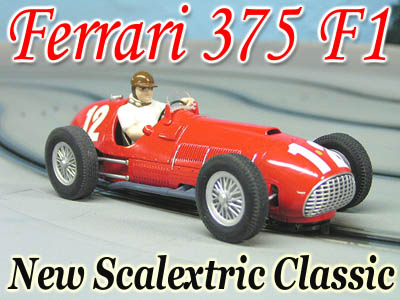 If you think of yourself as an "old school" type racing enthusiast, then it is a good chance you will appreciate this latest little gem in the Classic line from Scalextric. This addition to the series has been a personal favorite of mine and from the moment the model arrived here I knew we had another winner on our hands.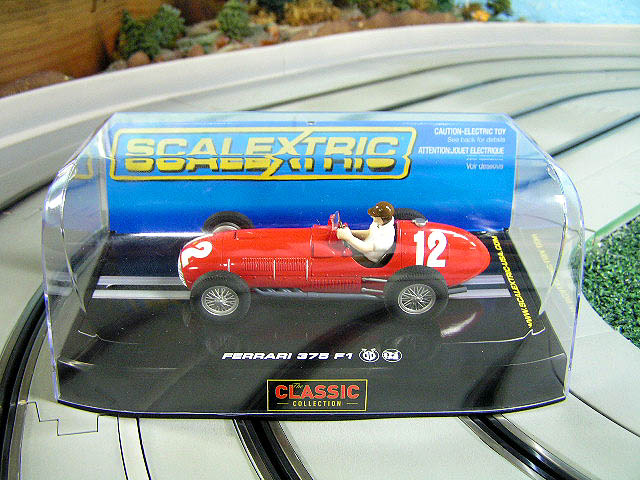 Nicely packaged by CincySlots.Com it arrived here safe and sound. Right away the first thing I noticed was the new case the model comes in. It has a flip top design with places for the spare guides underneath. Not that a case means much to most of you, but I do like the design and for the collectors out there it is worth attention. On the back there is a Car Features Key chart that helps know what the model is equipped with (Digital, Lights, ETC).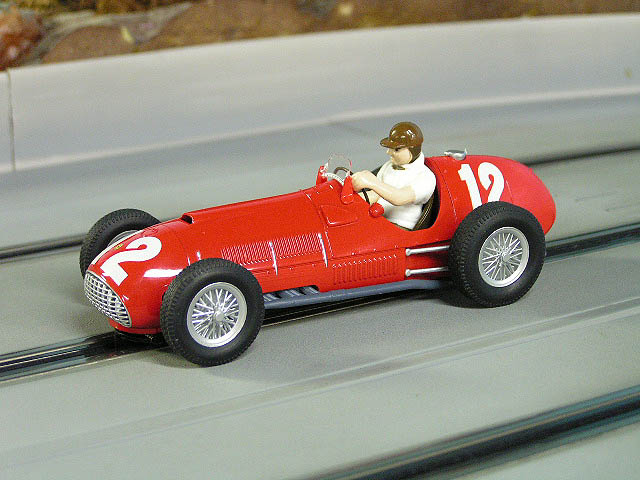 They say beauty is in the eye of the beholder. For myself I think this model is stunning in appearance. Scalextric has captured this classic very well in our scale and should appeal to most of you who like this style of racing. Although it might look as if there is not much small detail, you can look closer and discover the little things give this model such a finished appearance.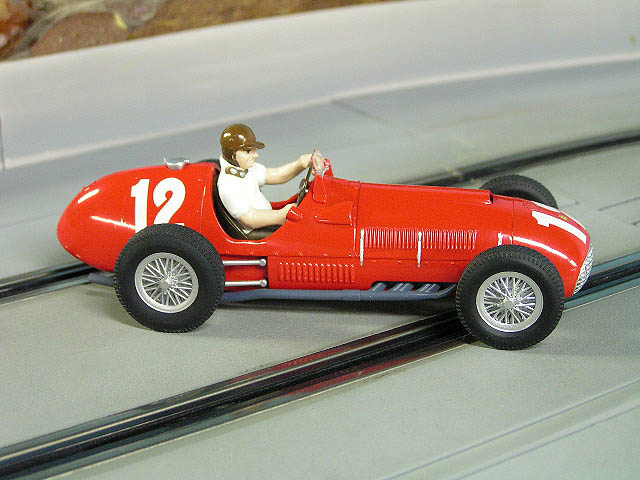 From the exhaust pipes, windscreen, to the hood latch detail there is plenty hear to enjoy, especially in the cockpit. The little touches of the visible gauges really impressed me. Our driver figure is done well enough and represents the time period accordingly.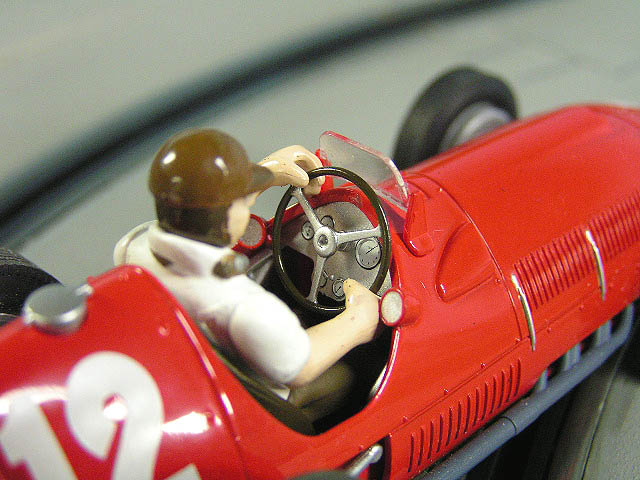 He is a tough customer too as he has decided to take off his goggles. They were just dirty I suppose, so at least now he can see:) A very clean clear coat seals the body nicely and overall I must give Scalextric a thumbs up on their representation of this great racer.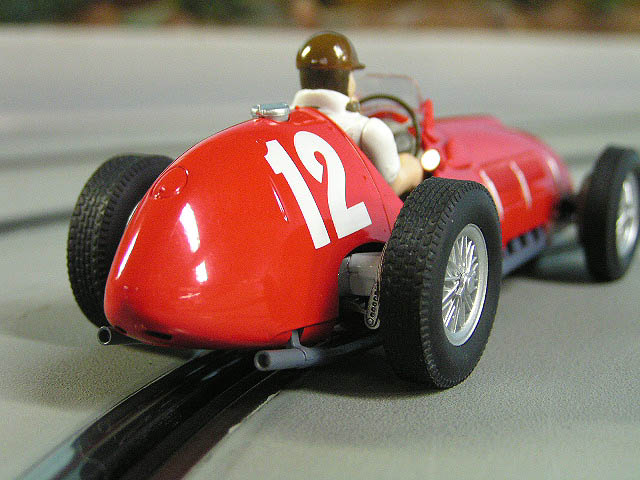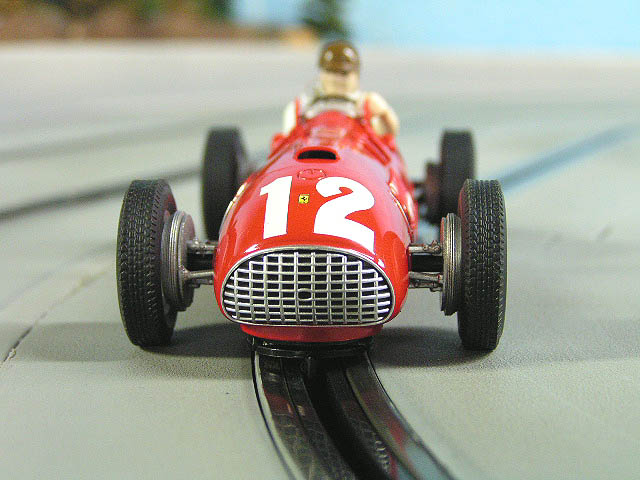 Wheels and tires are nicely done although you will need to sand the tires in order to get them adequately true. I also noticed a slight wobble in the right front and the left rear. However it wasn't a great deal and I thought that some wheel sanding would cure the issue.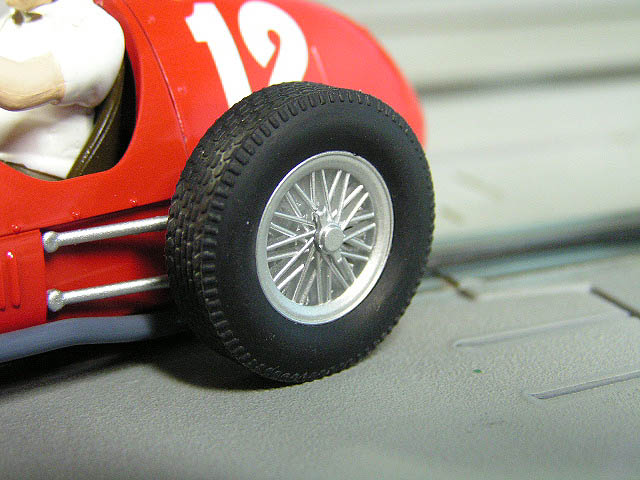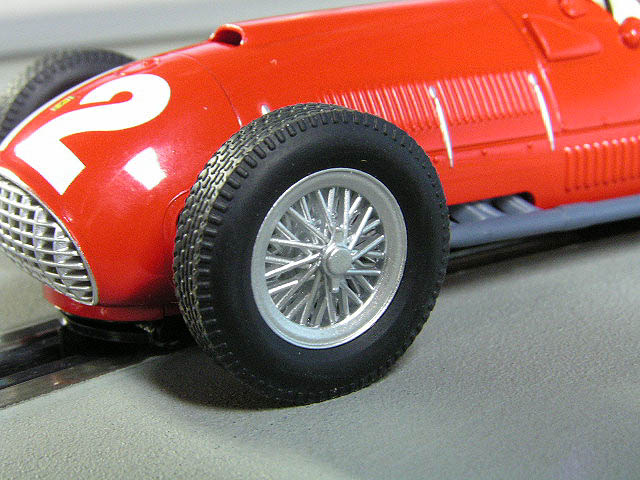 Out Of The Box
Directly out of the box this model functioned well enough and was very fun to drive. I tested this model on both our Artin 4 lane road course and our routed wood oval. On the wood this car handled better than I expected it to given the tires appeared to need so much work. But it did run and run well so I have to give it a thumbs up. Although advances in our hobby have vastly changed the quality of our models, there is still credit to be given for a model that will function this nicely without any modifications.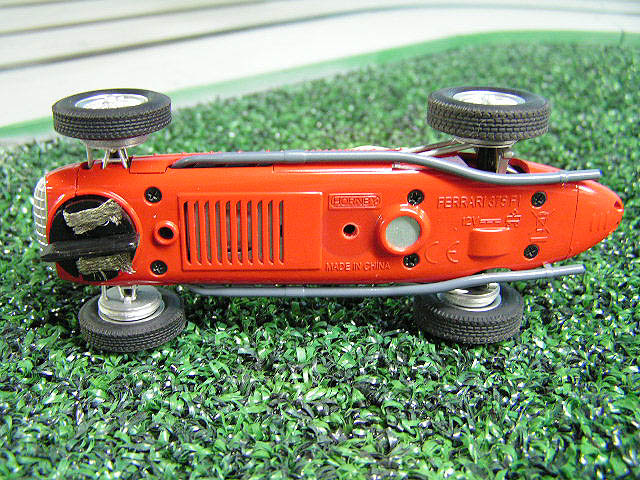 Looking underneath we see the standard button magnet in place along with 6 screws that hold the small model together. Be careful here as the 2 middle screws that go into the interior are a little shorter than the front and rears, so do not get them mixed up.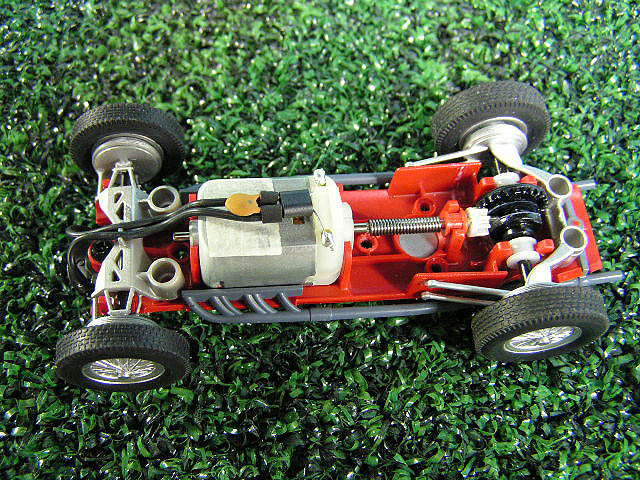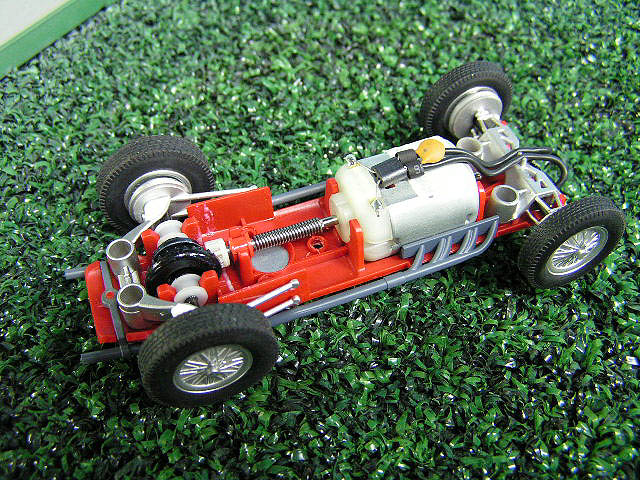 Getting inside we see the biggest change. On this Ferrari Scalextric has went back to the long time standard 18,000 Mabuchi (SP) motor instead of the slim line (FF) ones found in the Cooper Climax and Ferrari 156. It is equipped with a 9 tooth pinion that turns the 27 tooth crown gear. Gear mesh is very quite and smooth and of course will only get better over time.
Testing - Plastic Track With Magnet
Our first advanced tests took place after we cleaned the wheels and tires. The wheels do have some flash molding on the inner rib which may cause the tire to rest unevenly on the wheel.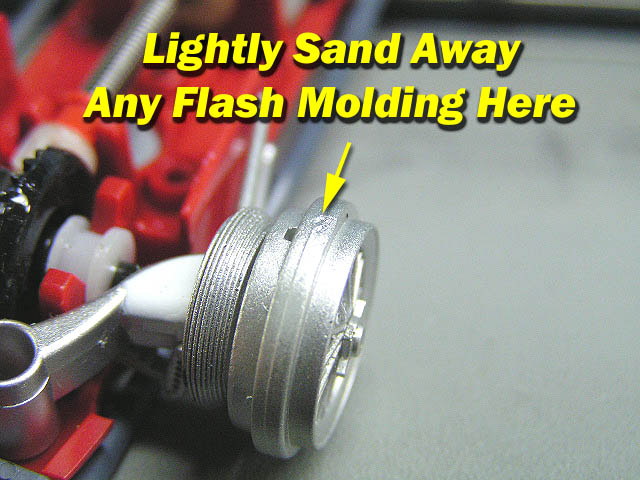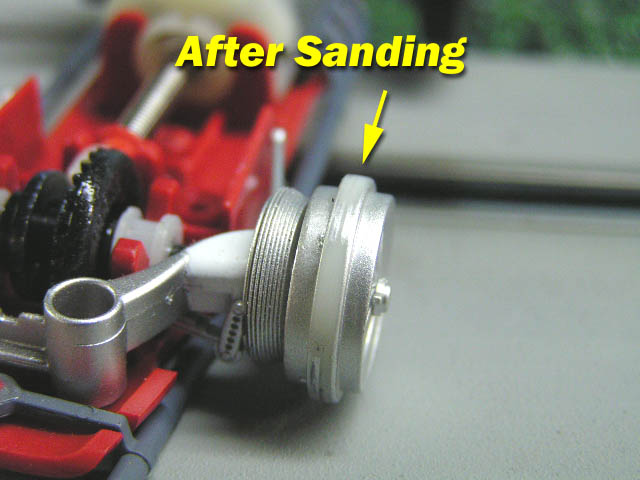 Just take the tire off and use some very fine grit sandpaper and clean this excess away. Then install the tire and sand it to your desired profile. After this was completed we headed off to the track. Our Artin road course is powered by a Pyramid PS-26KX power supply and it was set on 12 volts.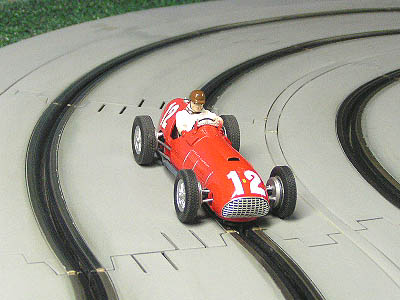 Using PARMA 35 ohm controllers I found a very nice model to drive, although it can get away from you. This car does not like being pushed too hard coming in, or coming out of the tighter corners. It will snap roll easier than you might think. Braking and acceleration are fine however and you should find a good balance very soon. Our best times were in the 4.1 second range as an average which is more than acceptable for my style of driving.
I do not see where the model needs anything more than the normal maintenance of oiling and keeping the tires clean. It certainly needs no more magnetic downforce, but some enthusiasts will eventually try adding it. For my style, it is just fine the way it is and most of you who enjoy classic racing will most likely appreciate this model just as it is.
Testing - Wood Track Non-Magnet
It was now time to see how our Ferrari would react to our routed wood oval. This track is copper tape and uses a standard latex paint for the surface. We have installed 25 OHM PARMA controllers and our power supply is the same as on our Artin track. There is plenty of mileage on this track and a good amount of rubber has been laid down. I was very impressed with this little classic as it ripped around quite smoothly.
Without the magnet having its effect, the snap roll of the car was no longer an issue. What a sight this slot car is when I would drift it almost effortlessly through the corners. It looked right at home on this oval and I see a few more of these as prime candidates for INDY car re-paints. I added no lead for this test so I will leave it up to the advanced enthusiast to tune as they see fit. I will say I think it is a great platform to start with as our lap times averaged in the 3.5 second range. This lap time is very respectable for a model such as this with the lighter weight and very little tire contact to the track.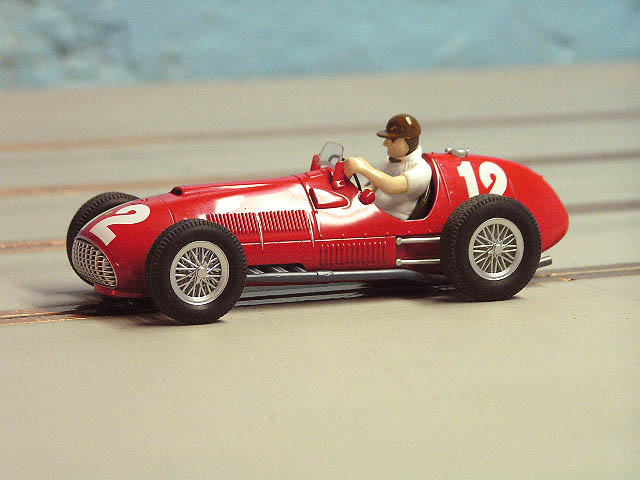 Conclusions
What is it that makes these models so appealing to so many enthusiasts? Is it simply the time period itself? Perhaps. I hear so many racing fans talk about the "good old days" when drivers were drivers and the sport of auto racing still had sport. Maybe it is just the sleek lines of the cars that appeals to us? Literally shaped like a bullet (rightfully so) these cars sliced and diced on all types of tracks around the world.
The model that Scalextric brings us is simply a great little slot car that should provide you with hours of racing fun. As our hobby has evolved, sometimes we can be very critical of the models we have today. Although the voice of the enthusiast has made some great changes to our models, we should look at a slot car like this and appreciate how well it functions, and how well it looks right from the box. I have seen other classic open wheel models that are either ridiculous in price or so badly designed they will not even run. Such is not the case here.
If you enjoy this era of modeling and racing, you should certainly take a closer look at what this car has to offer. If you have previous versions of the classic series this car is almost a must have. Even if you are just getting started in our hobby, this would be a great opportunity to start your new classic series. Scalextric produces a wide variety of great looking, smooth running slot cars and this classic is no exception.
- Harry
As always feel free to contact me about this article or just the hobby in general at harry@homeracingworld.com, or better yet drop into our Message Forum and share your thoughts with other enthusiasts!
Thanks Go To CincySlots.Com For Providing Us With This Model!