02/19/2012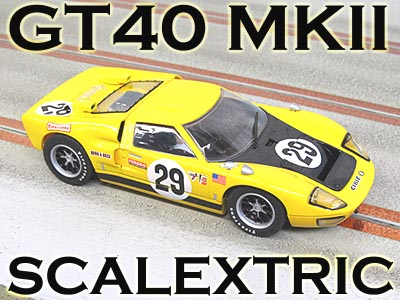 1/32nd Scale Scalextric Ford GT40 MKII - 1970 Sebring - C3211
This effort from Scalextric brings back a lot of fond memories. Not of the 1:1 racing like you might be thinking though, it is the model itself that has me reminiscing.
It was almost 10 years ago we first got a taste of the new "SPORT" line from Scalextric and with it came a staggering amount of cars. This GT40 model was among them and when they hit the home racing scene they caused quite a stir to say the least. Now in 2012 we have all new releases in this series and I felt it important to remind the home racers today of how much fun these models truly are.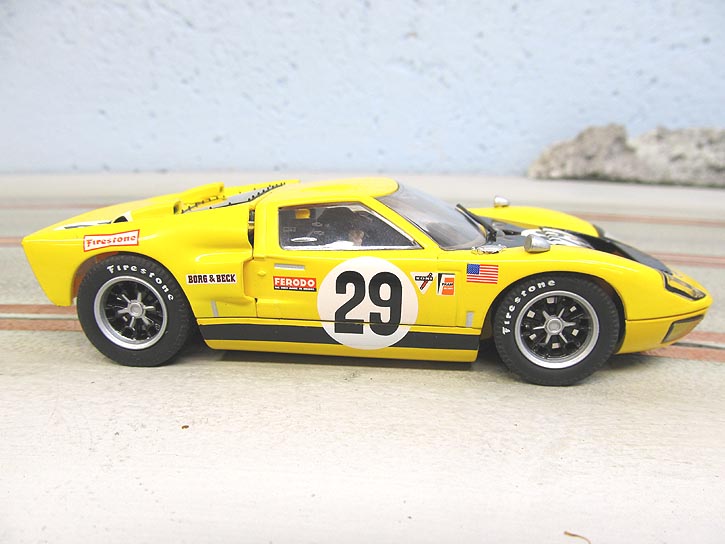 First thing's first. If you are looking to re-hash the argument over who makes the best looking GT40 look elsewhere. The Scalextric versions are not perfect and neither are any other brands. They are certainly close enough in scale for my eyes.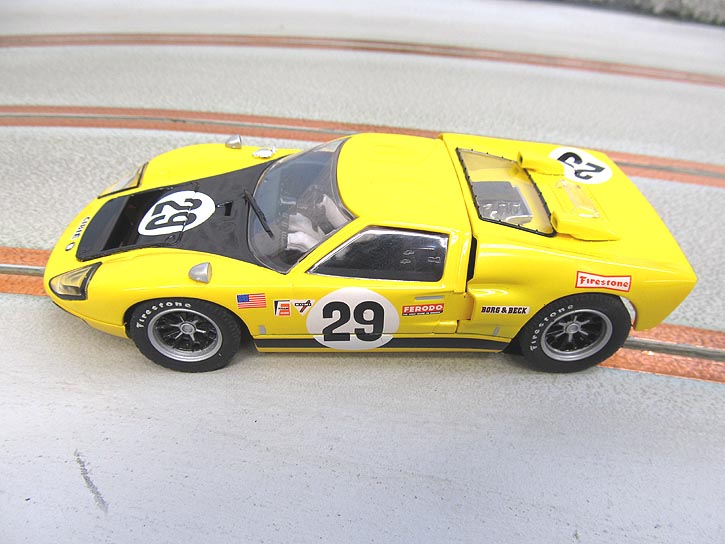 For this particular livery Scalextric did make a mistake. In fact, they publicly admitted they used the wrong GT40 version and have apologized. So now what? The car is "wrong" but they admitted the mistake and there is really nothing anyone can do about it. What about you? Would adding this car even though it isn't prototypically correct bother you?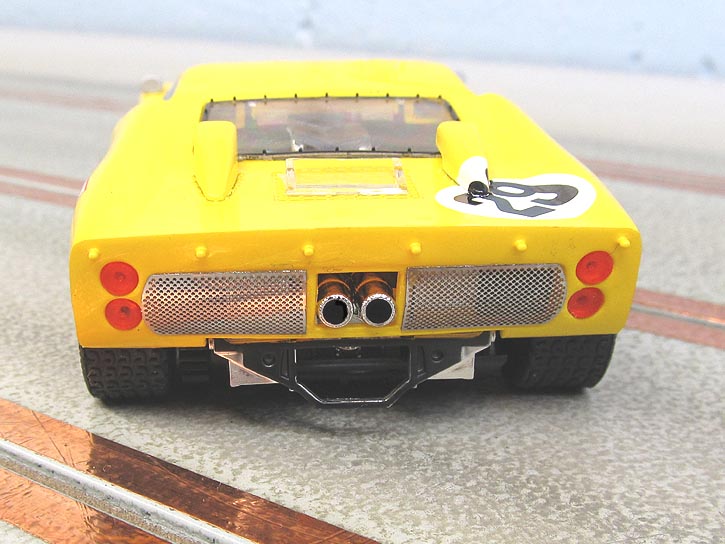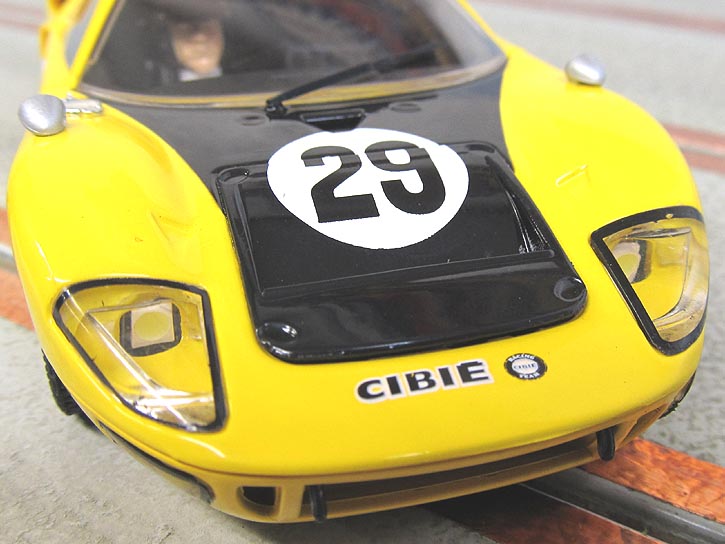 For my eyes it still looks good. Very good. This livery is particularly striking to me. I enjoy models with contrasts like this and I wanted it the day it was announced. Although it bothers me a little they used the wrong car it certainly wasn't enough for me to pass on it. Besides, I have plenty of fantasy based models so why not one more? Bottom line is I wanted this car as it reminded me of the fun we had with them years ago and looked forward in enjoying them all over again.
Fit and finish is very good and should satisfy most of you. One of the features of this car that has always attracted me is that it is lighted.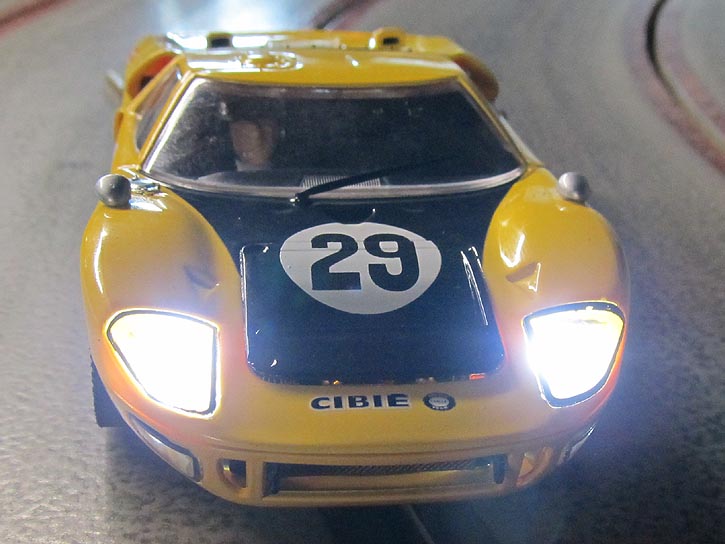 It is just the fronts but it still adds a lot to the value of the model for me. If you try night racing these you will understand why.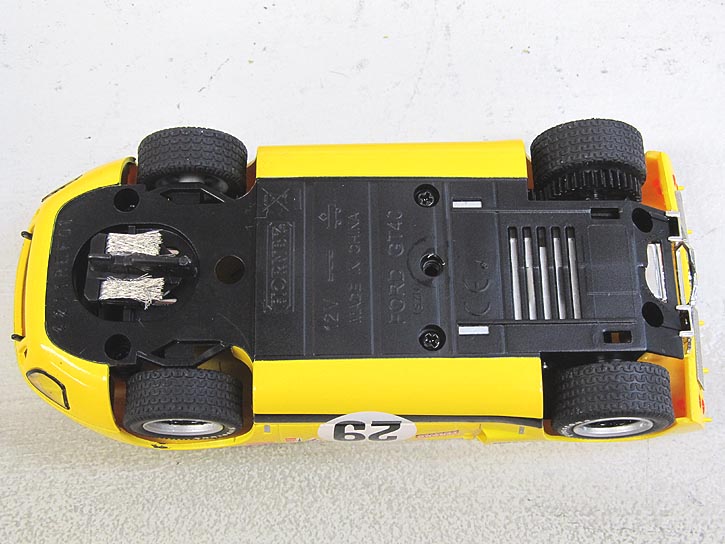 This car has not changed since the early versions aside from the guide. I am happy about this as it makes it compatible with my older versions. And this is one major point I feel really makes this car even more attractive. Too many companies keep changing things and usually not for the better. Not here. Thank you Scalextric.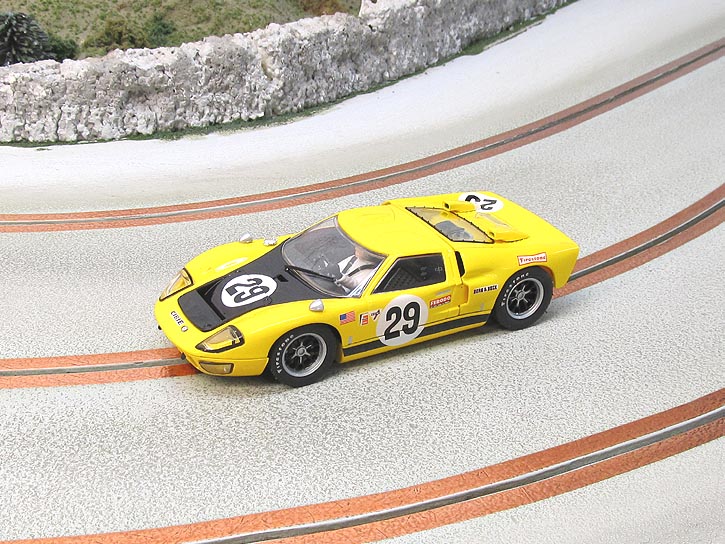 Testing this car was a lot of fun. I figured it would be decent out of the box and I was right. Of course it did have a little hop to it, but for right out of the box on a track surface it was not designed for it functioned very well. Plenty of power and braking was very good. I knew it would only take a small amount of tuning to have a very smooth classic.
The front guide no longer has a spring but the amount of travel is still not as much as some racers like. Advanced enthusiasts have more options today than 10 years ago to address this, so I will leave that up to the individual on what approach to take. In stock form it still functions as intended so I cannot be too critical.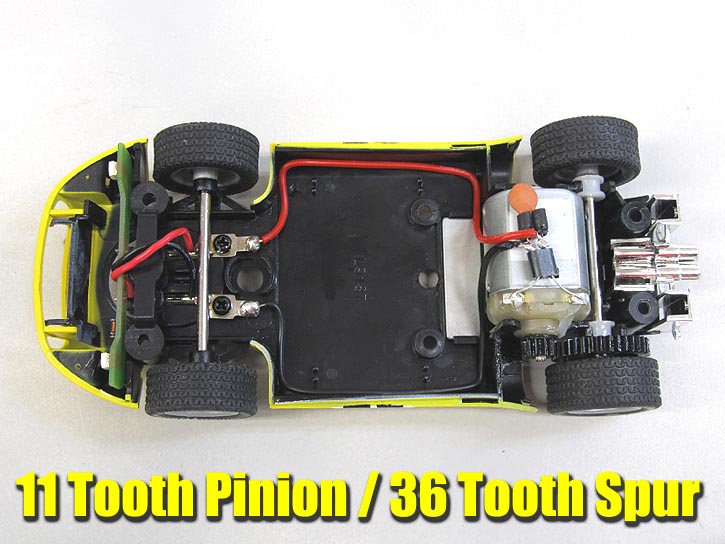 6 screws mount the top half of the body to the chassis. Inside we see the stock motor in the sidewinder configuration with an 11 tooth pinion and 36 tooth spur gear.
There is one thing you might want to address while you have it apart. There is a slight amount of side to side free-play in the rear axle. Not a lot, but many advanced enthusiasts like to clean this up. Having too much free-play just causes the car to shift back and forth in the corners and can at times cause tire to body rub.
My fix is simple and does NOT require removing the wheels. I use small plastic shims you can buy or even make yourself.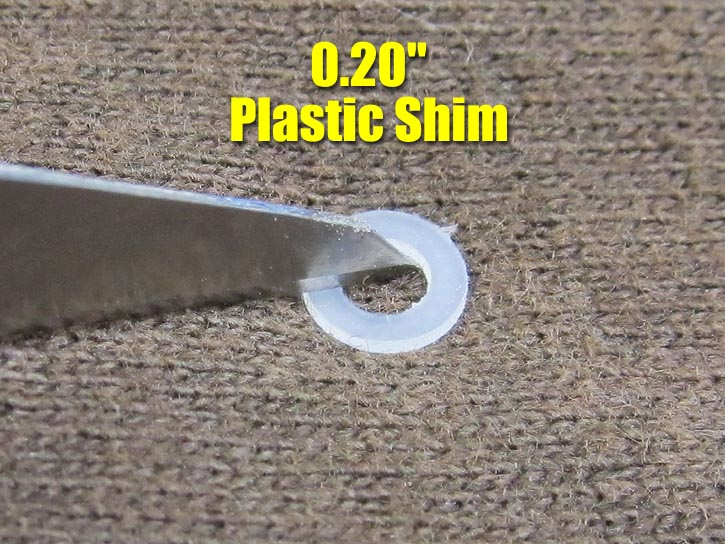 Press down and put a small slice in the plastic shim.
Using plastic allows you to easily place the shim on a hard surface and put a slice in it with a hobby knife. Now you can just snap this shim over the axle and the shim will fold back to flat easily enough.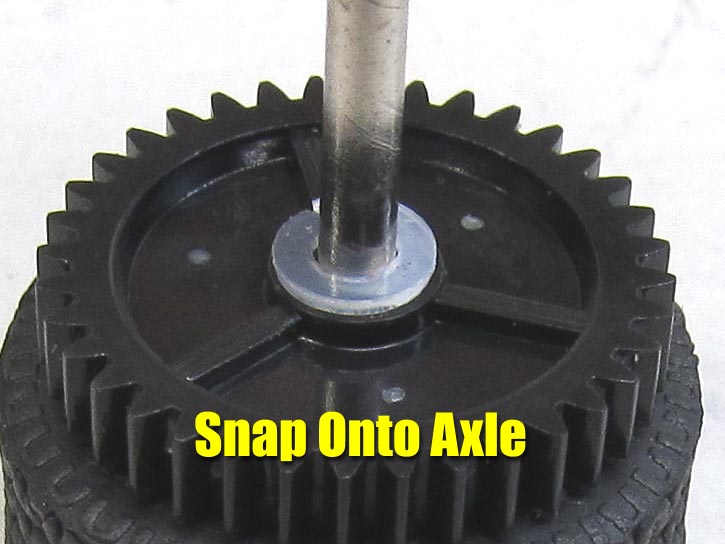 I made a shim for each side that was perfect. Now all the free-play was eliminated, yet the rear axle spun freely.
The second thing I like to do is sand the tires. I moved the front tires to the rear and sanded them to the point of removing all the tread design. Then I moved them back to the front. This is all you need to set a pretty good tri-pod effect with this car. You might have to sand more or less depending on how you like your slot cars setup.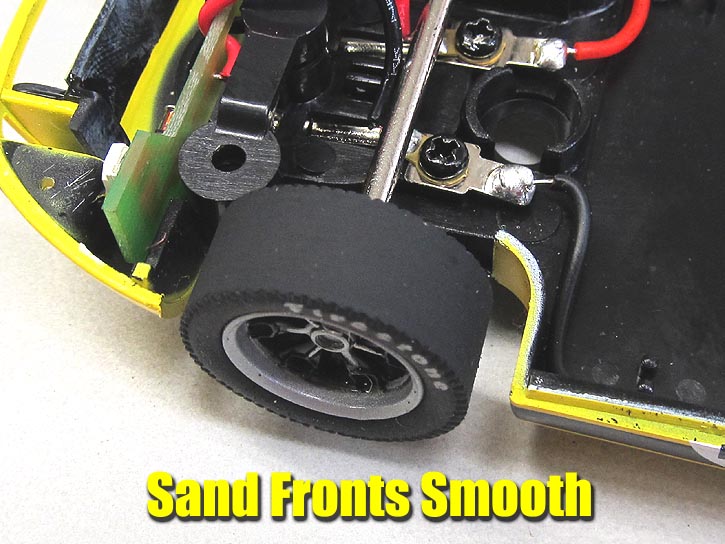 After just this quick tuning I had a very smooth and responsive model. The action this car provides is about all you can ask for in a slot car priced under $50.00. Which brings us to yet one more attractive point. I feel a price under $50.00 is still affordable for most enthusiasts, especially those of us who are hopelessly addicted.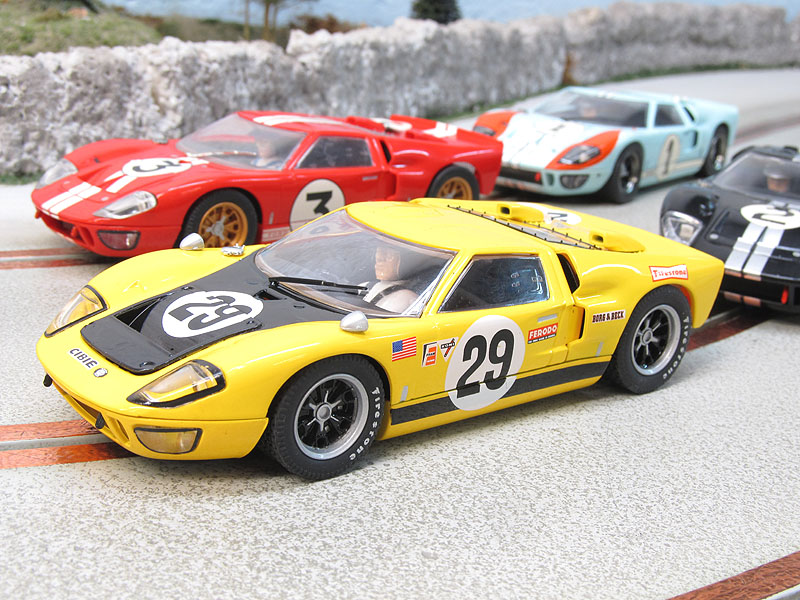 I am more than happy that Scalextric decided to bring us more of these models. For those of you just arriving in our hobby you really owe it to yourself to give these classics a closer look. And you veterans out there know full well what they are capable of, so maybe it is time to rediscover them? I am happy I did.
-Harry
Better yet, drop into our Message Forum and share your thoughts with other enthusiasts!
HRW Now On

Thanks Go To Chicagoland Toys & Hobbies For Providing Us With This Sample!
Be Sure To Click The Banner Below - Support Those Who Support YOU!


Copyright © 2012 HomeRacingWorld.com All Rights Reserved