Sunday March 12, 2006
BUDGET POWER UPGRADES
Updated!
SAMLEX & PYRAMID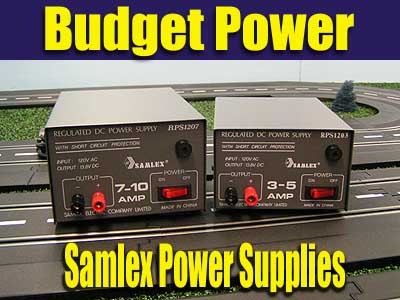 When it comes to upgrades in our hobby there isn't really a "one size fits all" answer for everyone. Recently I have been searching for low-cost power supplies that could fit the needs of enthusiasts who might not require all the extra features, nor will their budgets allow one of the higher end systems. These smaller Samlex & Pyramid supplies are ideal for these applications so I thought I would give you a quick peek.
For some of you the standard power (transformers) you have now will work fine and if your having all the fun you want...then it isn't needed. However for those of you who have taken this little hobby to the next level of interest and want to get the most out of your models, you better believe that a decent power supply will make a difference. For starters, the main problem with most set transformers (wall warts as we call them) is they lack the amperage needed for most slot cars found today. With models being released having stronger magnets, and some of those being equipped with higher end motors, you need to give these cars all the amperage they need to perform optimally.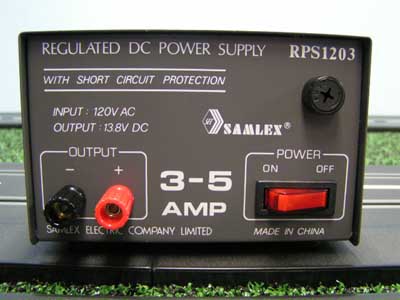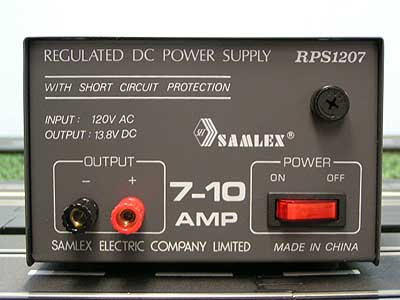 These smaller supplies not only solve the amperage issue, it also brings you another important factor: Clean DC. Having clean DC voltage to your motors helps extend the life of them, preventing AC leakage commonly found in most transformers today. Speaking of voltage...I know many will argue this with me, but I don't think you need anymore than 13-14 volts for our models to be fun. I say this as when we start to raise the voltage too high our little motors begin to take abuse they don't really need. Voltage too high will heat these smaller motors up while racing them and if you run too much, sooner or later your motor will fail before its time. I know some of you like running at 15, 16 or even higher because of the power and speed it allows, but I feel 13-14 gives me plenty of those qualities and helps protect my motors a little more at the same time. My higher end Professor Motor power supply only goes to 15-16 volts and have never seen where I needed any more than this for my home racing.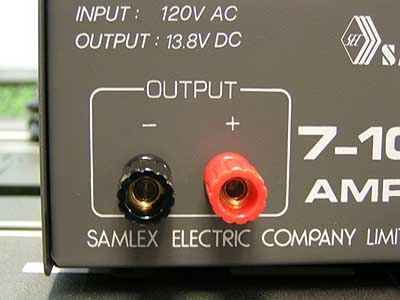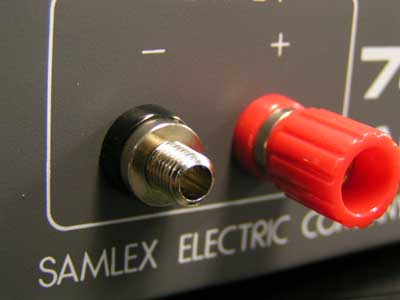 So will these smaller power supplies give you all you need? They certainly do in my eyes and should fit the needs of many enthusiasts as well. The RPS 1203 has 3 to 5 Amps with 13.8 Volts regulated DC making this little power supply ideal for most any 2 lane layout. For those with 4 lanes, I chose the RPS 1207 with 7 to 10 Amps at 13.8 Volts. This supply would be the ideal upgrade for those of you with the Artin 4 lane system or any other brand for that matter.
I favor these supplies above other similar models based on the features I felt were ideal for our hobby. Plenty of Volts and Amps combined with a decent price that most enthusiasts can afford. Hook-up is straight forward with the front mounting posts with the overall sized of the unit being small enough for tighter spaces.
RPS 1203 Design Specifications
Model Number

Input Voltage

Output Voltage

Output Current

Dimensions
H' x W' x D'

Fuse
Rating

Shipping
Weight Lbs.

Continuous

Maximum Surge

RPS-1203

120 VAC
60 Hz

13.8 VDC
+/- 0.05 V

3 Amps

5 Amps

3.5x5.1x7.3

1A

5.0
RPS 1207 Design Specifications
Model Number

Input Voltage

Output Voltage

Output Current

Dimensions
H' x W' x D'

Fuse
Rating

Shipping
Weight Lbs.

Continuous

Maximum Surge

RPS-1207

120 VAC
60 Hz

13.8 VDC
+/- 0.05 V

7 Amps

10 Amps

3.9 x 5.8 x 9.1

2A

8.5
I chose to include Pyramid supplies here as they are equally as good for our home racing uses. They also carry an even lower price than some Samlex Models. If your budget will not allow an adjustable unit, try looking at the model below for an excellent upgrade for your track.
Pyramid Power
Pyramid is another brand of supply that is very reliable with great quality. These supplies can be found for under $25.00 and are ideal for those on tight budgets.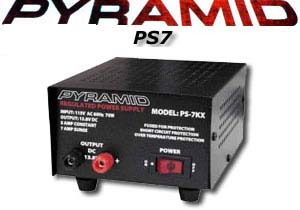 Output: 13.8V DC 5Amp Constant 7Amp Surge
This is more than enough for most all 2 lane layouts. If you are going to run hotter motors or going 4 lanes, then look at the next choice.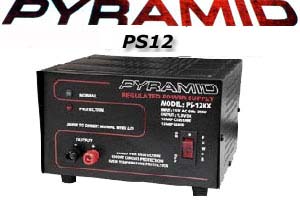 Personally, if you are investing in a 4 lane layout then you might as well spend a few dollars more for a good quality adjustable supply. Nothing can replace the ability to lower the voltage to protect your slot cars from harm.
If you are looking to upgrade your system and don't want to spend a lot of money, I highly suggest these units as your answer. Samlex and Pyramid has produced high quality products for quite some time and I feel if you try one yourself, will begin to enjoy your hobby only that much more.
- Harry
Use GOOGLE to do a search on these items for pricing or check with your local dealer.