Monogram Shelby GT350R
by Rich McMahon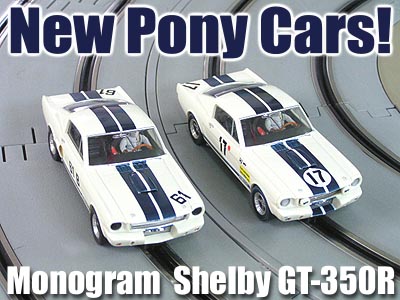 Once again I am saved the effort and expense of making a slot car that I desired. This time Monogram has produced a fantastic 1/32 scale Shelby GT350R Mustangs that is very affordable. So far two versions are available and each is an exact replica of a specific racecar. The cars come in the now familiar Monogram clear display case wrapped in a paper sleeve with a short history of each car.

When introduced, the Ford Mustang opened a new era by focusing on the youth market. Most people know of the high performance Shelby Mustang, the GT350. These were actually modified Mustangs that were no longer considered Fords but were titled as Shelby cars. There were 37 special racing versions produced, hence the GT350 R designation, which were intended to provide the Mustang with on track success. These were formidable road racing machines with Jerry Titus winning a SCCA national championship in one.
The Monogram versions are well detailed scale models, this is an important point as many slots cars are not scale models. I can not lavish enough praise on the modeling and finish of this slot car. Typical of all Monogram products the shape is exceptionally well modeled. The paint is flawless with a very smooth finish to the clear coat with sharp blue stripes. A well detailed full interior with a outstanding driver figure are included. I do not feel a full interior adds any value to a slot car but Monogram has done an excellent job with this one.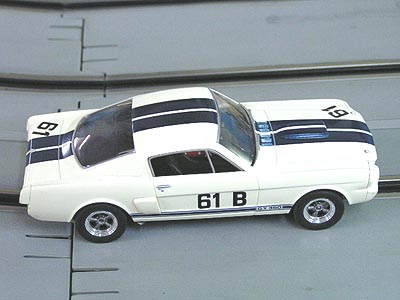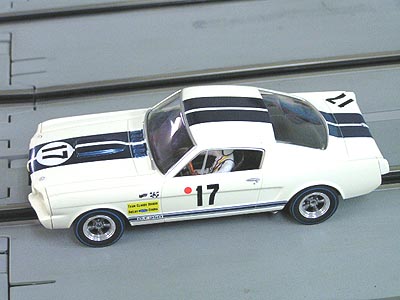 It appears to have a photo-etched grill and detail differences between the two versions. The outside mirrors are not attached to the car but are taped to the bottom of the case and need to be glued in place. I have not glued mine in place to avoid knocking them off during the usual racing incidents.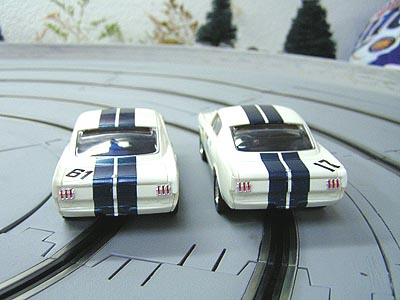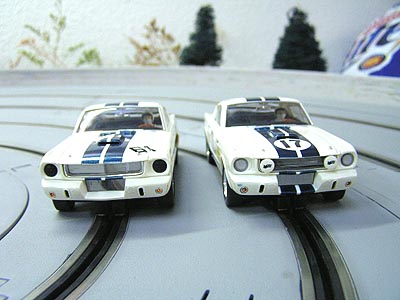 The American mags are very well done and have Goodyear blue streak tires. The wheels and tire appear to be the correct size for the period but look dated because today everyone is installing oversized wheels. This slot car has the typical front mounted motor with a drive shaft transferring power to the rear axle. The gearing is a like the other recent Monogram cars as is 9/27. A traction magnet is located ahead of the rear axle and can be moved fore and aft without any tools.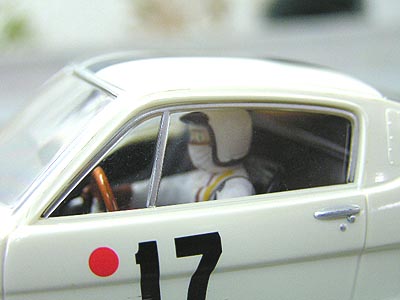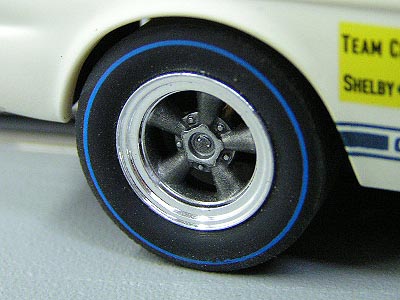 I was very happy with the on the track characteristics of these cars because they have great drive-ability. They ran very smooth and quiet, a trait of all Monogram cars. These cars have a lot of speed but I do not consider low lap times an indication of a good slot car, I am more concerned with throttle response and being able to control speed into, through, and out of the turns...in other words a car with good balance and throttle response. This car fits my idea of a great running slot car perfectly.
Both beginners and experienced racers were able to immediately enjoy it's on track performance. The traction magnet does provide a decent amount of traction without being too stuck down. And yes, there is a noticeable difference when the magnet is moved from the forward to the aft position. I prefer it in the forward position which will allow the tail to step out a bit more, its fun power sliding these cars. I found this car to have decent braking, better then some cars I have and not as good as the best. I found it to race quite well with the special edition Cobra Daytona Coupe (which has the same gearing).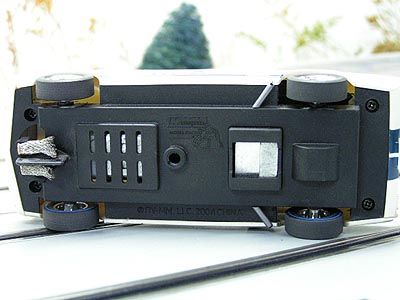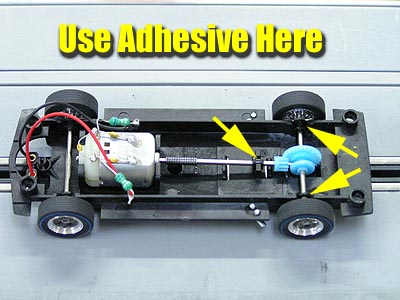 One item of tuning that seems to really improve the performance of this model is sanding the front tires to get them round and true. This is easy to do as the tires are the same size all the way around. I just sanded the rear tires until I had them as true as possible and then swapped them to the front. This helped minimize the front hop the car seemed to have and also allowed the guide to sit slightly lower in the slot.
Another item is the rear axle bushings and drive-shaft bushing. On 16 models tested here, 8 of them needed the drive-shaft bushing glued in place to prevent it from spinning in it's mount. 5 of them needed the same for the axle bushings. Even if your model does appear to need this performed now, we suggest adding adhesive to them for preventive maintenance.
I am glad that Monogram utilized the same motor as previous releases. This car runs great with the motor it has and I do not feel it needs any more speed. Monogram should be complimented for not following the trend of installing a faster motor like some other producers have done. I feel this continuing trend does not add any value to our hobby. For myself, this hobby is about racing slot cars with similar performance and not about increasing levels of speed. When I raced my cars I even turned the voltage down to about 12 volts.
For me the Monogram Shelby GT350R stands alone as another excellent car that compliments the other recent Monogram releases. I think this is an excellent slot car to race with the other Monogram cars and also a great model of a legendary American performance car. Comparisons to other Mustang slot cars are inevitable but I will leave that for others to debate the merits of the numerous other offerings such as the AMT 1/32 scale 2+2, Eldon GT350, Carrera, Scalextric Boss 302 and SCX drag car.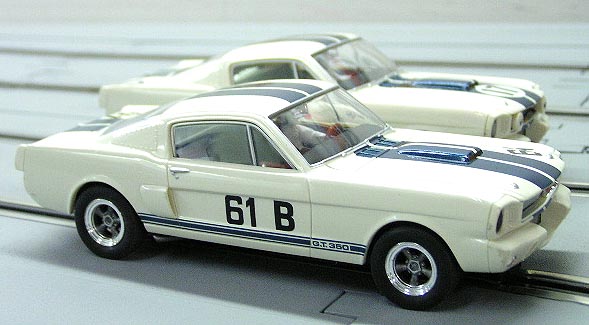 This car is a very welcome addition to my growing stable and is another great car to race with the other Monogram cars. Priced around $35-$40.00 it seems like a bargain. I am happy that I chose them for my collection and I look forward to more versions. I hope Monogram is listening as I would love to see a street GT350, and Mark Donahue's Blue with white stripe car he ran at the Daytona runoffs in '65, and a black with gold stripe Hurst GT350H rent a racer and…well...I think you get the picture.
- Rich