Saturday March 24, 2007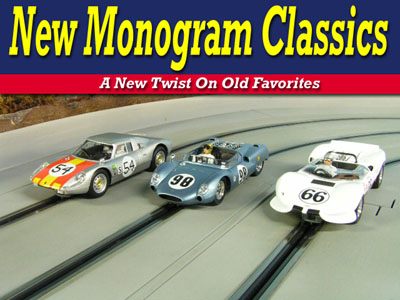 Porsche 904 GTS, Shelby King Cobra & Chaparral 2
Slot car racing has many aspects to it that make it such a great hobby. Of these, racing and collecting the classic series of models is very popular with many enthusiasts. These new releases from Monogram have been a hot topic for our hobby since they were first announced, and they have finally arrived.
I have to admit that not every model Revell/Monogram brings us interests me, but these three certainly do. All of these models were in our hobby many years ago and to have them reproduced today is pretty exciting for me. The bodies appear to be from the original molds from the mid 60's as they have the older copyright markings still in place. Each model comes with a small bag taped to the bottom which has an additional shim for the front guide. It is thinner than the one on the models and it allows you to adjust the front guide height. I think they should have some sort of information sheet about this shim to simply let newcomers to the hobby know what and where it is used for. Each case has a sleeve that gives a good history about the model which I have always felt is a great idea. One very interesting thing about all of these models is they use the same chassis which should allow for very close racing. We will get to the chassis soon but first let us feast our eyes on the models themselves.
Starting the line up we see the Porsche 904 GTS from Sebring, 1966. There are many Porsche models found in our hobby but this one has always been a very unique model. Either you will like the lines and shape or you won't. I find it very appealing and feel it was an excellent choice to produce in this classic series.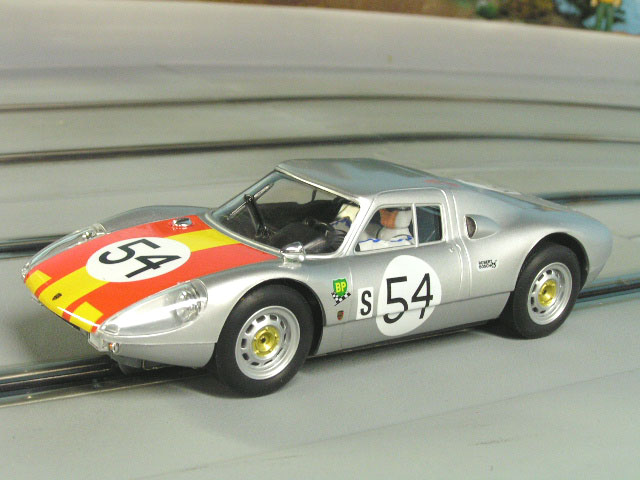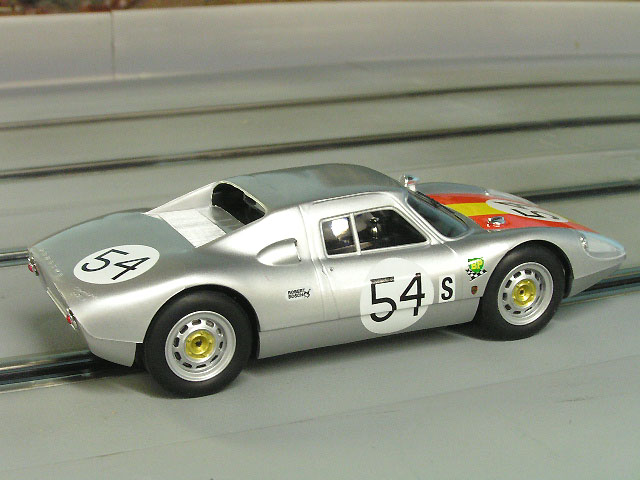 Tampo stamped markings were clean and crisp and found no runs or fades in either these or the clear coat. Fine scale purists will find issues here and there, but overall it appears they have done a decent job of recreating this classic.
The half tray interior is detailed enough for my tastes as well. Items like the molded windshield wiper in the front glass I found interesting. Of course this mold is rather old and although we have seen models with finer detail than this, it can have it's advantages as at least this wiper arm will not break off. I did notice some slight mold lines in the rear and the left front near the A pillar. Nothing to offensive but I mention it as many enthusiasts do care about the detail and quality levels of the bodies.
Next up we have the model that I personally wanted the most. The Shelby King Cobra is just a fascinating model to me as it just has that look to it that defines classic road racing. Again I feel it has been nicely done in our scale compared to prototype photos but nothing is perfect. The mold lines on this model were very distinct and even some excess flash molding was found in the rear. This might mean nothing to most but I have to admit I was a little disappointed. Revell/Monogram has shown they can create a very nicely detailed model with high levels of fit and finish, however this model falls a little short in this department to my eyes.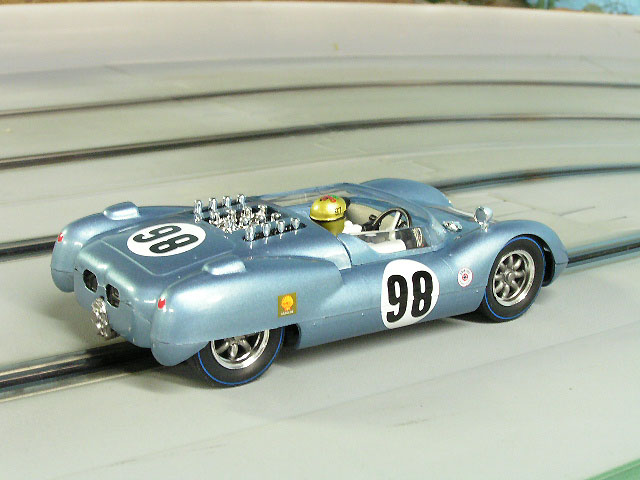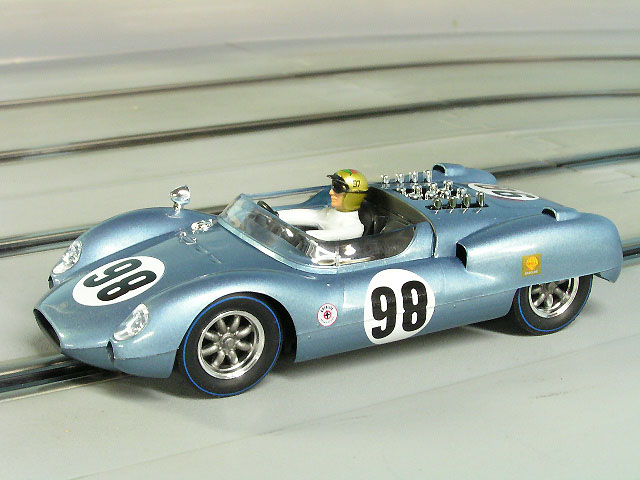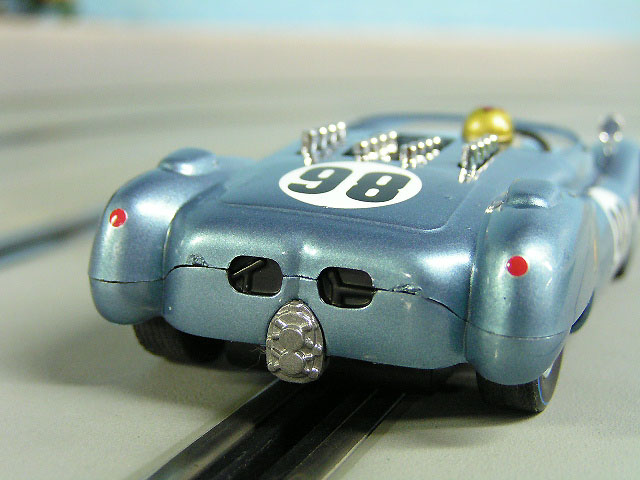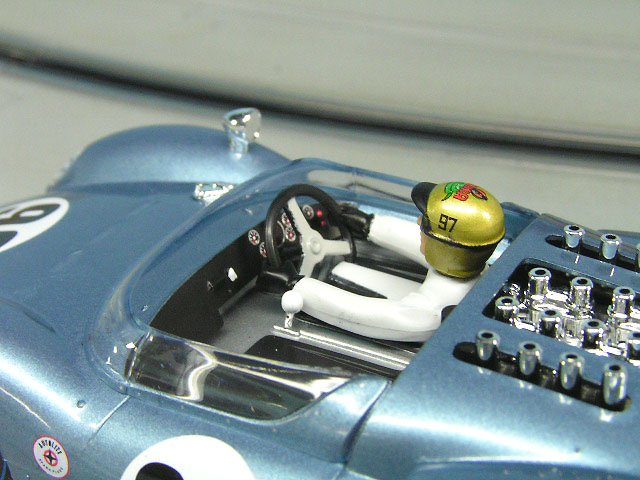 The detail levels are fair though and our driver is nicely done. Small touches like the rivet detail and the Cobra emblem on the driver helmet give it increased scale appeal. The half tray interior may not suit all fine scale modelers, but again it is more than enough for me.
Finally we have what many consider to be the Grand Daddy of all classic racers from the 60's: The Chaparral 2. The popularity of the "Chappy" has made it a mainstay in slot car racing since it first appeared. Jim Hall and his machines have a loyal following and rightfully so. Not only is he one of the nicest people you would ever want to meet, his skill levels in both building and driving are still admired today.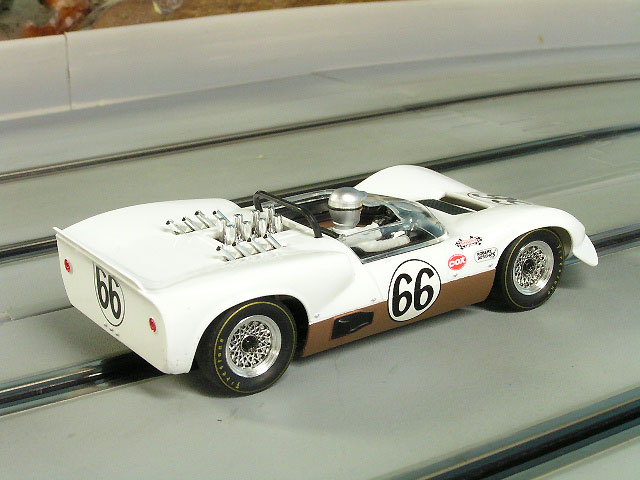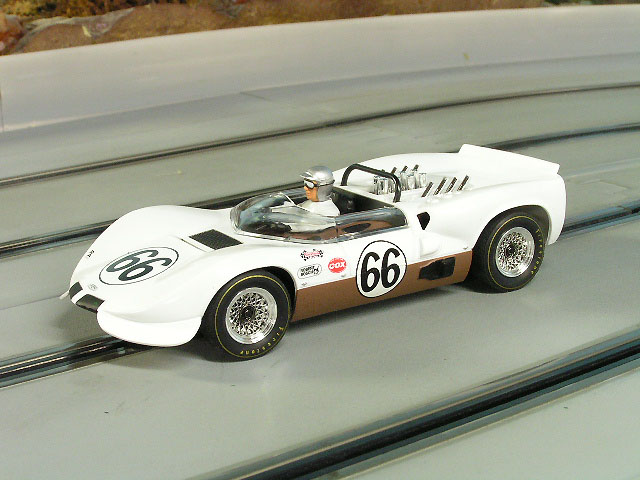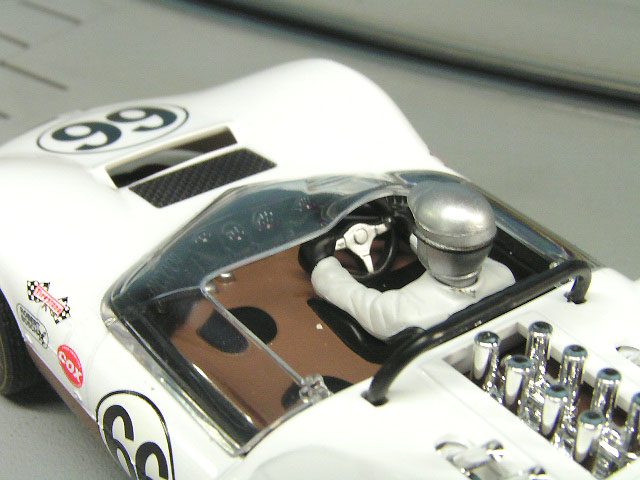 This model is well done in our scale and appears to be the same as the MRRC model of years ago. Again, these bodies appear to be made from the original molds so the scale accuracy has not changed. I felt the overall fit and finish was nicely done although some slight mold lines were noticeable. Nothing too glaring that would take away from the great lines of the model however.
Wheels and tires on all of the models are nicely done and have acceptable levels of scale detail. The tire compounds are a medium to soft and look to hook up well. They are going to need some sanding though to get them as concentric as they should be. All of them appear to have a light crown to them with a low center. This is not a real issue as almost all cars today need some sort of tuning in the tire departments.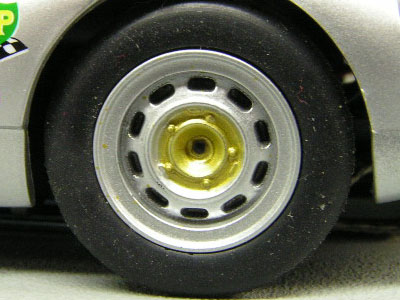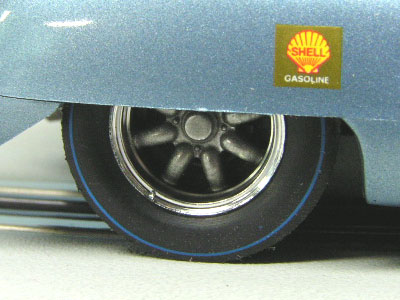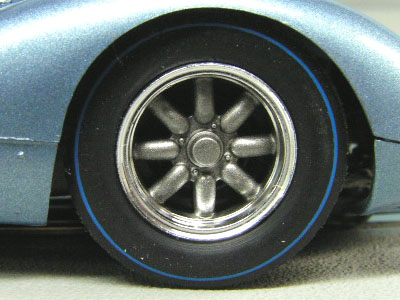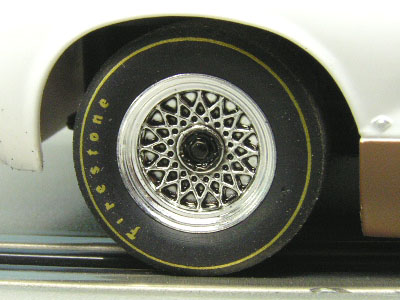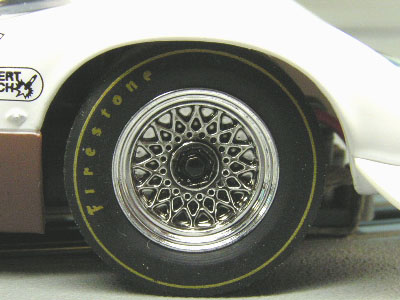 Turning the models over we see the biggest change in this line of classics. This chassis is designed and used by MRRC and was first seen on their release of the Chaparral 2F. The chassis is adjustable which has allowed its use under each car. I like this concept as it should make all of the models fairly close in performance. Some may not like this approach but it has proven to be a successful application in our hobby.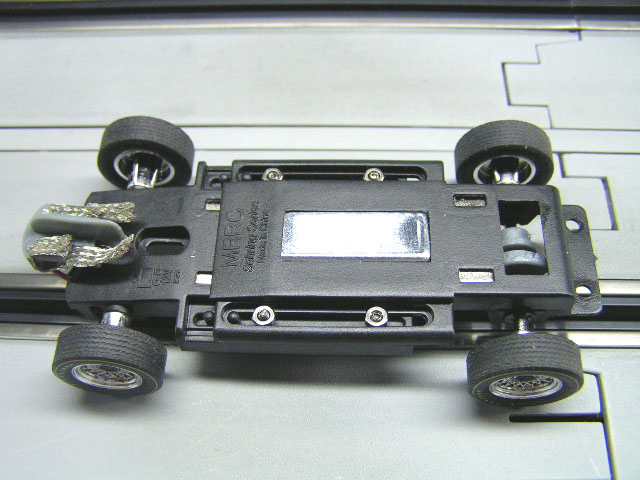 Out Of The Box Road Testing
Before we started our road test we needed to adjust the braid. I must comment that this braid is not very well applied to the guide so make sure it is fully seated. We used PARMA 25 ohm controllers and our Pyramid PS26KX aftermarket power supply set at 12 volts on Artin track. Each car functioned as intended but I could feel that the gears needed some break in to smooth out.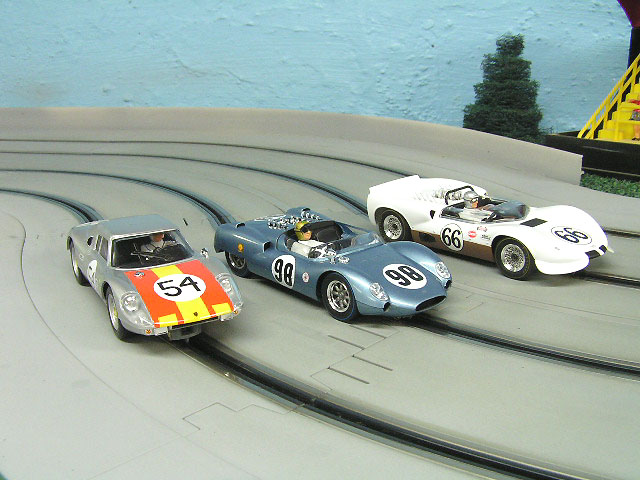 And when I say functioned, I mean these cars SCREAM. This is where some will have mixed opinions on the overall performance. If you enjoy high speed, extremely heavy magnet racing similar to Super G+ Ho scale cars then you will enjoy these models out of the box. We posted lap averages of 3.0 seconds with all 3 models which is a very impressive time. However, although they are extremely fast the control factor here is not going to please everyone. You really do not have a very large control range here as about the time you push the car to far it will simply snap off and crash rather hard.
Under The Hoods
Each one of these models have of course identical mounting with 1 screw up front and 2 in the rear. And for those veteran enthusiasts who still have the originals it appears you could drop your old chassis right on here. I investigated this further with the help of long time enthusiast and friend Dave Dobner who owns all of the originals. It appears some work will be needed in the front body post, but it could be done rather easily. The same was also found in Rich McMahon's review of the Chaparral 2 F. Further testing of this is in progress and we will update this review for those interested.
Inside we see the slim-line FF style motor equipped with a 9 tooth pinion that turns the 27 tooth crown gear. It is here in the gear system where some will find some issues. This system is setup in a hypoid type where the pinion and motor are setting lower to the crown gear. Most inline models have the pinion matched in the middle. When you pick this car up and try to turn the wheels you feel the gears seem to be slipping. However, when I placed it on the track it functions fine. In the past, some cars were seen with this type of design and some said it helped the performance of the model by keeping the motor lower. In this case it appears it was simply used to accommodate the deeper interior trays. Either way, this is the design and we will just have to run with it and see how it holds up.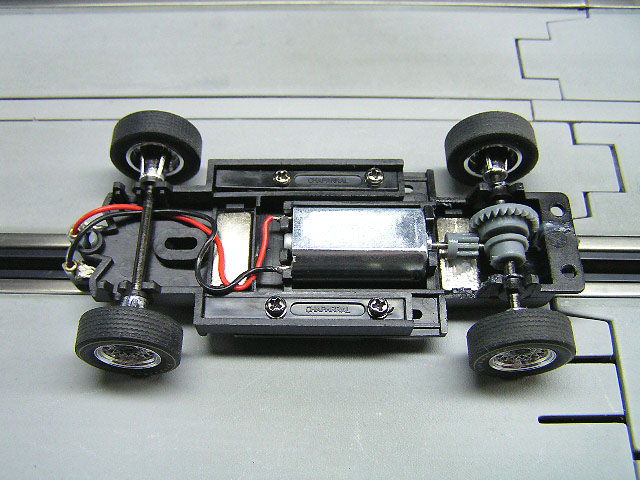 Upon closer inspection I noticed that the gears are not meshing as they should. The top edges of the crown gear sometimes rubs the top of the pinion teeth which causes the rough feeling when you turn the wheels by hand. I removed the motor and placed it center mass of the crown to see if the hypoid mounting was causing the issue. In my testing this design was not really the culprit, It appears that these 2 gears are not molded perfectly in tooth pitch distance. They are very close and the car functions, but it is clearly noticeable.
So how will this effect durability? Well, I have ran 125 laps on each model and so far I see no signs of gear damage and they have smoothed out. I simply cannot comment on what the future will bring however, I can only report on how the model is now. I do think Revell/Monogram should look into this and improve the gearing as it simply isn't what it should be.
The rest of the chassis shows the adjustable screws to set the wheel base which I like. MRRC uses plastic spacer blocks that are marked for a particular car. The spacers have plastic tabs that are set at different distances and when installed sets the wheel base. There is also an extra mount for the front axle which makes the adjustability range even better.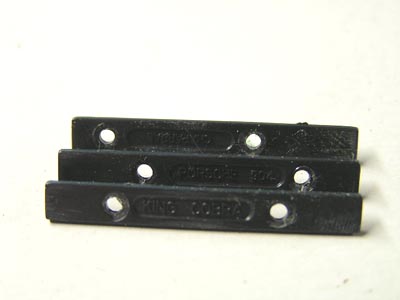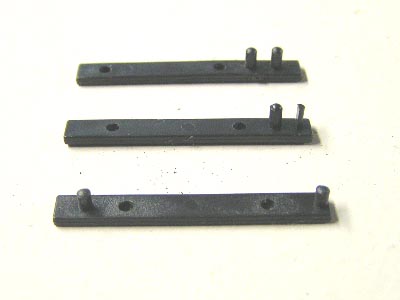 Finally we see 2 large bar magnets that provide the magnetic traction. Again, for magnet racers this should be more than enough, however there are some items you need to be careful of. Not only is there little control with all this magnet, depending on what power supply and voltage you are running it can cause the motor to become VERY warm after a few minutes of racing. So for those that do race with higher voltages and the magnets installed, keep a close eye on your motor.
The good part is that you can always take magnet away, so having both installed simply caters to a broader range of enthusiasts. You won't have to purchase any additional magnets, yet if you are light or non-magnet fan you can simply remove them. Simply pry the chassis slightly and the magnet will come free.
Advanced Testing
Back to the track for even more racing. One positive thing is that these cars are all very equal in performance which I hoped they would be. This time I removed the rear bar magnet and run with just the one in front. The motor is just too much for these little cars for my driving taste so we turned the voltage down to 10 1/2 volts. The car is still over powered but now it is close to a manageable state. With the lighter magnet we had much better control too and this increased the fun factor of them for us. Lap times of course were not near our initial runs, but more than enough for our driving style.
Non-Magnet Wood Track Racing
It is becoming very clear that one of the best investments I ever made in this hobby is a good quality adjustable voltage power supply. At 12 volts this car was simply too much to handle. The motor just overpowers the model and makes driving it difficult to say the least.

However, when I turned the voltage down to 10 volts things were much better. In fact, these models operated very well and we had a great time sliding around our oval. The tires needed sanding and taping to get the best grip from them, but overall I was impressed. The gear issue is still present although still no signs of failure. Aside from this, these cars were now close to what I wanted them to be. For those that have adjustable voltage, I think you will find your own setting to suit your taste.
Final Thoughts
I have mixed feelings on these models as you might guess. The models themselves are ones that I have wanted for quite awhile and although the fit and finish is not perfect, they are more than acceptable for my taste. I just feel the chassis/motor chosen is not the best they could have had, especially in the gear department. For my driving style I prefer a milder model without a great deal of magnet. I especially feel this way about certain classic models and such is the case here. Having a modern INDY car or Le Mans Prototype hug the rails at speed looks ok to me, yet models such as this just do not. It just personal preference here, so only you can come to your own conclusions.
Yet putting these models in an advanced environment with lower voltages did please me. Which I feel is important item to mention as many of you reading this have similar set ups in your home or club. I think in these cases is where these cars will really shine. My worst case scenario is gear failure, yet it can be overcome. I am planning to test other gears to see if I can increase the durability. This is an inexpensive effort and hope to tune the models more to my liking.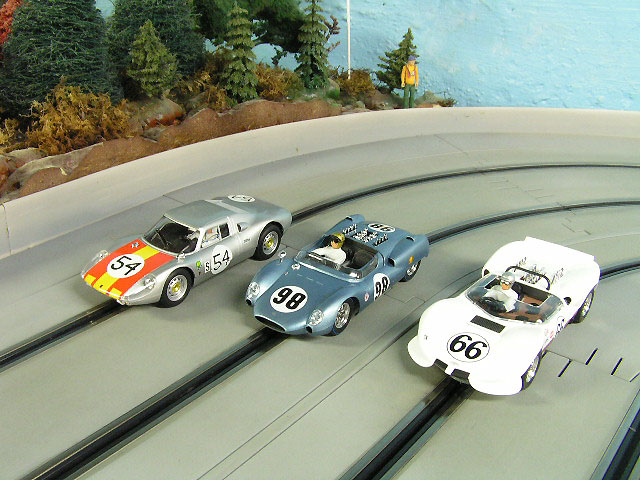 However, I had to see how others felt to give these cars all a fair report. One of my local racers that visits here often enjoys cars with plenty of magnet and higher RPM motors. He thought all 3 of these cars were some of the most fun he has had. He made lap after lap and as I watched him he soon began to get a rhythm and posted lap times in the 2.9 range. So although I was a little disappointed, yet there are others who will really be pleased with them.
In the end I feel the models are nice additions to our hobby. They will not be appreciated by everyone but they certainly are worth taking a closer look at. Adding at least a pair to your current collection would make for some close racing to be sure, and if you enjoy high speed action on your track these should certainly satisfy.
- Harry
As always feel free to contact me about this article or just the hobby in general at harry@homeracingworld.com, or better yet drop into our Message Forum and share your thoughts with other enthusiasts!
Thanks Go To Revell/Monogram For Providing Us With These Models!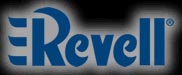 *These Models Should Be In Stock Now, So Check Your Favorite Dealer*