Friday February 15, 2008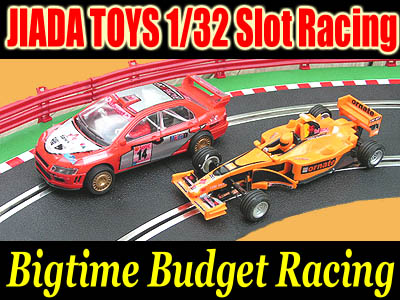 When it comes to getting started in our hobby, we have quite a few choices to make. Now it appears we have one more system to choose from with the arrival of the JIADA Toys slot car system. This system is almost identical to SCX/Scalextric Classic systems and I was curious to try one out and see what this set had to offer.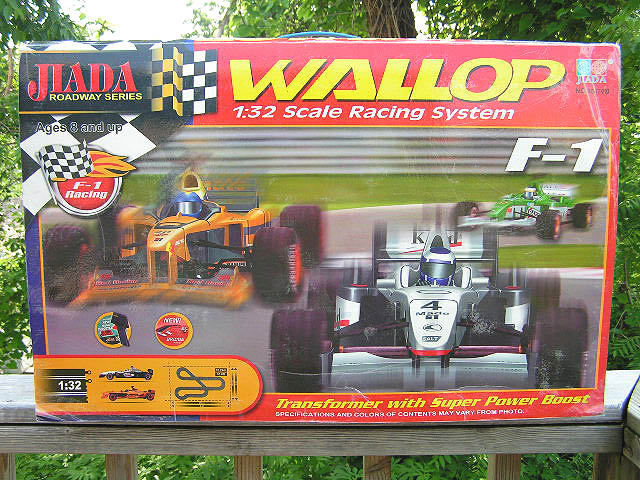 For veteran enthusiasts this set may not be very appealing, but there is enough positives about it that newcomers should appreciate it. First on the list is price. For some people just beginning, price is a major factor. This set is quite large and packs plenty of accessories all for a budget list price of $165.00. This price point is what interested me the most as I like to see low cost options appear in our hobby.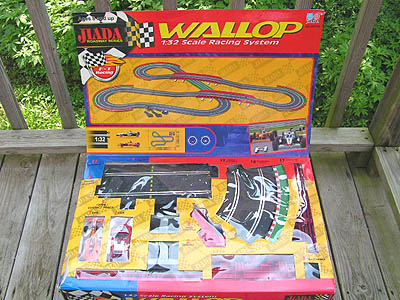 The set arrived safe and sound from JWL Slot Cars and we were ready to begin racing. I have said this before, but no matter how long I have been in this hobby opening up a brand new set feels like Christmas all over again. The box art is well done and I like the diagram that is on the inside flap of the top lid. It clearly shows how the set is to be assembled so most parents/new racers should have no problems. There is also a instruction booklet that is clear and easy to follow.
Assembly took about 30 minutes and we were ready to race. The bridge unit has 2 different supports that you should pay attention to. One is tall, and the other short so make sure you place them properly with the short on the outside edges of the bridge and the tall on the inside. Assembly of the bridges prior to track placement is also much easier.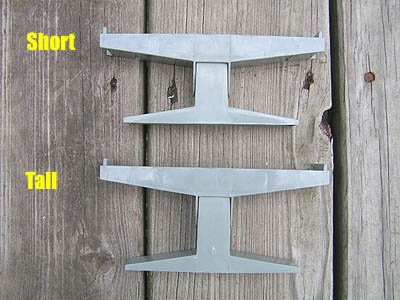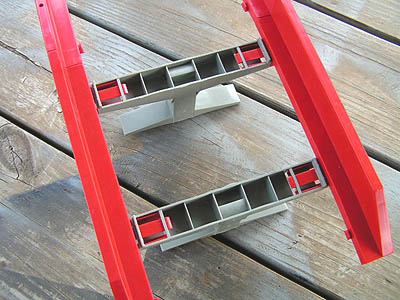 The power and control are all plug and play. The transformer can be hooked either way and this will change the direction the cars will run.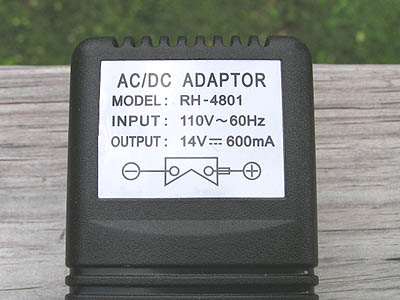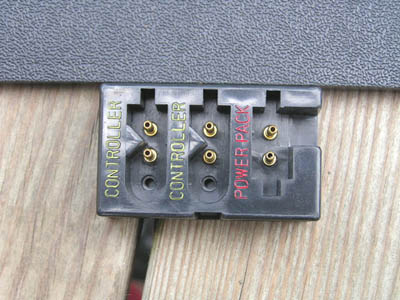 The "Good Stuff"
It comes fully bordered on the outside. This might not mean much to some, but for myself and many other racers it certainly does. Although the box art does not show it to be, there is an outside border and guardrail for every curve. When you look at the price of borders on some sets, this little surprise is definitely worth mentioning. Borders are important as they allow the cars to slide or drift in the corners. The guardrails are nothing special, they lock together easy enough and are red in color. They are not very scale appealing, but they function and will work well enough for the new enthusiast.
The track is not identical to Scalextric classic or SCX. First of all it has smoother surface so you are not racing on plastic sand paper. Also, the slot is 1/16 deeper so cars such as NINCO and Carrera who have decently deep guides still do not rub the bottom. I was happy about this as I thought this track would have a shallow slot. But the track connections are the same, which means you can use Scalextric classic & SCX to expand. Using the adaptor pieces available by Scalextric, you could even use Scalextric Sport as well.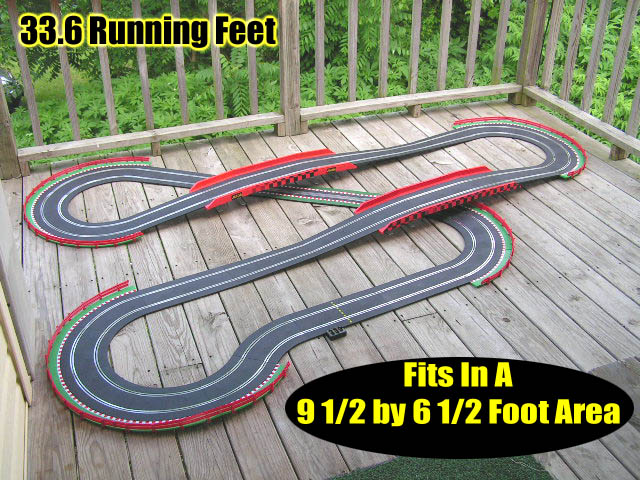 The price. At the time of this article this set is $165.00 shipped. (Free Shipping) That is pretty good for a track with a touch over 33 running feet. Not to mention our outer borders, which just sweeten the deal.
"Middle Of The Road"
The Cars. The cars function just fine, but they will not win any scale accuracy or performance awards. However, for the young racer they are ideal. They have peel and stick decals that clearly mock the real sponsors, but they play the role well enough. Again, a young child could care less how accurate these are so keep this in mind if your planning to buy this set for your children. A fellow enthusiast Dickey Pearson made a good review about the models so I will print that report below and let you make up your own mind.
*NOTE* This set included one of the F-1 models and one of the Rally models. We ordered this set like this to test different cars only. The standard sets come with both F-1 models.
Power and control. This set is not wired for brakes and the controllers are very sensitive. Again, they work and most beginners will still have fun and for that they get a passing grade.
*If you are just starting out, you might read and hear about aftermarket power and control. These are good upgrades to make of course and that applies to ALL sets on our market today. So, if you decide to stay in our hobby you will eventually want to upgrade with any beginner set you choose so I cannot critique these components too much. Yes, other brands have better quality in this department, but if you are going to discard them anyway in the future these will do fine until if and when that day comes.
The Cars Up Close
An Inside Look By Dickie Pearson
First off, I have to say awesome service! I ordered these 2 F1 cars on Friday night (like at 10 o'clock!) I received an email at about 3 AM Saturday morning saying they were on their way. Sure enough, they arrived with today's mail, along with a spiffy looking pen.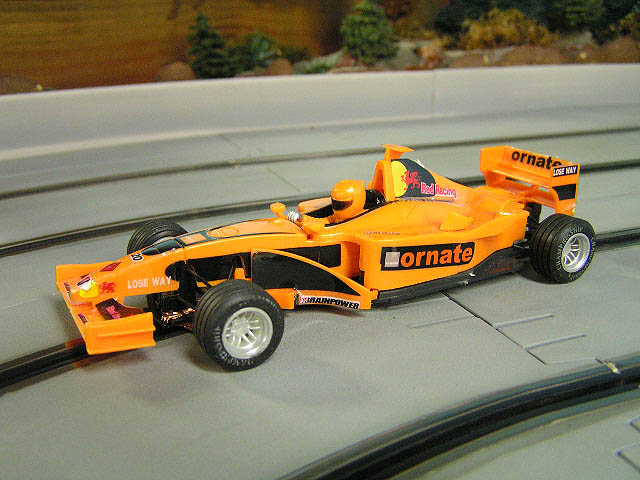 As suspected from seeing pictures, at first glance these look very similar to SCX cars, with some noticeable differences. First thing I noticed is that there is a solid axle in the front. SCX has a steering system on their cars. With what I eventually intend to do with these cars, the solid axle might work better than the SCX fragile steering set-up, though the A-arms on these Jiada cars don't look very strong either.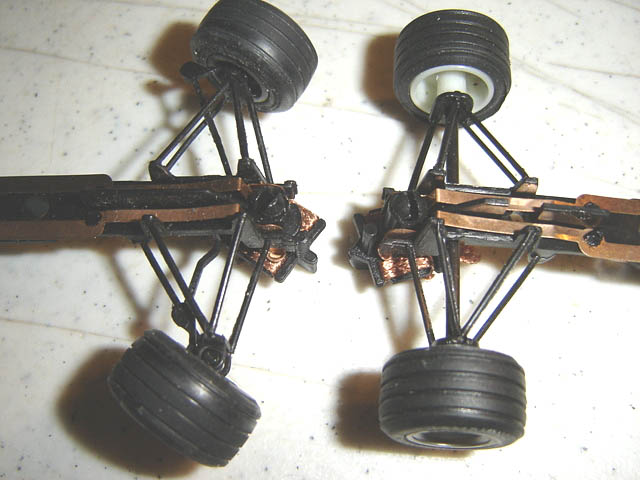 Flipping the cars over, the chassis looks identical to a SCX chassis. The motor is different though, like it's a long can Mabuchi. The motor is completely enclosed, unlike the SCX motors which have the brushes out in the open. The Jiada cars also have the same adjustable magnet arrangement that the SCX cars have.


Taking the cars apart is the same as taking SCX cars apart. Undo 3 screws, and the bottom part of the chassis comes off, as does the body, leaving you with the "central" part of the chassis that holds the motor and drive-train.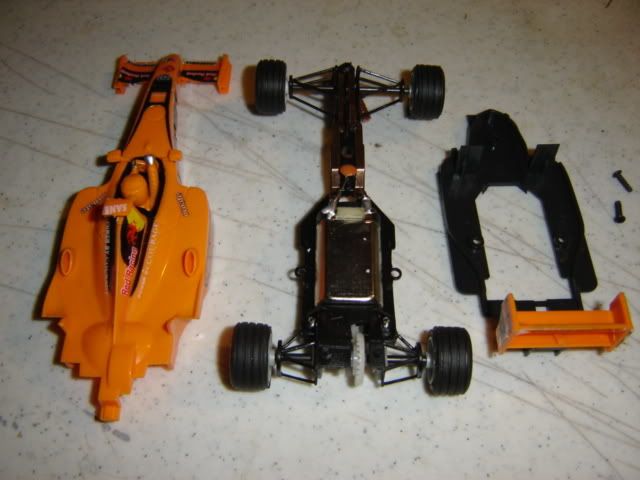 Here's a side-by-side shot of the two makes (SCX on left with Fly motor).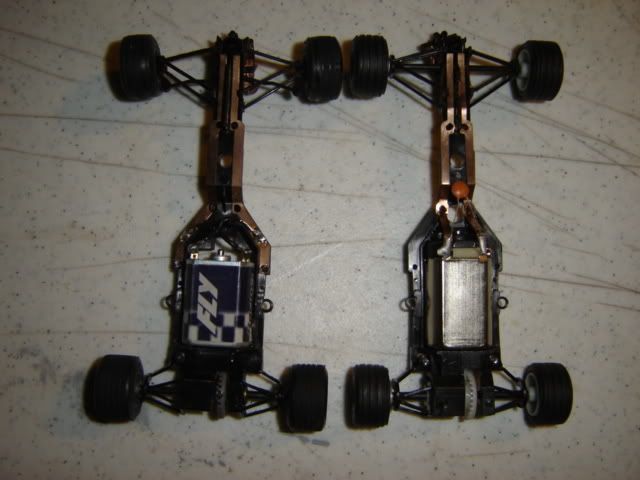 Gearing on these Jiada cars is your standard 9/27 ratio. And other than being a different color, they look identical to the SCX gears. The wheels also look identical to the SCX ones, so switching tires could be done easily. On the subject of tires, they felt quite hard, so I don't have much hope for them on my wood track, especially since I have copper for power, so there's no magnet downforce to help traction. The tires did seem to be fairly true though, as there was very little wobble to be seen when turning by hand. I've seen a lot worse on the more expensive cars.

One nice surprise was the rear axles bushings, or should I say "blocks"? Looking at them in the chassis, they appear to be square blocks. With the chassis apart, I went to pull out the rear axle assembly. I barely had to touch the axle, and the whole assembly fell out into my hand. My first thought was, "this can't be good". But upon closer inspection, I found that while the bottom the bushing is square, the top part of the bushing is rounded which matches the chassis. This arrangement means there is no chance of the bushing spinning inside the chassis, so there's no need to glue the bushing (block) in place. The bushings are held firmly in place by the bottom part of the chassis when the car is all put back together. Also, there was very little axle "play" inside the axle. I was very impressed with this set-up.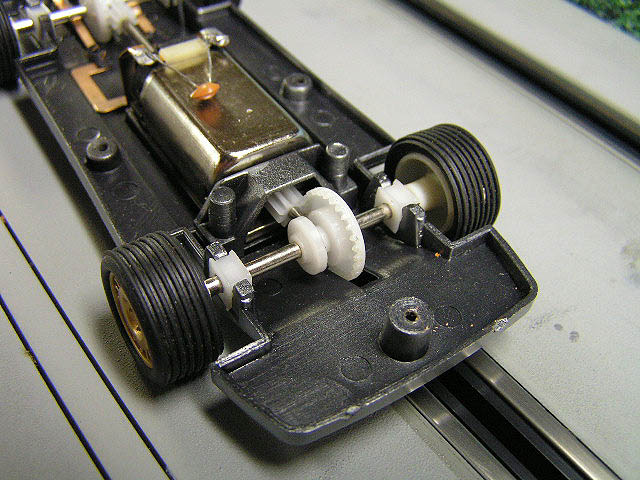 Performance? You want to know how they run? Course you do...
As I predicted, the tires did not provide any traction on my track. They simply too hard. The best time I could get was in the mid 8 second range. On the plus side though, they should last a long time for someone who likes to run with magnets on plastic track. Checking my Indy Grip tire chart, I see that IG # 4006 will fit the SCX F1 cars, which means these should fit these cars. However, I didn't have any of these, so I searched for something else that might work. I ended up using Supertires, #1001, which fits the Fly Vipers. It wasn't a perfect fit, but since I wasn't expecting these cars to set any speed records, they would work here. Back on the track, the car now had plenty of traction. It wasn't long though, before there was another problem. During left hand turns, the car would just stop. After adjusting the braid a couple times with no success, I figured out the problem. These cars have the same set-up as the SCX cars in that there are brass strips coming from the motor to the guide, and where this strip drops down to contact the guide is where the problem was. It had lost it's contact with the braid in the guide. Once this was corrected, the car perform very well.

On the subject of the guide, this is one part that definitely not a SCX part. To me, it looks like an Auto Art guide. It has a post where it looks like tie rods could be hooked up to have steering on the front wheels. As already mentioned, these cars have a solid axle, so there's nothing hooked to this post on the guide. Back on the track, the car was very smooth and fairly quiet. It's speed is definitely faster than a Artin Stocker, and just slightly faster than a Ninco Cobra that has a NC1 motor in it. This Ninco Cobra can run laps in the 6.0 second range using it's stock tires. The Jiada car, with the Supertires, ran best time of 5.614. Running 5.6-5.7 laps was quite easy, and the car was very easy to drive. For comparison, a good running Slot.It can run as low as 4.7's, so for a $20 car ($26 if you count the Supertires), I felt this car is a good running car for the money.

I would place the motor between a NC1 and a stock Scalextric/Fly Mabuchi in terms of performance. Seems to have plenty of torque, and a good amount of brakes. Has more rpm than a NC1, but not as much as a Mabuchi. I have plans to turn this car into a serious contender for our Open Wheel class at our HOST club events. I've had some success converting SCX cars into strong runners (which is why you see those motors in the SCX cars I've pictured), but the weak steering front end usually does them in. I've broken 3 of them so far. I'm hoping the solid front axle set-up will hold up better, so time will tell.

Bottom line, I think these cars are a good value for the money. If you can get them to have traction and make sure the brass strips make contact with the guide's braid, you will have an excellent running car to enjoy.
Summing It Up
This set has good and bad points to be certain, but that can be said for just about all sets on the market today. This is an ideal set for the young enthusiast to learn to race on and has the potential to grow. As some budgets get tighter this day and age, it is nice to see another lower cost option to start 1/32nd scale slot racing. As you shop around for your first set and money is a factor, I would keep this one in mind.
- Harry
Thanks go to Dickie Pearson and JWL Slot Cars For Providing The Set & In Depth Car Review.
For More About This Line Of Slot Car Sets & Cars Contact JWL Slot Cars.