Sunday July 27, 2003
HO Slot Car Display Case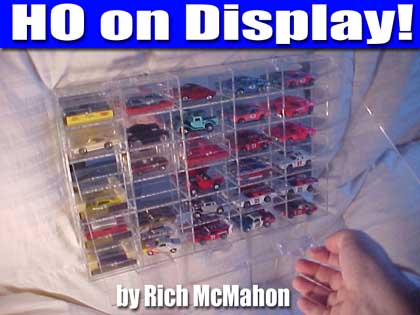 At the Toledo, Ohio Toy shows I have purchased clear display acrylic display cases for my HO slot cars. Produced by Giovanni Plastics, Inc. these cases are an attractive and convenient way to display my little racecars.
These cases have a clear cover hinged at the top with a latch and retaining pin at the bottom. The sides, top and bottom are all made of clear acrylic, which allows visibility from all angles. The displays also have a mirrored back. A clear back is available on request for the same price.
These do come ready for wall mounting with holes in the mirrored back for fasteners. These cases are not made specifically for slot cars and do NOT have holes for guide pins or guide flags. So the guides will need to be removed or the car will sit nose up. On Thunder Jets I will turn the guide pin over so it is pointing inside the car.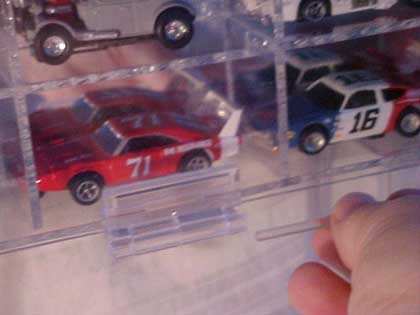 The cases I have are the smallest available, holds thirty cars and cost $30. Each compartment is 3 ¼" wide by 1 ¾" high by 1 ¾" deep. The overall size is 17" wide by 11" high by 2" deep.
Other sizes are available:
56 cars for $50 (24" wide by 16" high by 2" deep)
72 cars for $65 (23" wide by 23" high by 2" deep)
84 cars $75 (24" wide by 24" high by 2" deep)
108 cars $85 (24" wide by 16" high by 2" deep)
Shipping charges are $12.50 per case.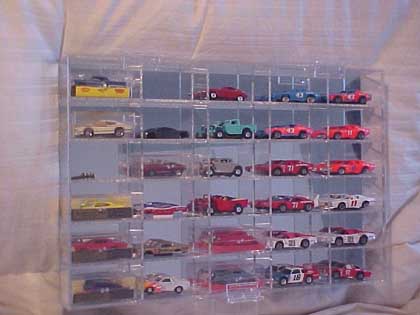 Other display cases are available for 1/43-scale cars, 1/24 cars, 1/87-scale trucks and other items such as banks. Alas, there are no cases for 1/32-scale slots.
Giovanni Plastics, Inc. does not have a web site, but they do take charge cards. For ordering information
Call 1-800-547-4227.
Giovanni Plastics, Inc., 337 Elm St., Struthers, Oh 44471
Phone 330-755-5855
Fax 330-750-9006
Rich