Thursday July 24, 2003
THE MIDWEST SLOT CAR SHOW!
Chicago Illinois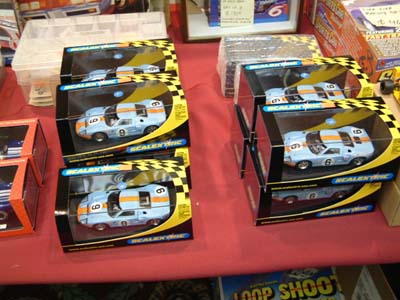 I really was not sure where to begin on this little article, as I have seen so much in the last 48 hours that it quite frankly overwhelmed me! Being my first trip of many to come, it certainly opened my eyes a great deal to this "little" hobby of ours. From the minute we arrived at the hotel it was on! The night before, some folks had their doors open and we spent hours walking from room to room getting a preview on what was to come Sunday.
Sunday morning finally arrived and people were starting to set-up. After heading over to the breakfast buffet and getting ourselves full of energy to burn, we walked over to the showroom. A line began to form to the front doors as they filtered in to find their tables, and even this was pretty interesting as I watched load after load of everything slot cars pass me by.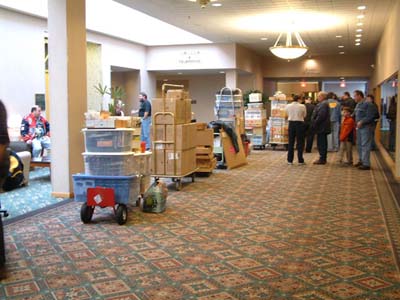 Once inside, for someone like myself, it was hard to choose just where to begin. We were fortunate enough to get in early before the public and began our rounds of the tables as they filled them. I was already a little in awe of the amount of slot cars, especially since each table had at least one thing I thought I couldn't live without.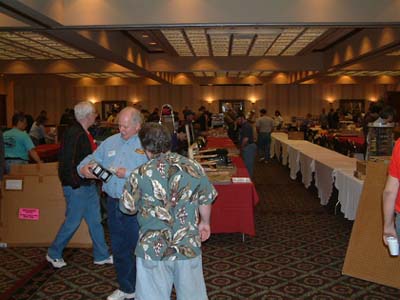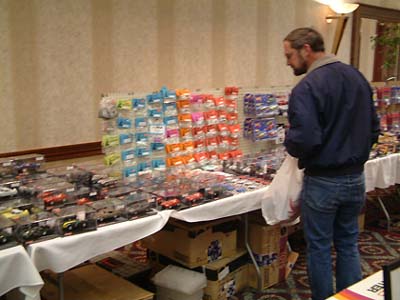 From the latest offerings in 1/32 and HO scale to Vintage items, it was ALL here. From mint in box original models to complete track systems, you most likely could find anything you were looking for.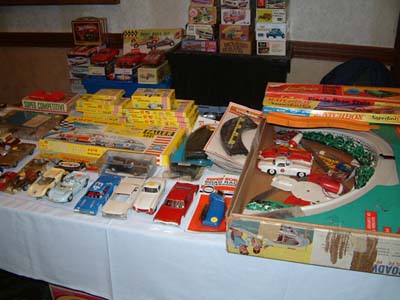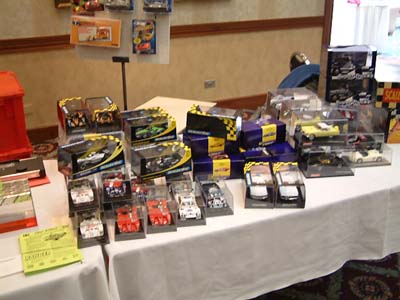 Some tables such as Slot Car Johnnie's and MEV were particularly interesting. I spied some Fly cars that had escaped me in the past, and quickly were in my hands. The MEV table was a sight to behold. Regardless of what scale you prefer, you have to appreciate his skills in creating these miniature machines. I was lucky enough to speak with Mike about the process of bringing these cars to life, and I stood in amazement listening about how many hours it takes to get them just right. You better believe I walked away with one I couldn't resist.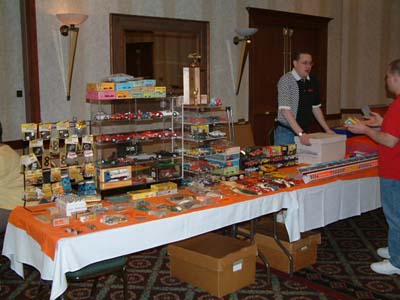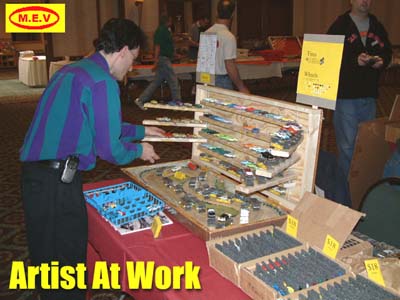 Tom Anderson form Vintage Slot Cars was on hand showing his excellent lexan bodies. He is extremely talented, and I soon found my personal favorite. My wife found a part of the hobby she really liked and is going to try her hand at painting and detailing.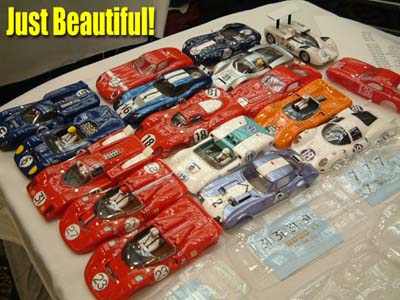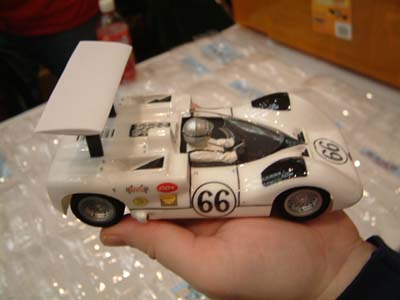 Hanging around some of the vintage tables, I found all kinds of interesting models. It seem like you spend just a few minutes there, and all of a sudden and hour has gone by.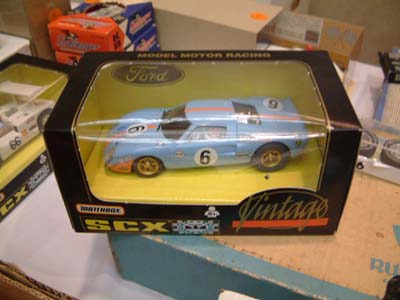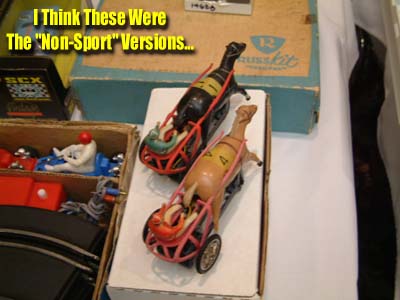 More than one person usually comes by and simply freezes as they take it all in. I knew just how they felt.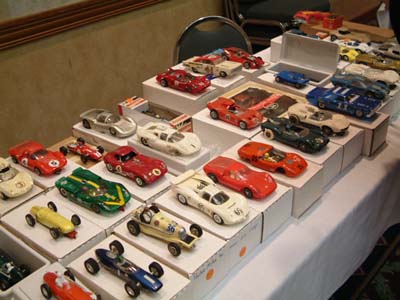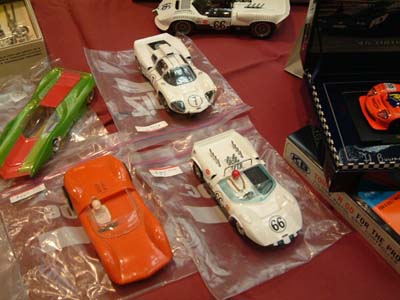 Jeff Clemence of Motor City Toyz had the T-Jets out in full force as well. I grabbed a case and scurried back to my room, so I could buy more. He did some shopping as well, and found this mint Monogram 1/32nd scale set. This set is just incredible, and he received many offers from passers by thinking that he was selling it. I don't know if he did eventually sell it, but he still had it by the time I left. What a great find! Jeff was a fountain of information and one of the most enthusiastic and nicest people you could meet in our hobby.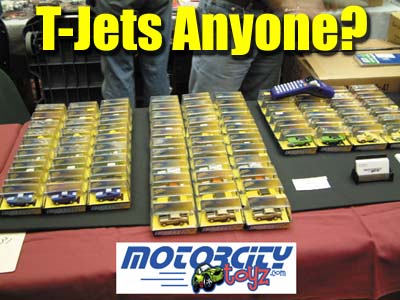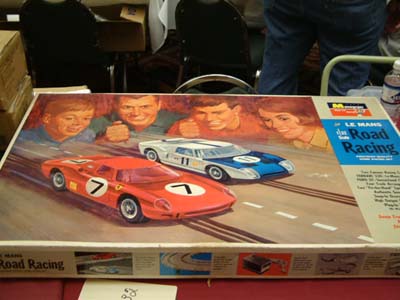 The Professor was on hand of course and also had deals galore. I had a chance to talk with him a little and now I know why he has one of the best reputations in this business. After snagging a few items there, it was off to find more things I couldn't live without. I walked up to the Indy Grips display and soon I had my arms full of tires. George is another fun person to talk with and has a great sense of humor, I could have spent hours there listening to him.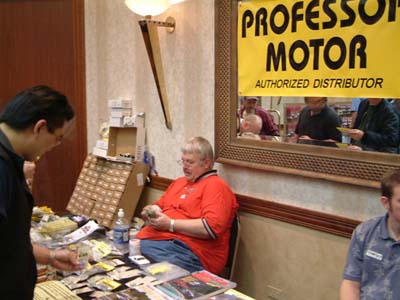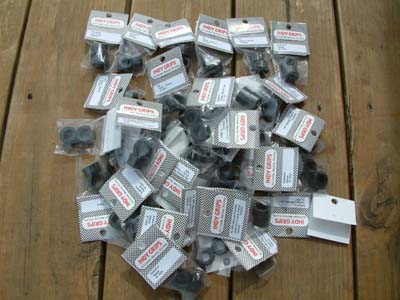 There is so much more to this show than just the models themselves however. It was the chance to meet the people that help folks like me get the most out of my hobby. In reality, I could have stayed there all day and there didn't even have to be a show, because the time we spent just talking about the hobby was the best part. (That and the seafood buffet!!)
I have to especially thank Rich (RMMseven) and Dave (3D in Detroit) for their time and efforts in helping make this trip as much fun as it was. They introduced me to everyone and made everything a lot more fun. These guys are the kind of people I enjoy being around because they actually enjoy this hobby and have FUN with it like you should. We had a great time, and I look forward to seeing them at every show I can attend. Thanks guys, I appreciate it more than you know.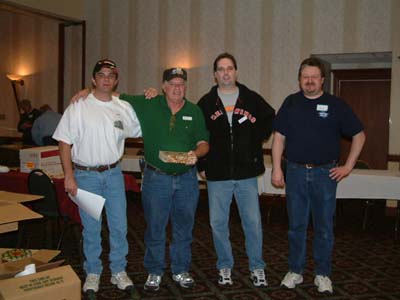 Yours truly, Frank, Rich and Dave
Of course it would not have been complete without Frank at Slot Car World coming along. I have been a friend of his for a long time spending many hours on the phone with him talking about the hobby. Finally meeting him in person was a highlight to be certain. He drove all the way to Missouri to pick us up and drove the whole way, and we had a great time indeed. Thanks Frank, you made this show 10 times better by just being there. The friends you make in this hobby all what its all about if you ask me, and shows like this allow you to get together with them once in awhile and have some fun. If you haven't taken the time to attend one before, I highly suggest you do because you might find that there is more to this hobby than just the best lap times or the latest model, and once you do it makes this hobby that much more fun, and as always...fun is what it is all about.
Harry