12/12/2012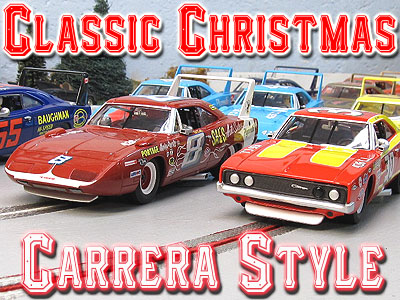 1/32nd Scale Plymouth Road Runner & Dodge Charger 500
The classic NASCAR series from Carrera is possibly my favorite of all time. When 2013 rolls around it will mark 10 years these cars have been making a difference to many enthusiasts who enjoy classic American iron. Just in time for Christmas we have two more entering the field and these models are rather special that bring a little something extra for those who are passionate about them.
If you are brand new in our hobby, welcome! Take a trip back in time to our first review of the Carrera Classic NASCAR Series. This will let you know how excited we were back then and why I am still excited today. What a great legacy Carrera has with these models.
Since these new releases were first announced they have been talked about a lot across the net. Why all the attention? Aside from the fact this series is still going strong for this many years, it was the drivers that Carrera chose to produce.
First is our Dodge with the ever popular Iggy Katona. This car is rather important as it is only the second Charger 500 in race trim offered. The driver is also a main focus as Iggy was a great competitor.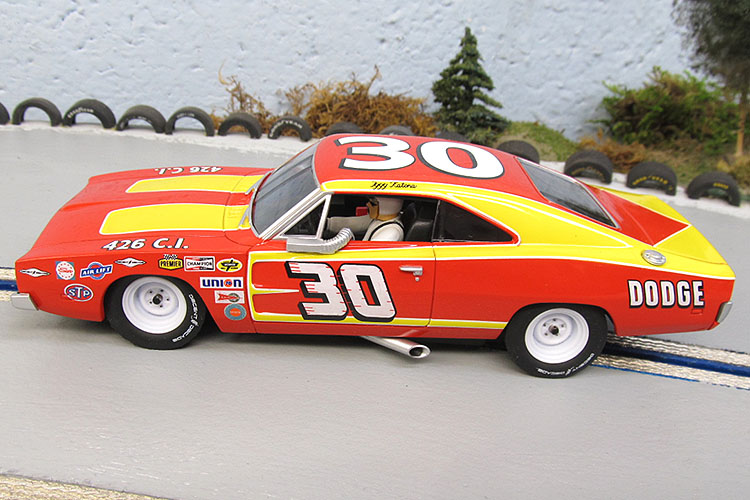 Carrera has done a great job reproducing this model in our scale. Researching photos of this car will tell you that easily enough. Although nothing is ever perfect in our hobby, Carrera still earns praise for the effort you see here. At least they do for me. There isn't many slot cars produced that are perfect in every way, but Carrera comes very close.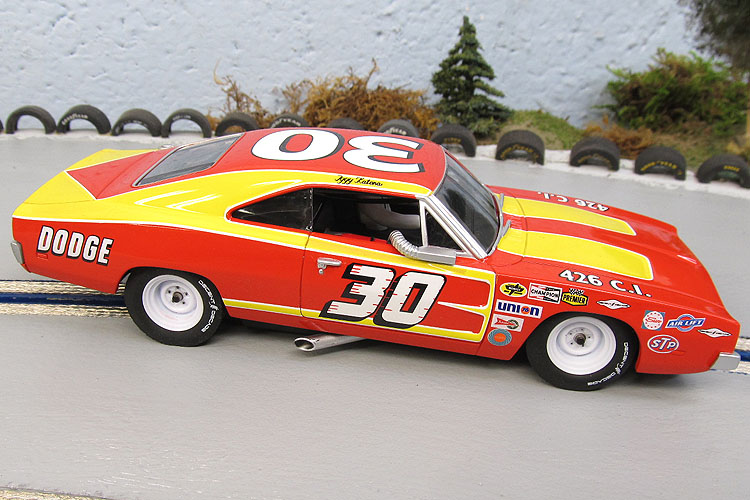 My photos are not near the quality you might have already seen. But hopefully they reveal to you the great overall finish these models have. The red/orange with yellow is very well done and really grabs your attention.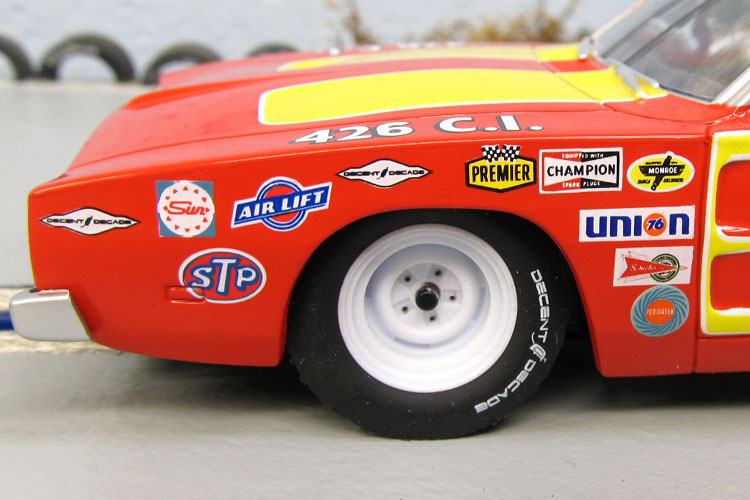 The markings are superb. They are very opaque and crisp throughout the model. The white numbers are nearly perfect with literally zero bleed through. That is pretty impressive on a red body such as this. Combine that with a great clear coat sealing it all and you end with a very attractive finish.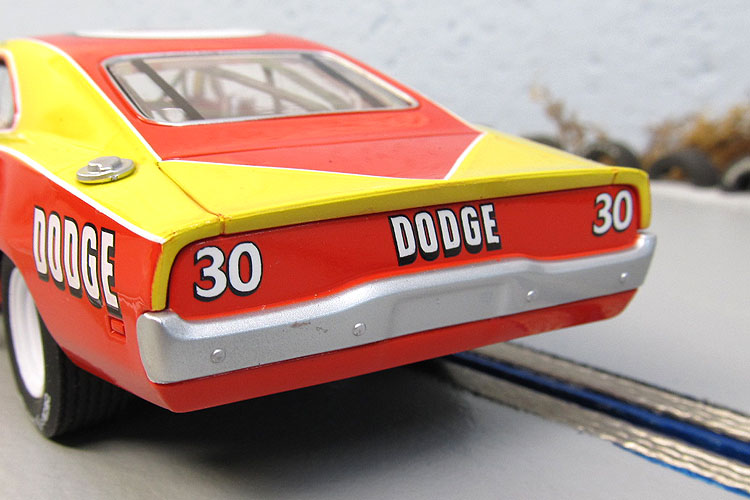 There are other companies this very day that still cannot accomplish this and cost twice as much or more.
The next car is another very special driver. Sal Tovella is one of the all time greats. And what is more surprising is that he is more well known from his USAC efforts. Back in "the day" many drivers from NASCAR as well as other great drivers raced in the USAC division and the show they put on is considered by many to have been the very best the sport ever offered. From the faster paved tracks to smaller, dirt packed bullrings, these guys gave it all and put on one heck of a show.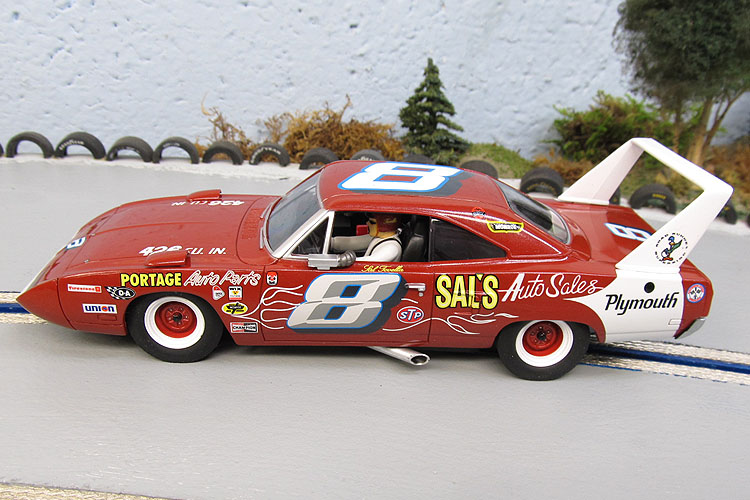 To see this car in ready to run form just pleases me more than almost any other effort. Yes, you might guess I have a little biased look. I won't apologize though. On this side of "the pond" it is not everyday we see great drivers from our history remembered.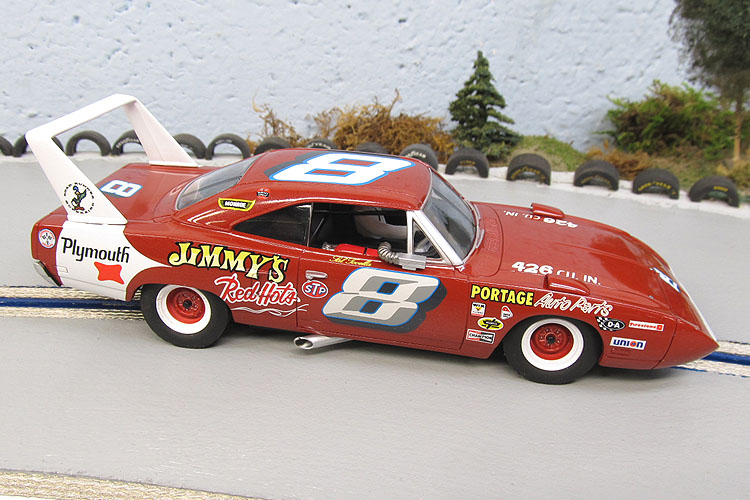 The icing on the big cake is Carrera makes great efforts in licensing. More so than any other company I know of. They worked directly with Sal and his family to get this car made and we were very happy to read about that when Dave Kennedy of Carrera USA spoke about it here. So the main color of the car may not be perfect for you. However, if it is good enough for Sal...it is certainly good enough for me. Who am I to argue with the man? This kind of history and behind the scenes work just made this car more appealing.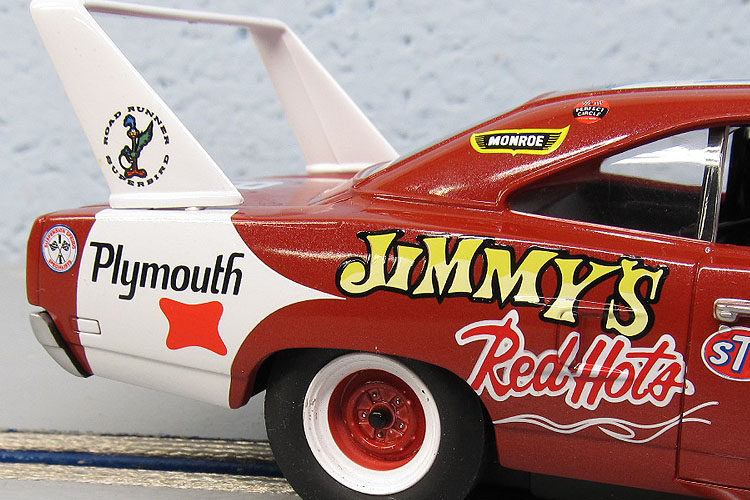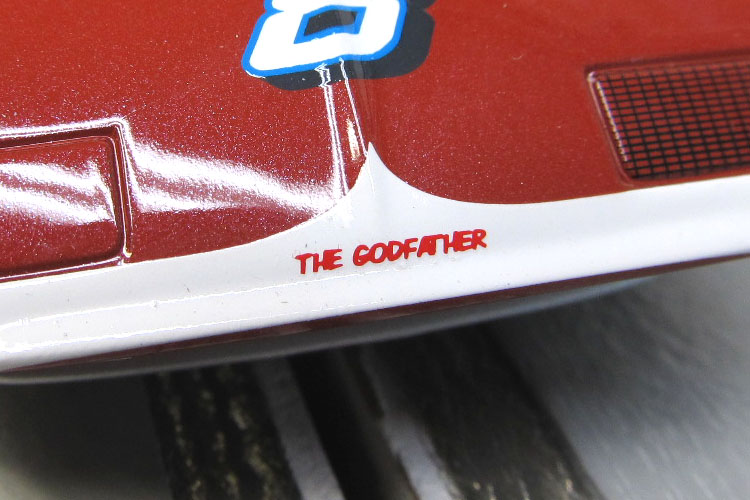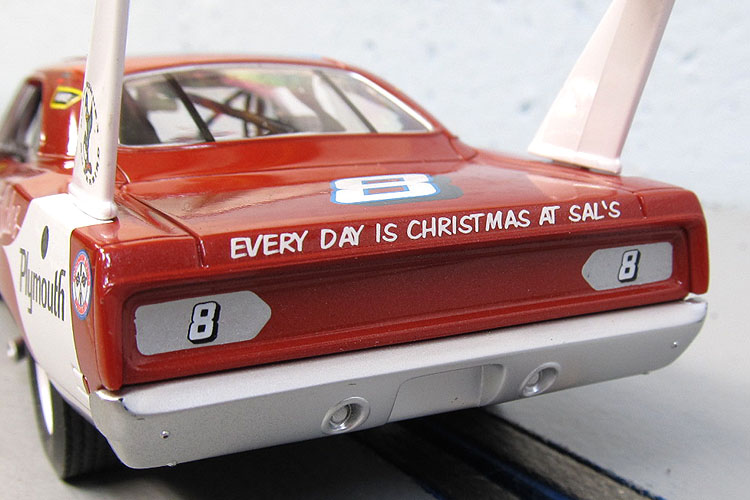 What a perfect way to say Merry Christmas.
Of course the references to Miller beer are not fully modeled. That simply isn't going to happen with most toys we see today. If it bothers you that much, then you might need to start painting all of your own slot cars. Most companies do not openly promote alcohol/tobacco decorations. It does not take away from this model to me. It is one decal. This isn't a full blown Miller Special.
These models have been around so long, and are so popular that they underwent a chassis design change. It wasn't a big change, just enough to make them compatible with the digital line. The cars are still very evenly matched on plastic track, and there is no difference on our wood oval.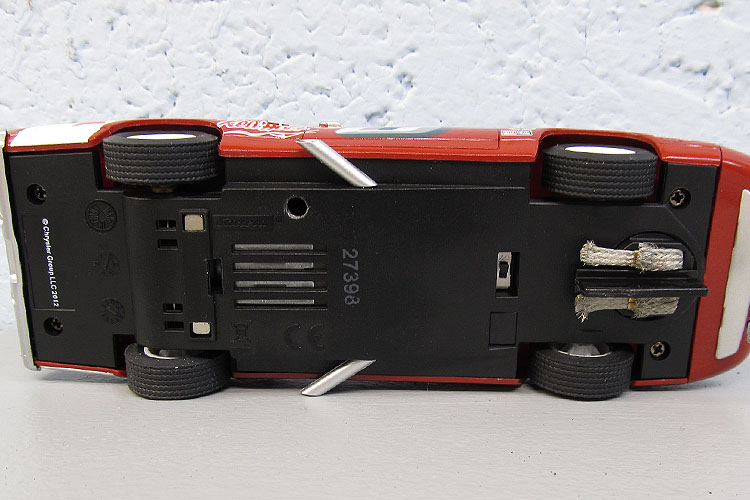 Our analog cars come with just the polarity switch for changing direction. The rest is very simple in design, which many of you prefer. Gearing is usually silky smooth with Carrera models and no changes here. Right out of the box these models are almost silent.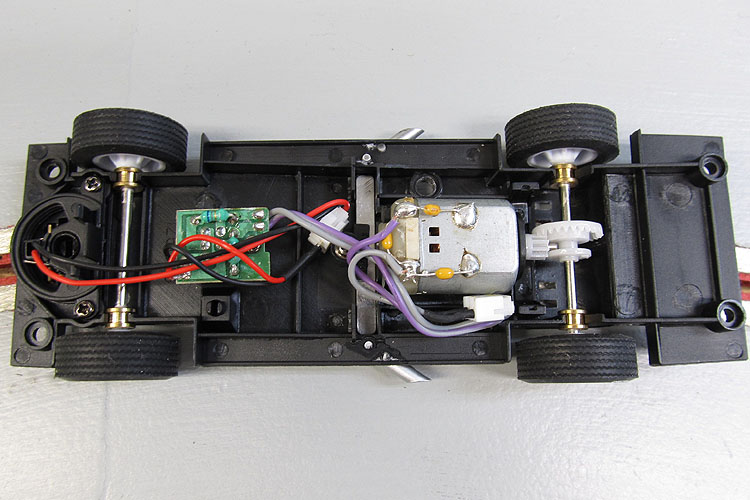 The Standard E200 Carrera motor is here, equipped with a 9 tooth pinion and 27 tooth crown gear.
There is one change that some of you have already written in and asked about: The tires. I have learned that yes, Carrera has changed the compound of the tires and they are softer. You may not believe it, but it makes a difference. There are a slew of aftermarket tire options for these cars though, so don't worry. My favorite is this tire by Paul Gage. It fits and looks great, plus has fantastic grip on our wood surface.
On plastic track these models function very well. I liked them when they were first released and nothing has changed. With the magnets in place, on a plastic track is where they were designed for and here is where I have to judge them. Wood track owners like myself can be a critical lot. But the fact is we cannot condemn models on how poorly they run on a surface they were not designed for.
The action is fast enough and the cars are well planted due to the dual magnet system. There is also room inside to add weight or even more magnets for those that want them. Bottom line is that they work great out of the box on the track they were made for. Mission Accomplished.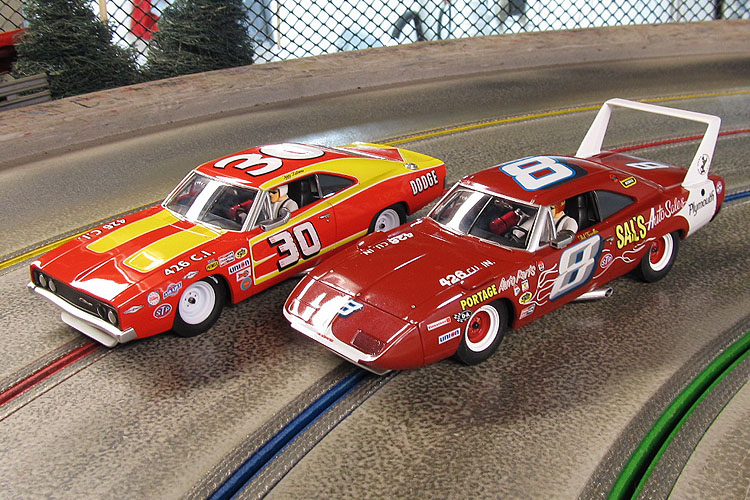 Luckily these cars do not run too bad on our wood track either. No, they are not perfect and they do need some attention here and there. So does every car we put on it. But the biggest plus for the advanced racer? 10 years ago we did not have the arsenal of parts we have today. Starting a new series with these cars at your local track is incredibly easy. From tires and wheels, to axles and guides, you have everything you need to fine tune these cars for the track you have. Even motor selection is 10 times what is was back when these cars were first introduced.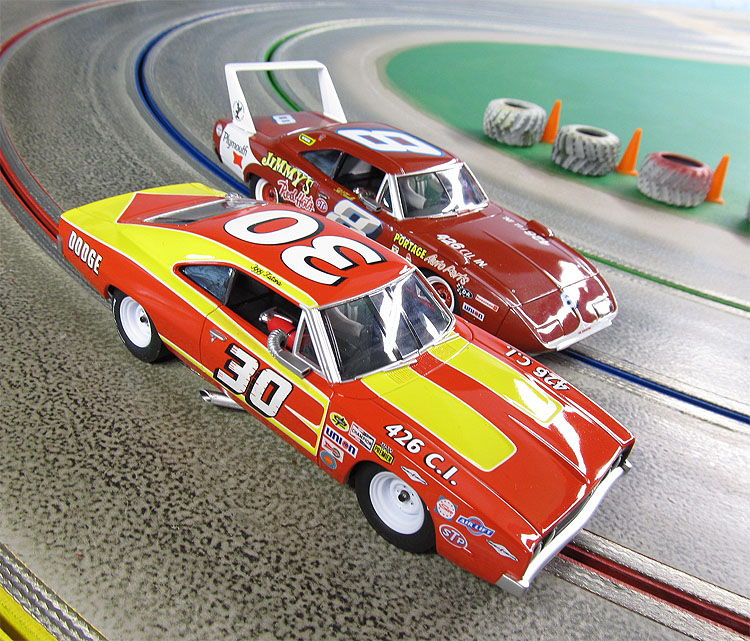 Our 5 x 16 Oval is where these models will call home.
Let's highlight another fact: PRICE. There is no other manufacturer offering so much for so little. These cars in analog versions are under $40.00. In fact, WELL under that from most dealers. If you shop around you will see other brands increasing prices, yet not offering anything any better than Carrera and certainly not in classic American racing. This hobby needs a truly affordable line of models that have good quality and Carrera has them. For my hobby dollar they simply cannot be beat.
And as already mentioned, advanced/veteran tuners should embrace them. I want to remind those of you who fit into this category. I know you already have older releases and it is time to take them down and re-discover them. If you are going to spend money on rebuilding a car (which you do), might as well start with a low cost model right? Right. With a few changes these models can be silky-smooth rockets on your wood track and in the next month you will see a few tuning articles focusing on these very thing. Fun? Oh yes indeed. I hope some of you join me.
I hope newcomers reading this pick up both as soon as you can. You should have a ball with them like we have, and hopefully you stay around for more.
Did I mention even MORE are coming next year? In all this excitement I think I have. Yes, even more models will be joining this series next year. This is the kind of thing that helps clubs and home racers decide on a series to begin. With a large selection of models to choose from, you will have a full grid in no time.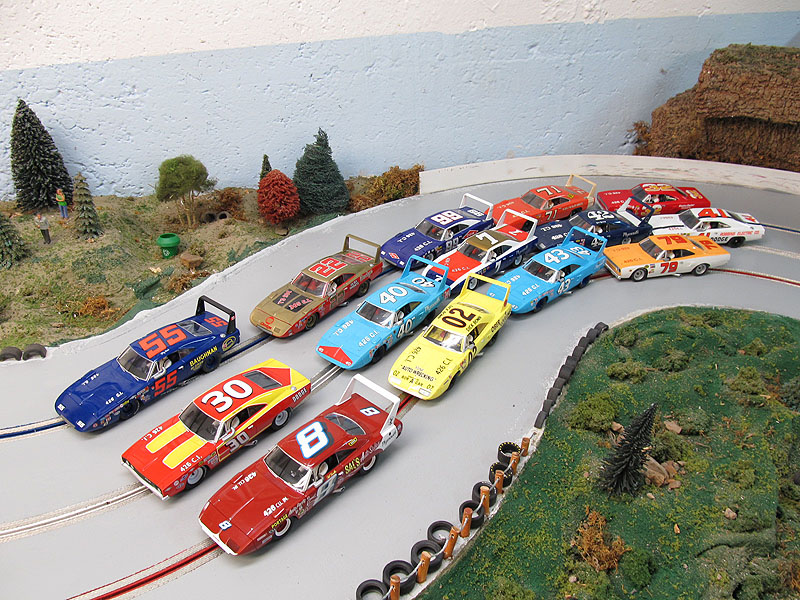 A great classic series of American stock cars just got better and by a long shot. Great fit and finish, function well right out of the box, and they are priced right. I know our collection will continue to grow as this series has proven to be one of the most fun series of slot cars in our hobby. And FUN is what our hobby is all about.
Thanks Carrera. You made my year and then some.
-Harry
Contact ME about this review or the hobby in general.
Thanks To Carrera of America for Sponsoring This Review

Visit Carrera of America for more info on these and other new releases.

Copyright © 2012 HomeRacingWorld.com All Rights Reserved