Monday June 07, 2004
Artin 1/43
Power Passer Track Systems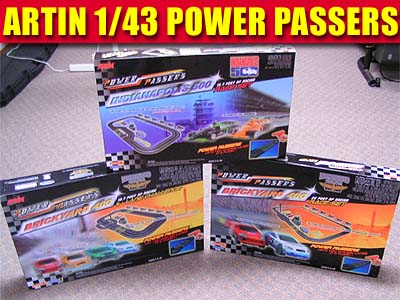 This year in slot car racing is special because we will see Digital Racing Systems in the larger 1/32nd scale market from such brands as Carrera, Scalextric and SCX. As popular as these will be, only ARTIN will be releasing their versions of it in 1/43rd scale. This scale has become more popular over the years due not only to it's smaller size, but to the smaller price tag of both the track and the cars. The new Artin systems fall under the name "Power Passers" and Slot Car World has sent us samples of all the new systems to give fans of this scale a closer look at how they work.
As unique as these systems are, it bears mentioning that both NASCAR and IRL licensed sets will be available. This is important as far as I am concerned as these series of racing are not only very popular here, but in other countries as well. Choosing the right series of cars and layouts is crucial for the success of the system and I believe Artin chose the right route.
We received all 3 systems to test, 2 of these systems are 2 lane with one being a 4 lane. The first is the Brickyard 400 2 Lane System. This set comes with over 25 feet of track in an oval layout design. It comes with 25 standard straights, 12 30 degree outer curves, 2 half straights, 2 Power Passer Lane Change Tracks, 1 Power Base, 1 Pit Lane Section, 2 Controllers, 8 Silver guardrails, 1 Transformer and 1 Ford and 1 Dodge NASCAR Power Passer equipped models. The box art shows buildings on the front but they are not included in the set. Artin tells you these are bonus infield cutouts and you have to log on to the Artin website to download them, print them out and make them yourself. I sort of like this idea as you can simply download as many buildings as you want to configure your layout. It also means users of regular 1/43rd systems now have access to these buildings as well.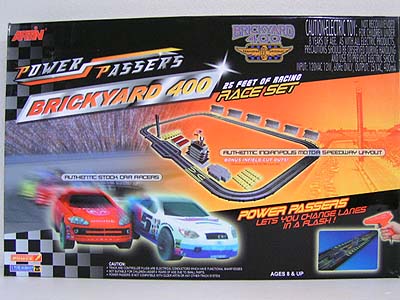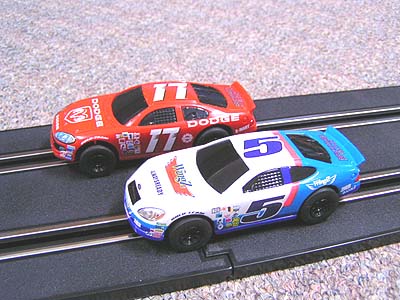 The second set is the Indianapolis 500 2 Lane System. It comes with 11 standard straights, 8 standard curves, 2 half straights, 2 Power Passer Lane Change Tracks, 1 Power Base, 1 Pit Lane Section, 2 Controllers, 4 Silver Guardrails, 1 Transformer and 2 IRL Type Power Passer equipped models. One thing to note is that these systems ARE pre-production sets and some changes are in process. The box art on the INDY set has an incorrect photo of the pit lane system. It shows the pit lane having both lanes going to the inside of the layout, but the pit lane used is identical to the one in the Brickyard set.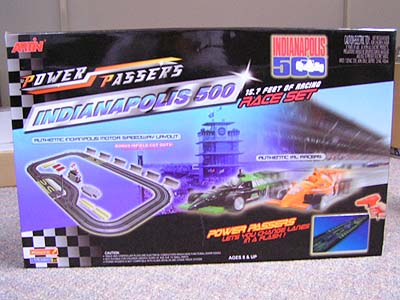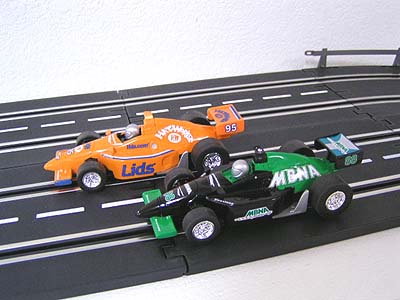 The third and final set in our Power Passer Round-Up is the 4 Lane Brickyard 400. It comes with 26 straights, 2 New Pit Lane Straights, 12 30 degree outer curves, 8 standard curves, 2 Power Passer Lane Change Tracks, 2 Power Bases, 2 Transformers, 4 Controllers, 8 Silver Guardrails and 4 Power Passer NASCAR models. The pit lane section in this track is a pre-production prototype and will be replaced with a pit lane section that utilizes the 2 lane system for better function ability.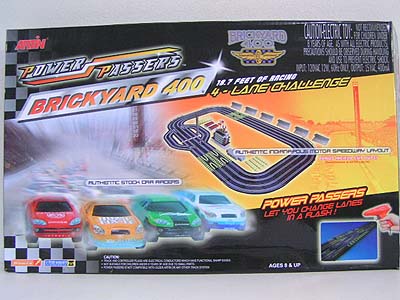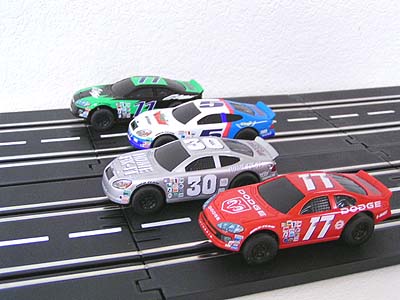 But the real attraction to all these sets is of course the Power Passer option and how it works. I am certainly no electrical genius, but I will try to explain the best I can. Each Power Passer equipped car has a special diode to it as the photos show.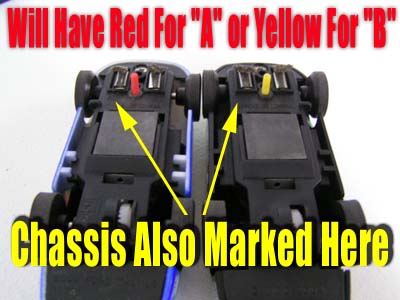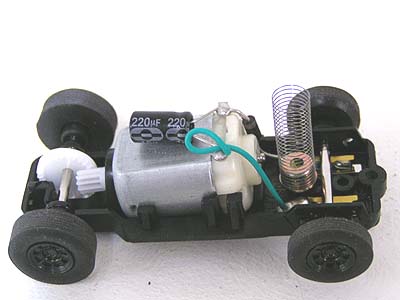 Each car is also marked with an "A" or a "B" and each has a red or yellow guide pin. On the power base you can see where it is marked "A" or "B" as well. It also has a diode in it and this is the controller that will control that car, in either lane. This is how you can race 2 cars in the same lane with independent control. This does mean you must own Power Passer equipped cars to enjoy the system.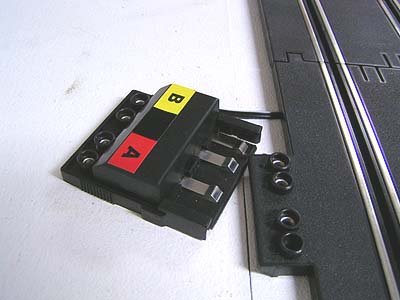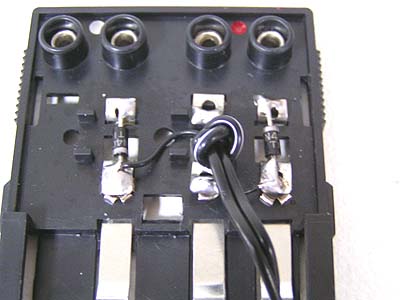 To pass or change lanes you either keep up your speed to stay in the lane you are in, or slow down a little before the Power Passer Lane Change Track and you will change lanes. This works because the cars have a guide pin that is attached to a spring that makes it move vertically at different depths. The Power Passer Lane Change Track has different depths of grooves in it. As you can see, there are arrows on the track that tell you which way to mount the track. At the beginning of the crossover, there is a small raised portion or bump in the groove. If you carry enough speed through it, when the guide pin hits this bump, it raises it up for a split second. This is long enough for the car to skip over the deeper groove for lane changing. If you slow down, you allow the pin enough time to drop into the deeper groove of the track and you change lanes.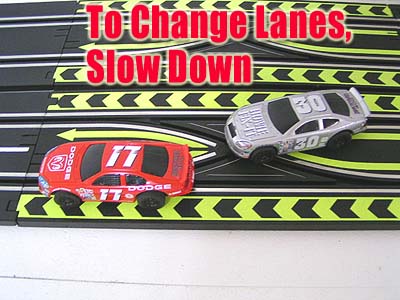 To be honest, it is really simple. Not only is it simple...it works. We tested this system for over 2 weeks with different ages of drivers and all of them found the operation to be easy to learn and fun. I must admit to our readers that I was more than skeptical of this system but after testing it, I have had a lot of fun. It isn't just the passing and lane changing I like, it is more of the fact that Artin didn't "over engineer" the system. Keeping it SIMPLE is where I feel Artin made the right decision. Slot Car World helped in the development of it and feel the input they gave helped make it even better.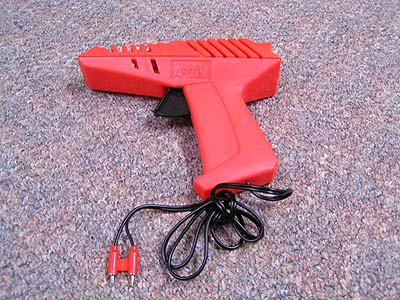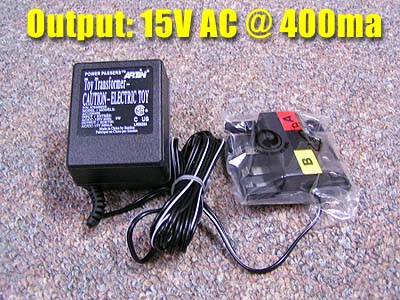 The cars in this set impressed me because the artwork on them is waterslide decals that make them look better. Also, the 2 NASCARS are not identical bodies as I first thought. There are differences in both to make scale enthusiasts a little happier and I feel they did a great job on the bodies. I know I am a little picky in this department, but if Artin were to make wheels and tires that were closer to scale for these bodies, we might see even more enthusiasts joining the scale.
Some might say that this system it is limited because you can run only 2 cars at a time. Others might think that because you need special cars, that it hurts those that have larger collections of standard models. I don't think it is limited or it hurts any enthusiast. Why? PRICE. The new Artin 1/43rd Power Passer equipped cars will have a retail price of only $6.00. At that price you can have a fleet of these models in no time. Also, these chassis will fit other Artin 1/43 bodies which just makes your field of choice even larger.
1/43rd scale is becoming more popular than some might think. I can walk into almost any dollar/toy store and find battery powered sets everywhere. Even our 3 local Wal-Marts carry this scale with no sign of even HO sets on the shelf. This means that many newcomers to the hobby are going to start in 1/43 and advanced electric sets like these from Slot Car World and Artin could potentially keep people interested for years to come.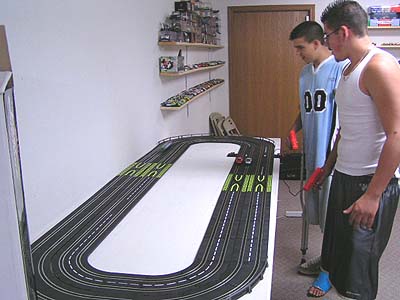 These sets are a winner because the system is simple and more importantly, it works. Although I was skeptical of this system before testing, my son and his friend proved to me I had nothing to worry about. They have been at it now for 4 days running and so far the system has held up to some REALLY hard racing. I think enthusiasts of this scale will embrace the Power Passer option as it can only add to the fun, and it does it at a great price.
- Harry
Thanks go to Slot Car World for allowing us to test these prototype systems.
Make sure to contact them for more information about these and other 1/43rd models and sets available.